Hello my CoCo Crushes,
I have the most amaze news to share with you. That's right, I am going to be co-hosting the Golden Globes Red Carpet Pre-Show on NBC (8/7c) and I could not be more excited about it!
To get pumped up for the 2012 Red Carpet fashions, let's take a little trip down memory lane, or memory red carpet I mean!
Last years Golden Globes fab fashion trends and mai best dressed list was taken over by a burst of rainbow as colors dominated the carpet.
We saw everything from Angelina and Mila in the Greens, Natalia and Lea in the Light Pinks, J.Lo and Nicole in the Sparkling Whites and Eva and Julia in the Black fishtails. If you all follow me on Twitter, you know that I live for Wearapy, my belief that colors and textures are the most powerful ways to convey your personality.
For example:
Green — The color of Envy, Nature & Harmony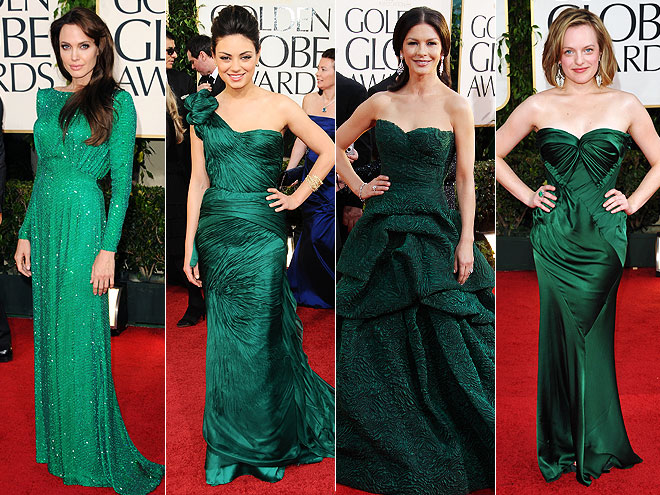 Angelina Jolie in Versace, Mila Kunis in Vera Wang ,Catherine Zeta-Jones in Monique Lhuillier & Elisabeth Moss in Donna Karan
Light Pink — The color of Female Empowerment & Flirtation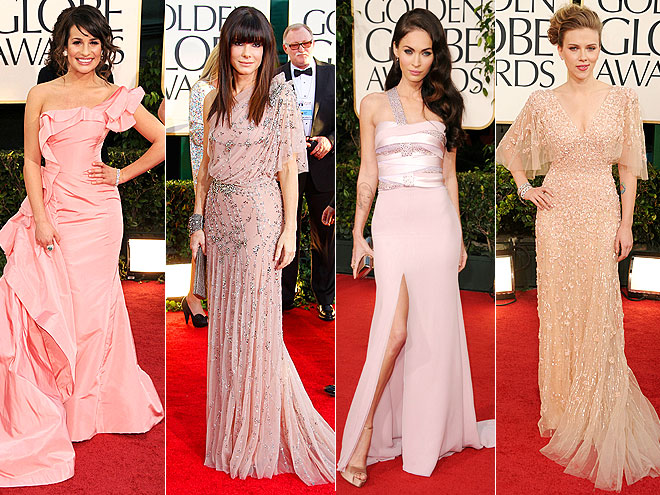 Lea Michele in Oscar de la Renta, Sandra Bullock in Jenny Packham. Megan Fox in Armani Privé & Scarlett Johansson in Elie Saab.
Black Fishtails — Elegant, Sophistication & Strength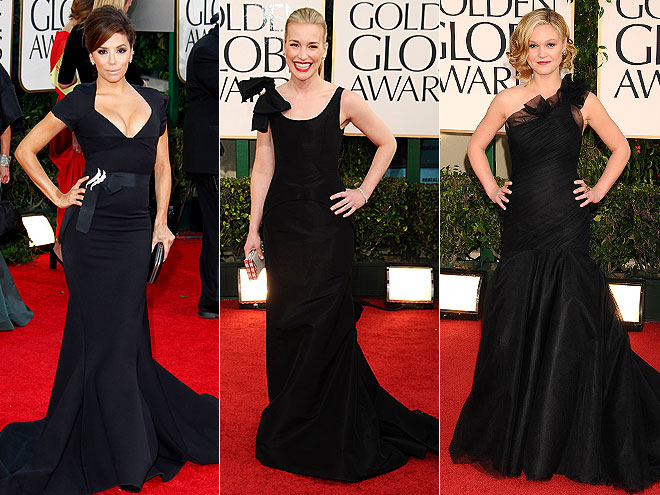 Eva Longoria in Zac Posen, Piper Perabo in Oscar de la Renta & Julia Stiles in Romona Keveza
Sparkling White — The color of Purity & Peace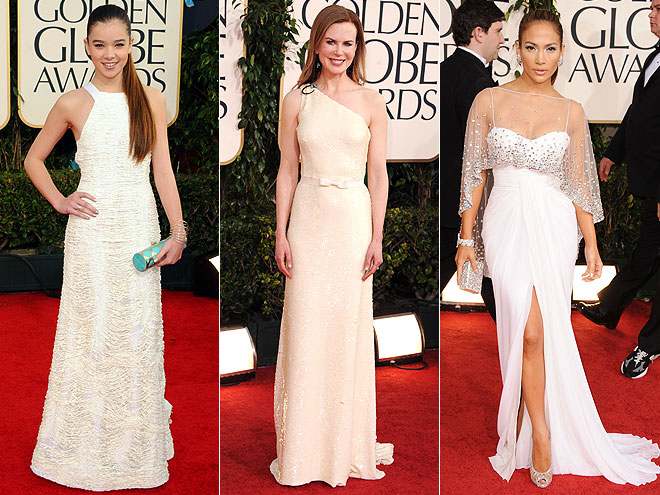 Hailee Steinfeld in Prabal Gurung, Nicole Kidman in Prada & Jennifer Lopez in Zuhair Murad
2012 PREDICTIONS
As you know I am a Jeannie, but I don't just grant wishes, I also do predictions. Let's gaze into my magic eight ball and predict what the 2012 trends will bring us.
First I think we are going to see some prints on the carpet. Expect the unexpected from some of our more daring fashionistas.
I see a lot of COLOR in our future! Spring 2012 is all about color color color and I predict some stars will wow us with an unexpected color pop in hopes of making those best dressed lists! 
I also predict a few white gowns. This is the kick off to the awards season and the stars love their "white moments" as Rachel Zoe would say.
Dare I say it? Red is dead. At least for this round of Globes. I doubt we'll see many bringing the carpet with them in color.
This next vision is for the men…I predict that 2012 red carpet will see some fine men with furry faces. From Stubble, goatees, mustaches to beards. We doubt there will many clean shaven A-listers gracing the carpet this year. You know what they say, Facial hair is wisdom! (and sexy!)
Either way, there's going to be much to talk to talk about while the carpet counts down! Do Tweet me @jeanniemai and keep up with my Facebook Fanpage to let me know your thoughts. I'll blow you kisses from on screen!
[Images courtesy of People Style Watch & Esquire.]