Amber Heard's Previously Unreleased Testimony Will Play A Big Part In Johnny Depp's Defamation Case Against 'The Sun'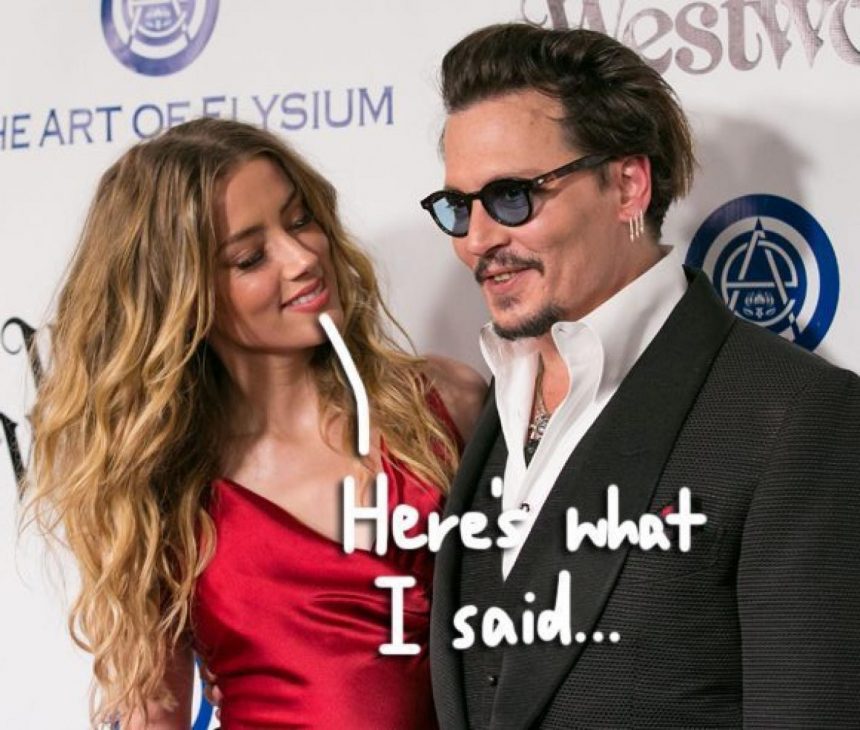 Amber Heard's previously unreleased testimony about Johnny Depp's "monsters" will likely play a huge role in the actor's upcoming court battle against The Sun.
The U.K. tabloid is defending itself in a defamation lawsuit filed by the Fantastic Beasts: The Crimes of Grindelwald star over an April 2018 story headlined "How can J.K. Rowling be 'genuinely happy' casting wife-beater Johnny Depp in the new Fantastic Beasts film?"
The article recalled Heard's application for a restraining order against Depp, claiming she "recounted a detailed history of domestic abuse incidents, some of which had led to her fearing for her life." Now, the Aquaman star's account of the events leading up to the couple's split, along with the statements of other key witnesses, will be examined even further as The Sun defends its story.
Related: Amber Says She Lost Jobs After Making Abuse Allegations
One buzzy statement that came when Heard was being questioned by Hollywood attorney Blair Berk could be of particular use to the tabloid. During a deposition taken amid their divorce, obtained by The Hollywood Reporter, the 32-year-old star said of her allegedly abusive ex-husband:
"Johnny and I refer to his other personality, the part of him that is present when he beats me up — we call that the monster and have called [that] the monster for many years… I was petrified of the monster."
Heard's deposition transcripts mostly centered on the night in May 2016 when LAPD officers responded to a 911 call after an altercation between the then-married couple broke out at an L.A. penthouse.
She went on to claim that on May 21, 2016, Depp threw her phone at her "as hard as he could" and it hit her in the face. She alleged he then grabbed her by the hair and she screamed for help; then he allegedly "broke a lot of glass things that left glass on the floor."
Related: Johnny Says He's Innocent & J.K. Rowling Has Apparently 'Seen The Evidence'!
Statements from officers who responded to the 911 call that night will also be scrutinized. During the divorce proceeding, Officer Melissa Saenz testified that Heard was crying but she did not see any marks, bruises, or signs of injury on her face. The officer also claimed that she inspected the apartment and saw no signs of shattered glass or broken items, and that Heard repeatedly "shook her head" in response to questions and did not want to talk. She had no probable cause to believe a crime had been committed.
Meanwhile, Heard's close friend Raquel Pennington, who had arrived at the penthouse before the police, testified that the officers saw "all of the damage," including the broken glass, and offered to "go arrest him right now" if Heard filed a report. The officers denied ever saying that in their depositions.
Depp's version of events leading up to that evening were, as we reported, much different. In a July 2018 filing in The Sun defamation lawsuit, he claimed that his then-wife was "aggressive and violent" and punched him in the face twice on April 21, 2016 after he was late to her birthday dinner.
On the night of the 911 call, Depp claimed he went to the penthouse to get some of his belongings and brought two of his security guards with him because he "was concerned about what Ms. Heard might do."
Related: Johnny May Have Literally Boiled His Brain!
In the U.K., defamatory statements are generally presumed false unless the defendant can prove otherwise — so The Sun must disprove Depp's claims of what happened that night. For that reason, Heard's previous divorce testimony about the alleged abuse will play a key part in the upcoming defamation case.
The actress has reportedly requested to testify in Depp's U.K. court battle against The Sun, however, a source told THR that Depp's legal team has refused to allow it and even threatened to sue her for violating their NDA if she does.
Other experts say that Heard will be allowed to testify if The Sun calls her in, so we'll see if she shows up as this case proceeds. A hearing in the U.K. is set for February 22, where Depp's team is expected to introduce a myriad of evidence to back up his story — including depositions, photographs, and eyewitness statements. 
[Image via Brian To/WENN.]
Jan 3, 2019 9:45am PDT