Jennifer Lopez Addresses Grammys Motown Tribute Amid Backlash — As Smokey Robinson Calls Her Critics 'Stupid'!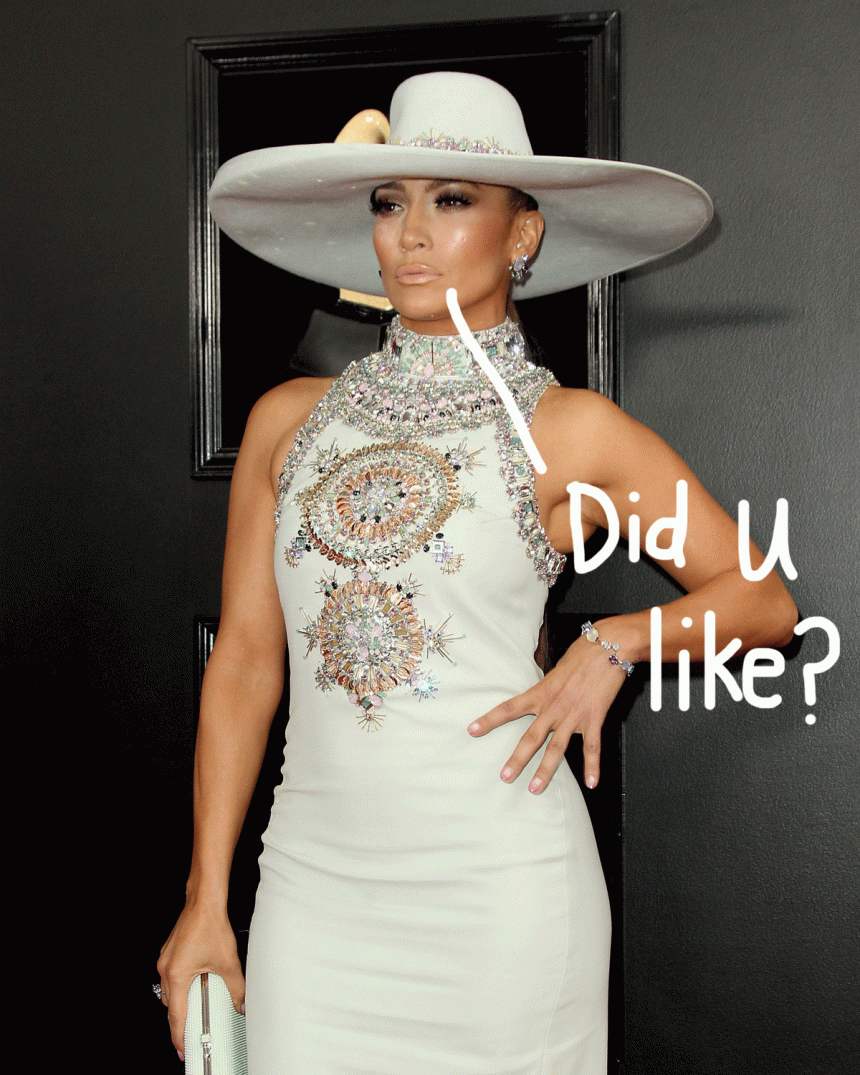 When you think of today's artists who were influenced by Motown, Jennifer Lopez probably doesn't come to mind.
Yet the 49-year-old superstar was the one who sexily led the Motown Records tribute at the 2019 Grammy Awards — so, naturally, people were upset about it.
As we reported, J.Lo took the stage Sunday night with Alicia Keys, Ne-Yo, and Smokey Robinson, performing hits of the past like Dancing in the Street, Do You Love Me, The Best Things in Life Are Free, all while wearing a very J.Lo-y sparkling one-piece.
Related: Janelle Monae Gives A HOT Grammys Performance!
Ahead of the show, the starlet explained that leading the tribute was "a dream come true," as she was extremely influenced by the genre growing up. Telling E! she planned to dedicate the performance to her mom Lupe, the singer said:
"Mommy, this is for you because we used to dance around to this music,. I grew up with this music and me and my sisters, the three of us, we were, like, the backups. We were The Temptations and we just sing with her and I feel it's a dream come true."
But for others, it was a nightmare. Many were quick to criticize the Grammys for honoring the genre of artists like The Supremes, Gladys Knight, and The Temptations with the latin songstress as opposed to, well, any black performer.
21-year-old preacher Jared Sawyer Jr. tweeted after the segment aired:
J. Lo better not salsa her way to the cookout because she is uninvited for that terrible performance. 😂 How do you do a Motown tribute without an ALL BLACK cast of artists?! And it's Black History Month too. 🤦🏾‍♂️#GRAMMYs #Grammy2019

— Jared Sawyer Jr. (@JaredSawyerJr) February 11, 2019
Echoing the sentiments of many, Sawyer complained that Knight, Stevie Wonder, Patti LaBelle, Jennifer Hudson, Tina Turner, or "practically anyone else" would have been a better fit for this tribute.
Another Twitic — TV and radio personality Bevy Smith — noted that the women of Motown would have never even been able to give a sexy performance like J.Lo, tweeting:
The irony of the very sexy J.Lo Motown revue is that Berry Gordy had the women of Motown tame their sexy so as to not fall into the Jezebel, highly sexed trope which White America places black women in! So they could have NEVER given a performance like that, ladies at all times!

— bevysmith (@bevysmith) February 11, 2019
Others were just as perplexed:
@RecordingAcad I don't understand how you could #whitewash #MotownTribute w/ @JLo. We like her well enough but not for this. There are literally 1000s of black musicians that would have performed. This is why #Motown was formed because black artist couldn't get a chance.

— Benti F. (@FrankiB) February 11, 2019
Clearly you're not currently reading TWITTER dragging her ass right now. When I think about Motown that gracefully put the spotlight on black music & artists and the CULTURE during black history month… Ummm NO #JLo is not who comes to mind. 🙄

— Marci Jones (@spanishfly_69) February 11, 2019
Clearly, people were upset on behalf of the Motown legends they grew up loving.
But, according to Smokey Robinson, an actual Motown legend, J.Lo was more than qualified to lead the tribute. He didn't hold back his frustration for her critics, either, telling Variety on Saturday: 
"I don't think anyone who is intelligent is upset. I think anyone who is upset is stupid."
Though Robinson noted that Lopez has credibility "growing up in her Hispanic neighborhood," he said debating whether or not she's even qualified to sing Motown music is missing the point of Motown music. He added:
"Motown was music for everybody. Everybody… Who's stupid enough to protest Jennifer Lopez doing anything for Motown?"
Uhhh… who wants to direct Mr. Robinson to Twitter?
What did U think of Lopez's Motown tribute?
[Image via Adriana M. Barraza/WENN]
Related Posts
CLICK CLICK CLICK Next Article
Feb 11, 2019 7:29am PDT