Kathy Griffin's beloved mom Maggie Griffin passed away on Tuesday.
Revealing the heartbreaking news to her Instagram followers yesterday, the comedian shared a photo of them sitting together on a lounge chair taking in their beautiful view. And of course, her momma was raising a glass!
Related: Caroline Flack's Boyfriend Speaks Out One Month After Her Death
With the pic, Kathy captioned the post with a tribute to the 99-year-old family matriarch, writing:
"My Mom, the one and only, Maggie Griffin, passed away today. Hours ago. I am gutted. She was my best friend. She was my family. You knew her. She appreciated you guys so much. I'm shaking. I won't ever be prepared. Her point of view. So unique. We just GOT each other. I'm so grateful you got to be part of her life. You loved her. I know it. She knew it. She's irreplaceable.
I'm telling you right now, I am not doing well with this. I'm rambling now. Sorry. It truly feels like the end of an era.
Oh, and OF COURSE she went on St Patrick's Day.
I love you guys. KG"
Maggie would have turned 100 in just a few short months.
And amid all the scariness of the coronavirus outbreak, for 59-year-old Griffin to lose her mother, that's something we can't even fathom having to go through right now.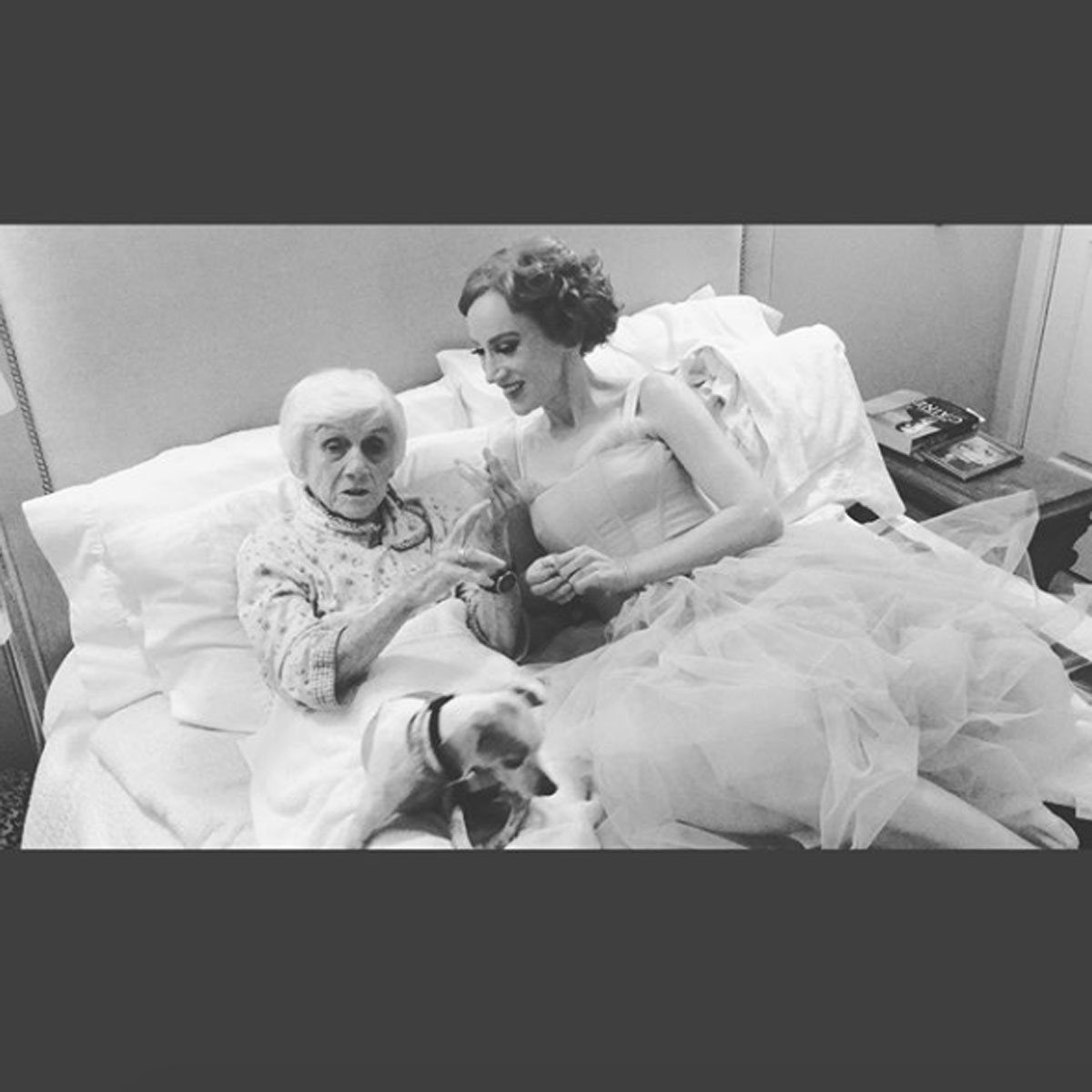 It was last January the former reality TV star opened up about her momma's health taking a turn as she battled dementia. She wrote on social media at the time, while sharing a slew of pics and video of Maggie:
"As heartbreaking as this is, I feel the need to share some important info about my mom Maggie. I've always been honest with you all, but this one is really hard. The pic below, taken in September, was the last time I was able to have a proper/coherent conversation with her.Since that photo was taken, she has rapidly fallen into the throes of dementia. This is never easy for any child, I know this is a reality that millions of people deal with every year. But when it comes to my mom this is particularly hard because her sharp mind was everything. My mom is 98 and up until this past couple years she was so sharp she always kept me on my toes. Her mind was so naturally quick, funny, and smart. No one could get anything past her. Watching that slip away so fast has been devastating.I want to assure you all that she is not in pain and she is getting the best 24-hour care. In terms of how she is now, at this point she only knows my name and I love you. I know many of you know what that reality is like…I'm still grappling with it."
The star continued, adding about their time starring on Bravo's My Life On the D List:
"A big reason I'm sharing this news with you is that so many of you have asked why I haven't posted a video of Maggie & her beloved dog Twinkle in the past few months. Now you understand why we haven't been able to share anything, here is a moment between them from this summer. What I am most proud of when I comes to My Life On The D List is that show gave me the opportunity to show the world how naturally funny my parents were. When people tell me they feel like they know my mom, I always respond "you do!" She never put on a show, she was the show. If you ever met my mom and asked for a photo, you should know it was a pleasure as much for her as it was for you. She loved making people happy and making people laugh. And trust me, I know she was the bigger star…thank you from the bottom of my heart for giving us a lifetime of memories."
We'll be thinking of her and her loved ones during this difficult time.
R.I.P., Maggie.
[Image via FayesVision/WENN]
Related Posts
CLICK HERE TO COMMENT
Mar 18, 2020 06:54am PDT