Pregnant Katy Perry is counting her blessings and doing the best she can while in quarantine!
The Never Worn White songstress and her fiancé Orlando Bloom are currently cooped up at home, anxiously awaiting the arrival of their first child together as well as the glorious day when safer-at-home measures will eventually be lifted. In the meantime, Katy continues to candidly open up about being pregnant during the lockdown and as you might expect, it's bittersweet!
Related: Pregnant Katy Is Barefaced And Beautiful In 'Mid-Quarantine' Snap
During a recent interview with Extra, the expect momma admitted she's had some "horrible days" at home, but explained how she tries to keep a positive attitude through it all:
"Even though I can get highly annoyed by being quarantined with my family in close quarters … I feel we've laid a new foundation within our family. There's a bond that's even stronger. We have some horrible days where I want to cry, but I believe when we look back at this, for myself, it will be this beautiful bond that we created."
Katy also said the quarantine has brought her and Orlando even closer together during an Instagram Live chat with singer Cyn on Tuesday. Revealing how this time has forced them to appreciate the good, the bad, and everything in between about each other, she joked:
"If you love me during quarantine, you will love me any other time. You can't hide your foot fungus. This is me! You can't hide anything!"
Ain't that the truth. LOLz! Despite an eventual wedding and baby on the way, Perry went on to say she doesn't expect to achieve "happily ever after" with Bloom. Instead, she hopes they'll learn to bring out the best in each other no matter what:
"You're always going to be working on yourself and your relationship… Your partner is your mirror. I don't know about you, but sometimes if you get me in front of one of those magnifying mirrors at a hotel, and I see my pores and whiskers, I won't leave the room for 30 minutes. I'm like, I can't believe I see all the things that I never saw and I need to work on. That's what your partner is."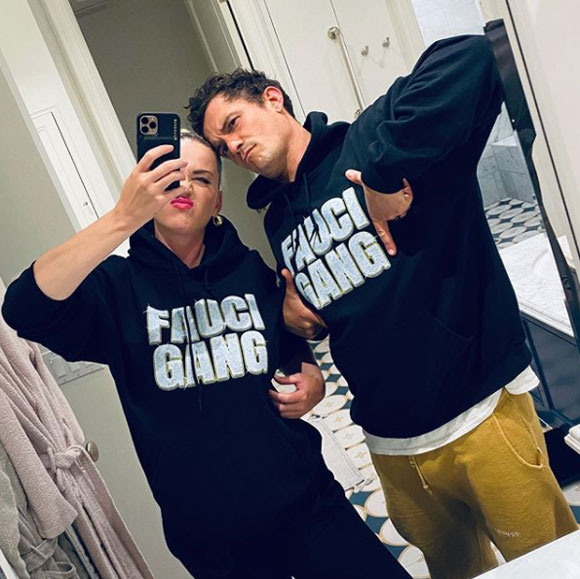 Late last month, a source close to the couple said they had been experiencing "ups and downs" through the singer's pregnancy, but it sounds like they're committed to coming out of this experience stronger together!
The pop songstress also gave viewers a look at her growing baby bump during that IG session, too! Ch-ch-check it out (below):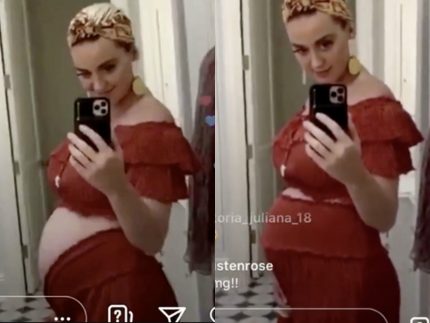 Looking great, Katy Kat!
More Pregnancy Updates!
In a recent interview with Good Morning America, Katy also revealed it's been hard to satisfy her unique cravings amid the shutdown:
"You hear stories of a pregnant woman craving something and the husband or fiancé goes and rushes to the grocery store at two in the morning. There's no rushing to the grocery store!"
The Grammy nominee mused:
"It's like, 'Do you really need that pickle? Do you want to risk your life for a pickle?"
Aww. An unsatisfied craving is enough to make anyone go crazy, let alone this poor soon-to-be momma who's eating for two! Additionally, she stated in a Facebook Live video this week that she can't wait to drink again after giving birth:
"Very excited for the future, when that can happen! It'll be years, probably."
Hear more from the starlet in her full video post here:
Wishing you all the best through this next trimester and beyond, gurl!
[Image via Avalon/WENN/Cyn/Instagram].
Related Posts
CLICK HERE TO COMMENT
May 06, 2020 10:08am PDT