UPDATE 6/12/19 7:48 A.M. PST: Nicki Minaj's fans were left upset after Chris Brown's INDIGOAT Tour announcement didn't mention their fave would be joining him on the road!
But as it turns out, the songstress never brokered a deal with the controversial R&B artist in the first place. At least, that's what TMZ is claiming.
Per the new report, Miz Minaj chose not to go on the road, not because of any issue with her Wobble Up collaborator, but because she herself is working on new music, finished up her European tour not too long ago, and the list goes on.
Nicki comes first, y'all!
---

What's going on with Nicki Minaj!?
On Tuesday, Chris Brown announced a massive tour to promote his upcoming album, Indigo, which he cleverly titled the INDIGOAT Tour. In the announcement, Breezy included a slew of performers that would be hitting the road with him — but fans were shocked to see that one artist was not on the list… Miz Minaj.
When the tour was first teased, Brown revealed it would be happening in the summer and that the Good Form rapper would be joining him.
So, when Nicki's name was curiously absent from the official lineup — which instead included the likes of Joyner Lucas, Tory Lanez, Ty Dolla $ign, and Yella Beezy — her Barbz were naturally upset.
Video: Adele SLAYS Nicki's 'Monster' Verse At Los Angeles Party
Her followers have grown increasingly worried about the raptress' well-being, seeing as she's been postponing concerts left and right, and has been absent from social media over the past few months. Now, with her departure from the INDIGOAT tour, fans are trying to figure out why she's been in hiding.
So, what's going on?
The most common theory is that Nicki's hiding a pregnancy. To some, this would make sense since she's pretty much been off the radar ever since her Met Gala appearance back in May, where fans noticed she gave a rather frazzled interview on the red carpet:

In that interview, the performer admitted that she was enjoying "quiet time" with "people that [she] love[s]" — likely referring to her controversial boyfriend, Kenneth Petty.
Nicki's made no secret of her desires to settle down with the registered sex offender, whom she's previously referred to as her "husband." Could she already expecting a baby with him, though!?
Video: Cardi B Put On The Spot With Nicki Question During Interview
That's the theory fans are coming up with. Her removal from Chris' tour would give her time to rest and prepare for the possible birth of her first child. But if she's not expecting, something else is clearly going on!
Other, more loyal fans, meanwhile, are defending the songstress on Twitter, saying that she never confirmed she was going on tour with Breezy, so no one has a right to be mad at her for dropping out of it.
There's one other possible explanation: the 36-year-old could just be trying to distance herself from the controversial performer, who still faces backlash to this day over his alleged assault on ex-girlfriend Rihanna.
Though Nicki's never been one to shy away from controversial men, so that's probably not the case…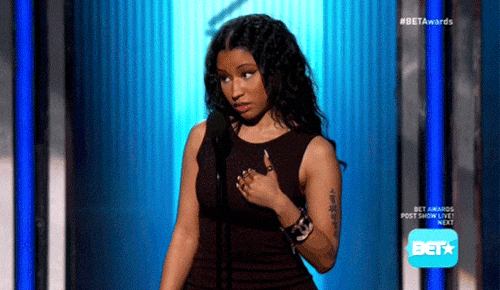 What do you think is going on with the rapper, Perezcious readers? Is she getting ready for a baby Minaj? Sound off in the comments (below)!
[Image via WENN]
Related Posts
CLICK HERE TO COMMENT
Jun 11, 2019 09:45am PDT