Shay Mitchell knows working full time while pregnant can be a real doozy!
In fact, it's a balancing act which has pushed the Pretty Little Liars alum and her bladder to new limits as she power struts into the last trimester of her pregnancy.
On a new episode of the expectant momma's YouTube Original Series, Almost Ready, Shay revealed her secret to dealing with a common and not-so-glamorous issue which many moms-to-be can relate to: having to pee all the darn time!
Raise your hand if you know where this is going…
Mitchell admitted she now wears diapers while working on set!
Related: Anne Hathaway Opens Up About Her Less Than Perfect Pregnancy Journey…
The confession came up as Mitchell and longtime stylist Monica Rose, who famously used to style the Kardashian-Jenner clan, went through a round of fittings for an upcoming photo shoot.
"You wanna see something? Honestly guys, I've never known that somebody could pee as much as you do when you're pregnant."
Shay explained the urge to relieve herself every few moments became so taxing she genuinely couldn't take it anymore:
"I swear to God, in a half an hour, I went to the bathroom probably about 22 times last night to the point where I was like, 'I'm f**king wearing diapers.'"
The 32-year-old paused to reveal she was currently wearing one and went on gushing about the nifty alternative, ironically, usually suited for children.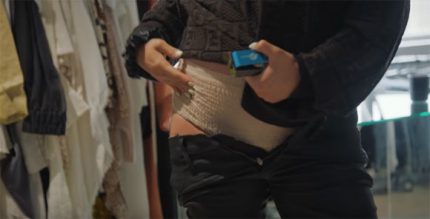 She went on to spill how hard it is to make it to a bathroom on set when busy with the demands of acting or preparing to be on camera. Shay said:
"I peed myself, I got it a couple good times and I had to throw it out. But I'm not doing it. You know, I'm having to pee way too much. It's just like, I'm over it."
Ha! Gurl, we don't even blame you one bit!
Stunned by the admission, Rose admitted she wished she had thought of that solution during her own pregnancy journey:
"What? I have never seen that in my life, and I've had three kids! You know, I wish I would have known about that. Because I've had a couple episodes."
Ch-ch-check out more of what it's like to live Shay's busy lifestyle in the latest installment of her web series (below):
In June, the You actress revealed she and boyfriend Matte Babel, who she's been dating since 2017, were expecting a baby together. The announcement came months after the star admitted she suffered a miscarriage in 2018.
Mitchell hopes viewers will learn a thing or two as she fearlessly documents some of the most challenging moments of being pregnant.
Referencing her gorgeous baby bump photo in a teaser for the show, she said:
"It's been a really lonely journey. I think pregnancy is awesome for the most part but it's also really f**king lonely… It didn't feel right to just put up a photo and be like, 'I'm pregnant' and have people just think that everything has been peaches or rainbows. This is real life that I want people to come along with me on this journey in real time."
We're so here for the transparency!
Thoughts, Perezcious readers? Do any mommas out there care to weigh-in on Shay's crafty solution? Got a tip of your own?
Share 'em with us in the comments (below)!
[Image via Adriana M. Barraza/WENN]
Related Posts
CLICK HERE TO COMMENT
Aug 01, 2019 10:35am PDT