What a difference a few months — and the love of a good woman! — can make.
Like so many children of celebrities before him, Presley Gerber (son of Rande Gerber and Cindy Crawford) has had a rocky adolescence. In January 2019 he was arrested and later charged with a DUI. He's struggled to escape the shadow of his super-successful family and has talked openly about feeling "misunderstood." (Hell, he even got it tattooed on his face!)
Related: Pink Reveals Son Has 'Pretty Bad' Food Allergies Following Coronavirus Battle
Now it looks like the model is finally turning things around, and part of that may be thanks to the new lady in his life! Kaia Gerber's brother has been dating Sydney Brooke since March, and so far things seem to be smooth sailing for the couple. A source for People said:
"Presley seems to be doing well. He is very focused on helping his dad out to keep their restaurant going. He is working most days."
Apparently, the 20-year-old and his GF are co-workers as well, which is probably a stabilizing influence for Gerber. The source continued:
"He and Sydney work together. They try to work the same shift. Presley still lives at his parents guest house and Sydney spends time there as well. Presley has slowed down the partying."
This is a huge turnaround from just a few months ago, when his parents were expressing serious concern over his behavior. A source told E! News:
"[Presley] has just fallen off the beaten path. He has been in treatment before but they are pushing for something more serious. They want to make sure he's in a good mental state and are closely watching him."
Another source explained:
"He doesn't know where he fits in. He's going through something and wanting to do things his way without anyone telling him what to do or how to be."
Related: Khloé K 'Personally Attacked' By Tristan's Alleged Baby Momma!
Now, it looks like Presley has a little more direction. He shared a pic of himself working at his dad's restaurant, Cafe Habana, to Instagram with the caption, "We're still out here working!" (See above.) He's also been sharing pieces from his new "ColorBlind" clothing line. He wrote about the collaboration, saying: 
"We came up with the concept "ColorBlind" to unite all people in the WORLD no matter the background/birthplace etc. I have a tattoo under my eye as you know not to prove anything but to literally save my breath from explaining myself to everybody. Now it's easy. I'm just misunderstood. And I have come to realize a lot of people are too. So let's unite the world and start a movement. Everybody is born and everybody dies. Dont forget to leave a mark (even if it's on one person). Good vibes to everybody!!"
Little sis Kaia showed her support by commenting, "Well said Prez ❤️ I'm proud of you".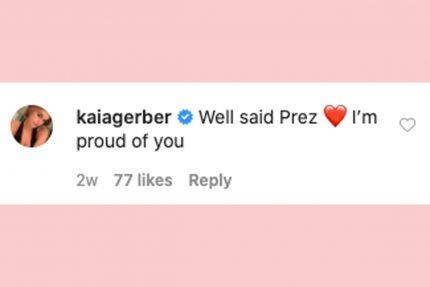 We're glad to see things are looking up for Presley! Ch-ch-check out his Instagram post (below).
https://www.instagram.com/p/B_t0VO_AT6X/
[Image via Presley Gerber/Instagram]
Related Posts
CLICK HERE TO COMMENT
May 20, 2020 09:40am PDT