What?? Sorry, we mean WHAT?!?
In the wake of Reese Witherspoon's surprise divorce announcement last week, we've been hearing some different possibilities of how that came to be. She and Jim Toth seemed like such a stable couple for 12 years. Even when they got in trouble, they did it together! Then suddenly it was all over.
We've heard there may have been something of a "midlife crisis" going on with Jim, and he was no longer seeming like the man the Sweet Home Alabama star married — what with the new tattoos and "chunky weird jewelry."
Related: Reese 'Disappointed' She's Going Through 'Another Divorce' All These Years Later!
So… what if she found herself another classic all-American hunk? THE classic all-American hunk, in fact! Yeah… we're talking about America's quarterback Tom Brady!
REESE WITHERSPOON AND TOM BRADY?!?
That's the latest hot rumor burning up the mill! An anonymous tipster sent DeuxMoi the goods Tuesday afternoon, writing a blind item:
"A-list actress who JUST announced her divorce is newly dating A-list NFL athlete who is also recently divorced"
We mean, both A-listers? Who else could this even mean?? This may be the most transparent blind item we've ever seen!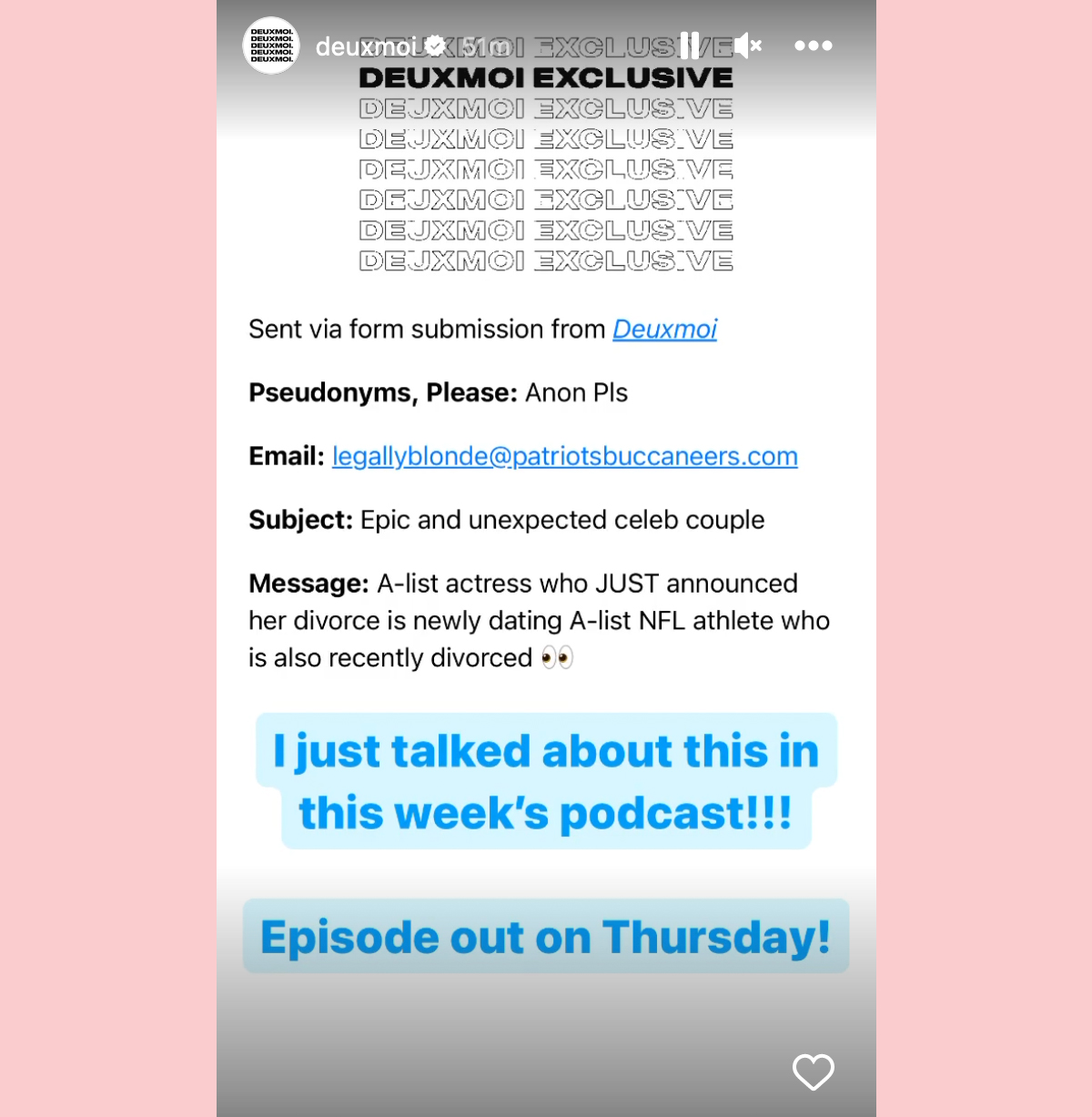 LOLz at that email address! As if it needed spelling out like that!
OK, so we currently know NOTHING about these two as a couple. But it's not hard to imagine these two being into one another. Reese Witherspoon is a big football fan, having voiced her support for the Tennessee Titans in the past. One could imagine Brady is the type of guy the Oscar winner would actually be starstruck around! And for Tom, we mean… she's REESE FREAKIN' WITHERSPOON! Boom.
They also have plenty in common. They've both evolved past the professions they dominate and leaned into the business world. She's a little more successful of late, but hey — that just makes her a better catch, right? Also, if they're both going through big breakups — with kids — they're kind of in the perfect place for one another! Hey, they even both got dragged for accepting PPP loans for their "small businesses" during the pandemic! So much in common…
Inneresting, right? Just on Monday an insider told Page Six Tom "is dating around." Hey, what's good for the gander is good for the goose, right? And Gisele Bündchen is rumored to be hot and heavy with a certain sensei already. While Tom getting back out there makes the Reese story a real possibility, it makes it less likely that anything serious is going on between them. Because this source said:
"He's shopping. He is out and about."
Hmm. Obvi not sure if this is even true — we're lacking ALL sorts of details still — but it's seriously fun to think about. Folks on Twitter are shook! Here's a smattering of responses:
"Deux Moi out here giving me a heart attack casually dropping Tom Brady Reese Witherspoon dating rumors when I'm just trying to enjoy my evening!!!!!!!"

"Ok if Reese Witherspoon is dating tom Brady that's fun"

"Tom Brady and Reese Witherspoon are supposedly dating? I don't even have a reaction for this, what a random couple."

"tom brady and reese witherspoon is a wild celeb couple"

"Reese and Tom Brady?! Kinda like it ngl"
What do YOU think of these two as a couple? Witherbrady? GOATspoon? Whatever it ends up being! Let us know in the comments (below)!
[Image via MEGA/WENN.]
Related Posts
CLICK HERE TO COMMENT
Mar 28, 2023 16:17pm PDT