These Are The Best Gifts To Spoil Your Loved Ones With On Valentine's Day!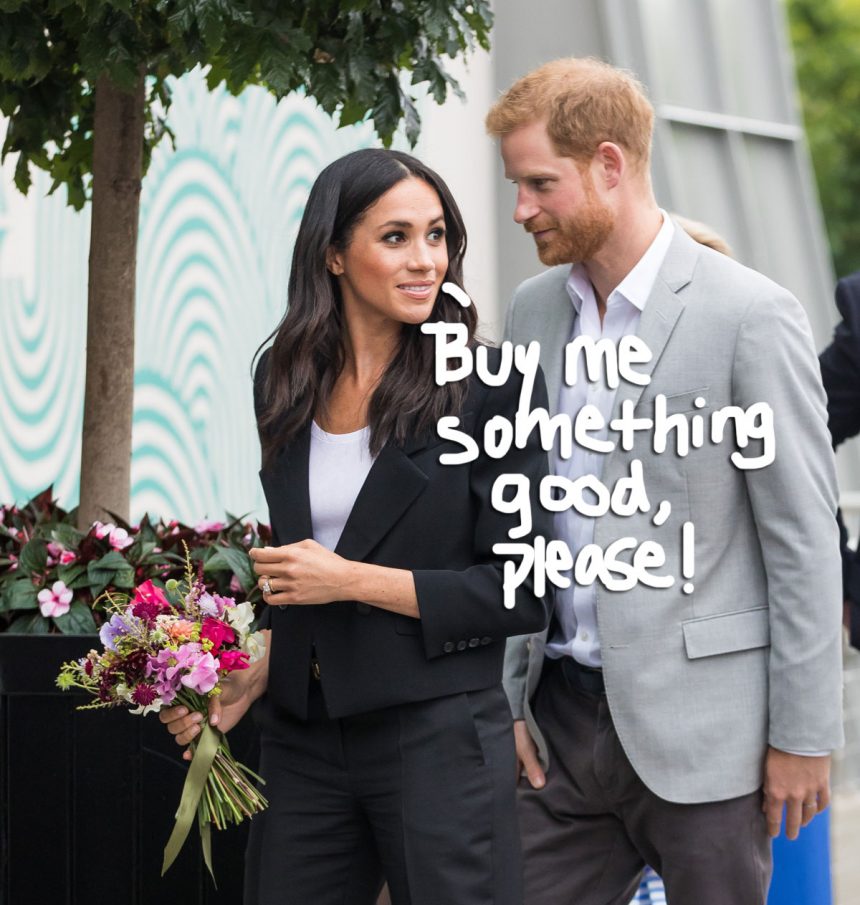 2019 is somehow already rushing by, landing us almost at Valentine's Day.
It really snuck up on us this year, right??
If you've been giving the perfect gift thought, but struggling to bring it to life, we've rounded up some of our favorite choices so you can find something for everyone!
Related: How Prince Harry Is Watching Out For Pregnant Meghan Markle!
Take a look (below), starting with the perfect card for you to profess your love:
Nocturnal Paper
There's really nothing like a handwritten love note, but it's made even better when you're opening this card to find it. While we love this Bird Box reference, you can find ones to perfectly suit your S.O.'s taste HERE!
Hourglass
The new Confession Ultra Slim refillable lipsticks are sealed with a kiss, and come in the sweetest packaging, just for Valentine's Day! So, if you're looking for a gift for your bestie, your partner, or just yourself, you can find them HERE.
Essie
Or if it's Galentine's Day you're shopping for, essie's sparkly new collection is an affordable option to pick up for your work wives or BFFs. Ch-ch-check them out HERE!
Kaja Beauty
We may as well state the obvious here, but Kaja Beauty's Heart Melter Lip Gloss Sticks (available HERE) are a sweet surprise for anyone who likes a tinted pout!
Patchology
Speaking of pouts, the hydrating Kiss Kiss Kit will have your lips ready to pucker up in two easy steps — just check them out HERE!
This Is Ground
Frequent travelers, commuters, parents-on-the-go, the list goes on really, will have a reason — or five — to appreciate the Mod Tablet 5's ability to house all the essentials. And there's no fear of anything spilling out when it's completely zippered up. Check it out in all its glory HERE.
Omaha Steaks
Sometimes the best gift is what they truly love, and if they truly love meat, then they're really going to enjoy being surprised with their favorite steak just waiting to be grilled. There are plenty of options at Omaha Steaks, but there's just something about the Omaha-Cut Ribeye, available HERE.
Sheltered Co.
Weighted blankets have seen a huge surge in popularity, especially since they've been known to help with insomnia, anxiety, reducing stress, and more. But what sets Sheltered Co.'s blankets apart is that they're handcrafted using recycled or dead stock fabrics, making them way more sustainable than other ones for sale. Pick one up HERE!
Dominique Cosmetics
We're way past anyone telling us makeup is just for girls! If you know someone who would love the new Berries & Cream palette, why not just make their day already?? Available HERE.
YSL Beauty
As most makeup hoarders know, packaging is everything. But YSL Beauty takes it even further with their kiss and heart-core lip balms. While the Volupte Plump-in-Color looks bold, don't let the black scare you! We think you'll be pleased with the plumped up results — just check out the lippies HERE!
Bliss
This shelfie has us seeing rose gold, well, Rose Gold Rescue. Bliss' new collection is exactly what you need to get date night ready, any night of the week. Just ch-ch-check them out HERE.
Lush Cosmetics
The eggplant emoji really does say it all, but Lush Cosmetics (available HERE) took it even further by creating it into a delicious smelling bath bomb, with the smell of bergamot, ho wood (emphasis on the ho) and litsea cubeba filling up your bathtub fit for two.
The Days Divinity
Because we all need positive vibes in 2019, considering gifting your significant other with serenity. Or tranquility. Check out the collection of crystals HERE to find which stone will suit them best!
Herbivore Botanicals
And speaking of crystals, what's not to love about this inspired Rose Quartz and Amethyst body care collection available HERE??
L'Occitane
Multit-tasking mommas may already having a holiday in their honor, but there's no reason not to celebrate them on Valetine's Day, especially after seeing how cute L'Occitane's collab with Paper Rifle came out! The packaging is very Parisian chic, and we have a feeling the matriarch of your fam is really going to love it. Find it HERE.
The Little Market
Tiny tots deserve some love, too! If you're looking for a special little present to brighten up their day, and their wardrobe, look no further than this heart-shaped pouch that's sure to put a smile on their angelic faces! Pick them up HERE.
Birchbox
A gift like this ought to come sealed with a kiss, considering you'll find a bevy of options of either lip products or fragrances for the indecisive (you know who you are!). LOLz! Make sure to take a look at them HERE before they're all gone!
IT Cosmetics
To be quite honest, we only included this because it's pink. And because IT Cosmetics is known for their Confidence in a Cream, and we can only imagine how amazing a rosy tone version must be! Find out HERE, and be sure to let us know what U think!
Voluspa
No gift guide could ever be complete without a candle, and if you've ever smelled this Milk Rose scent, you'd fully understand why it's included on this list. Just think heaven as you check it out HERE!
Loop Jewelry
And of course, you weren't going to get through without seeing at least one piece of jewelry! While it may seem a little cliche, or perhaps even overdone, there genuinely is something special about finding a piece that speaks to your loved one. Less is more with Loop Jewelry's clean designs featured HERE.
Floom
Another VDay staple?? Flowers, of course, but instead of your cookie-cutter arrangements, Floom will direct you to local artisans so you can rest assured there will be an extra special delivery! Take a look HERE.
Smoko
Is there anything more delightful than cozying up to your loved ones?? Well, maybe while keeping your toes snug in Smoko's corgi slippers, which by the way, are heated! The polar vortex has got nothin' on these pups, so take a look HERE.
Chillhouse
On a similar note, you can set the mood with the Palo Santo & Chill candles for when you're coming back from a night out or just planning your night in. Take a closer look HERE!
BOXFOX
Now this is major! Just imagine the look on your lucky lady's face when this box full of goodies turns up to satisfy their sweet tooth, whether it's with sweet reusable glasses or sugary treats — peep them HERE.
Mejuri
We imagine Justin Bieber spoiling new wife Hailey with a gorgeous diamond necklace like this one from Mejuri HERE. Except the model will probably be getting serenaded by her hubby as he helps place the new jewels around her neck. So like, same.
The Barisieur
Here's a coffee alarm clock. Do we even need to say more? Okay, fine! If your loved one can only wake up to the smell of freshly roasted coffee, let The Barisieur's sleek machine (available HERE) get their first cup ready as they're gently awoken from their slumber…
TRUFF
If you know someone who loves hot sauce, you'll know they REALLY love their hot sauce! Fan fave TRUFF is complemented with black truffle (hence the name) and is seriously perfect for adding onto everything! Find it HERE!
Necessaire
Speaking of getting saucey, Neccessaire's The Sex Gel also knows how to heat things up, just please don't eat it! Ch-ch-check it out HERE!
Dollar Shave Club
The Dollar Shave Club isn't just trying to make it easier to get a clean shave every morning, but to also step out smelling as fresh as they look! Their new colognes (found HERE) sound as inviting as they look, with scents from sea spray and melon to cedar and spicy cardamom.
D&G
Because there aren't enough options, The One Grey combines citrusy and earthy notes for an everyday scent! With Jon Snow (AKA Kit Harington) as the handsome face of the campaign, it's definitely work checking out HERE.
XO. Marshamallow
There shouldn't be any shortage of sweet treats on Valentine's Day, and these rose gold marshmallows are just what anyone would want! Plus, they're basically doing double-duty as they also make for some seriously enviable Instagram content that won't go to waste as you finally bite down on these little clouds of heaven! Peep them HERE!
Goop
There's nothing like Valentine's Day to shower the ones you love, and we really hope you haven't forgotten about yourself. Maybe something on this list has already caught your eye, or maybe you're still looking, but nothing says "self-care" more than Goop. The brand just screams luxury, and while we're not suggesting you try steaming your private parts, we think you'll enjoy checking out their line of body and skin care, all available HERE.
What are you hoping you'll be getting this holiday, other than some love??
[Image via Dutch Press Photo/WENN.]
Related Posts
CLICK CLICK CLICK Next Article
Feb 6, 2019 6:00am PDT