Anwar Hadid is clarifying his unsettling comments.
Over the weekend, Bella Hadid's little brother dropped some pretty cryptic remarks on his Instagram Story not long after his ex-girlfriend Dua Lipa hard launched her new man, Romain Gavras, at the 2023 Cannes Film Festival… Being so, social media users quickly began to assume he must have been talking about the two, which doesn't seem like a far leap, right?. Well, according to the man himself, that's not the case.
Related: A$AP Rocky Defends Pregnant Rihanna From A Club Brawl!
ICYMI, the One Kiss singer and her 41-year-old French film director beau debuted their relationship at the celebration of cinema Friday, and may we add they looked absolutely stunning while doing so! See pics (below):
Hier soir à Cannes avec mon cœur pic.twitter.com/LgfOgIqj7y

— DUA LIPA (@DUALIPA) May 20, 2023
Shortly after, Anwar took to his IG Story to post a few concerning sentiments, starting with, "Trying not to find and kill him," and, "I can't breath [sic]." He then added "I hate the way you say my name" and "Have fun." See all the since-deleted Stories (below):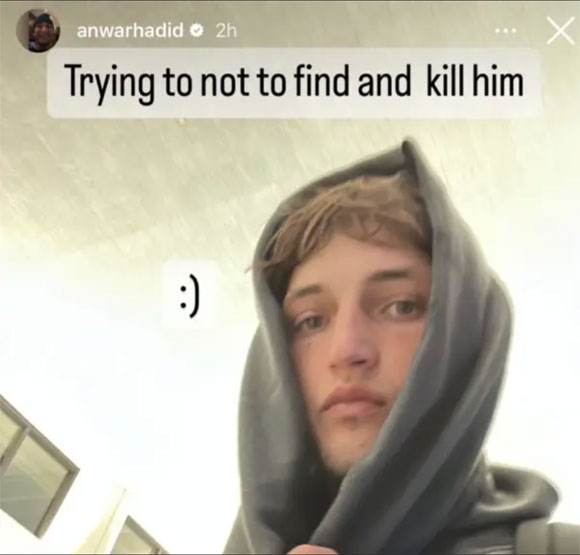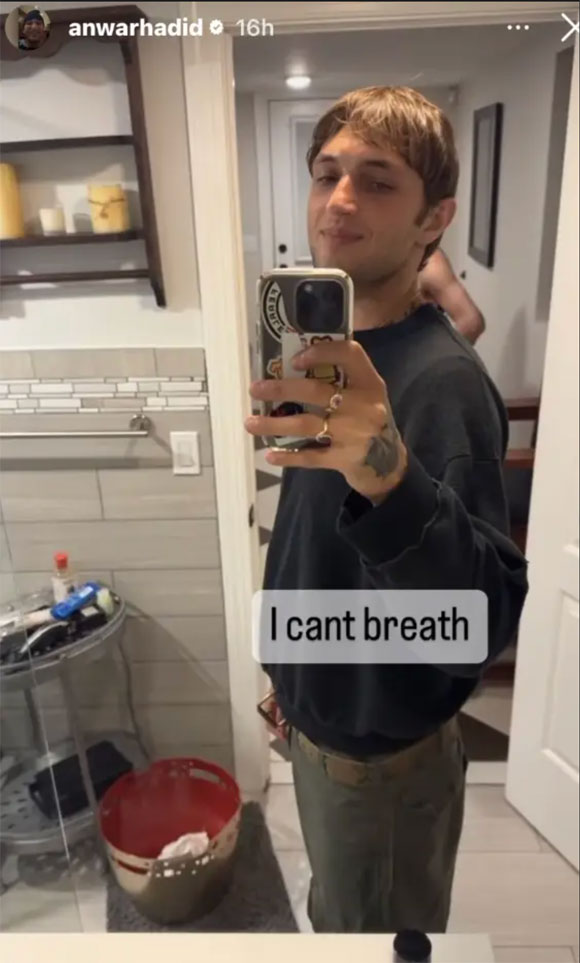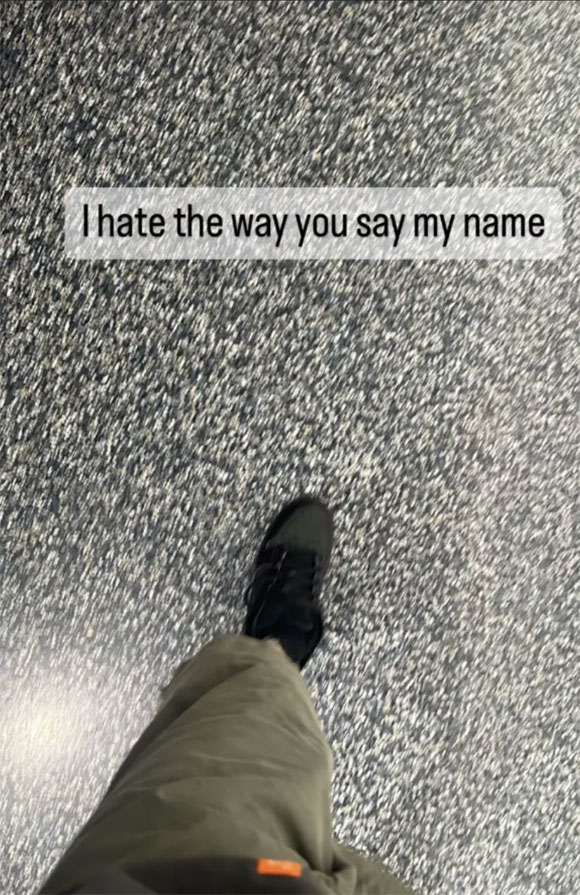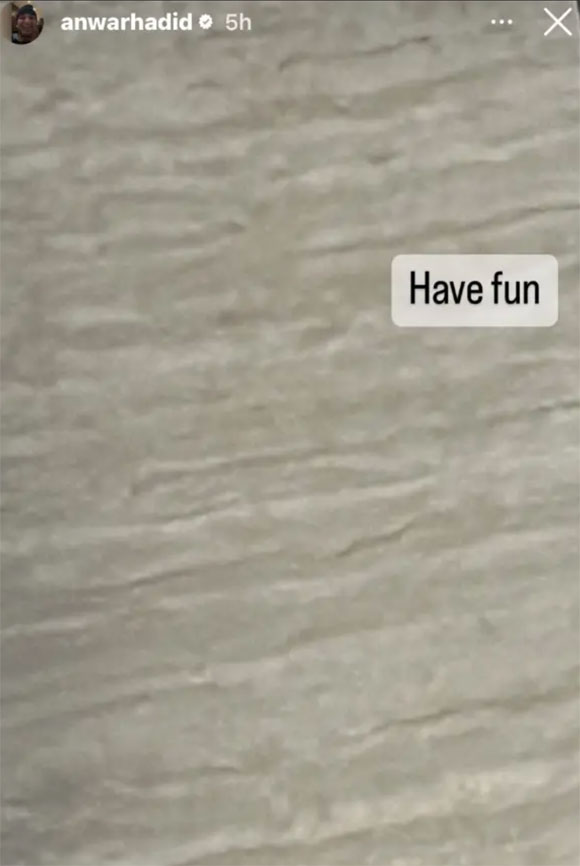 Yeah, not great stuff. The aspiring musician then rounded out his posting spree with a fifth one to his actual IG grid, in which he promoted his new music. However, fans took it as an opportunity to give their two cents on the matter, which was pretty mixed:
"Dua Lipa looked better with you than with that new one"

"Please take her from him real quick"

"You lost a gem of a woman in Dua. Stop letting your Mama control you and your sisters lives

"Leave Dua alone."

"Sorry but getting second hand embarrassment"

"You're pretty cringe"
Now, Anwar is setting the record straight.
Related: Kim Kardashian Wants To Avoid 'Same Mistakes' As Past Relationships
In a new IG Story post Monday, the 23-year-old addressed all the confusion surrounding his earlier uploads, clarifying:
"Crazy how the internet will just make whole articles about s**t they don't know anything about!! Yall are bored as f**k!!!! Sorry"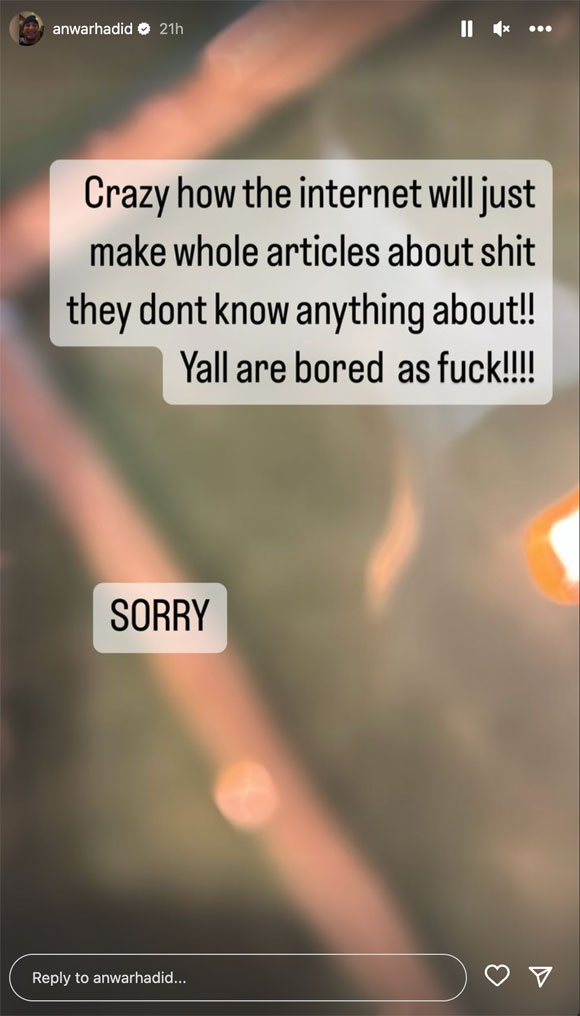 That's a far leap from the energy he was bringing… But not necessarily an outright denial. Like we mentioned Monday, he and Dua still follow each other on the photo sharing app, so maybe she saw the posts and asked him to douse the flames a bit as a gesture of good will? Or maybe he really was just posting about something completely different, that just so happened to coincide with his ex debuting her new man?? All we know for sure is he just wants to promote his music.
Thoughts, Perezcious readers? Share in the comments down below!
[Images via Anwar Hadid & Dua Lipa/Instagram]
Related Posts
CLICK HERE TO COMMENT
May 23, 2023 10:10am PDT