Best Girl Power Anthems Of All Time!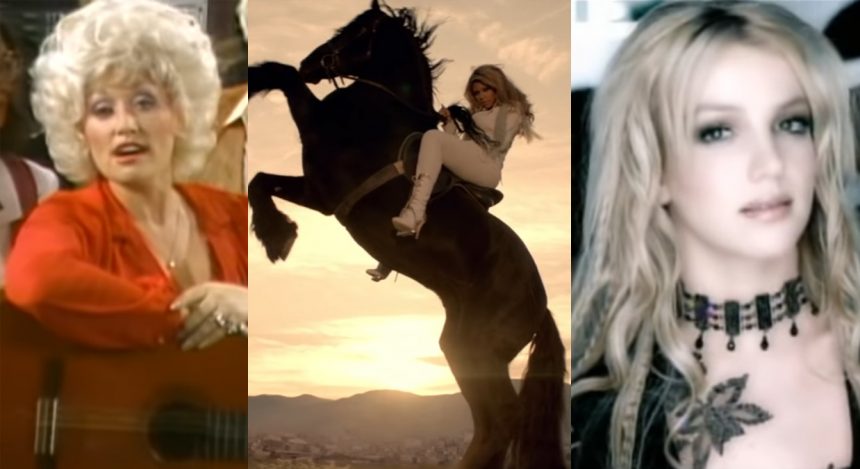 Had a bad day and need a boost? Had a great one and want to celebrate?
No matter what type of empowerment you're after, these ladies have the tune for you.
So check out our list of the best girl power anthems of all times and let us know what just HAS to be added to the list in the comments (below)!
BEYONCE – RUN THE WORLD (GIRLS)
This isn't a song. It's a spell. It's pure Beyoncé magic.
I'M EVERY WOMAN – CHAKA KHAN
A pure declaration of the power of femininity!
Whitney Houston may have gotten an even BIGGER hit with this one, and we love 'em both — but damn if the original isn't the truth!
KATY PERRY – ROAR
OK, perpetually self aware Katy Perry was clearly going for the quintessential girl power anthem here… and she NAILED IT!
The song, co-written by the ultra-talented Bonnie McKee, paints a portrait of a woman trying to stay polite — and letting that keep her quiet, subdued, and controlled until she has to absolutely let it all out!
DOLLY PARTON – 9 TO 5
With that jaunty earworm beat listeners could be forgiven for completely missing the fact Dolly Parton's movie tie-in track is a love letter to women getting it done in a man's world!
MEREDITH BROOKS – BITCH
Look, there's a reason this was in EVERY girl power scene in the late '90s. Taking the anger at being put in a box and spitting it back with wry humor? Perfect!
We love how Meredith Brooks takes ownership of what's been used as a misogynist term for so long as she explains all the things women can be.
SHANIA TWAIN – MAN! I FEEL LIKE A WOMAN!
Girl power doesn't always have to be about struggle. Sometimes just reveling in what it means to feel female in a completely uninhibited way.
BRITNEY SPEARS – STRONGER
Anyone singing "I'm not your property" would be a strong message. From Britney Spears, considering her history under conservatorship? It's a bit, well, you know.
DONNA SUMMER – SHE WORKS HARD FOR THE MONEY
For all the working women out there, this song is… not for you exactly. It's actually for all the jerks who need to be reminded about HOW YOU DESERVE TO BE TREATED! (But you get to dance to it too!)
KELLY CLARKSON – MISS INDEPENDENT
Kelly Clarkson has so many empowerment songs, but come on.
"Miss never let a man help her off her throne"?
Hell yeah, preach, gurl!
P!NK – F**KIN' PERFECT
If you've been mistreated or misunderstood, this one is for you.
JOAN JETT – BAD REPUTATION
While anyone can enjoy a song about shrugging off the haters, but the label of difficult is one historically used by men, especially in the entertainment industry, to keep women under control. And not giving a damn about that is empowering as hell!
DEMI LOVATO – CONFIDENT
Generally speaking, men have never had a problem being confident. No, this song is a rallying cry for the ladies!
ELASTICA – STUTTER
It wasn't Elastica's biggest hit, but it may be the only song on the radio sung by a woman to a man complaining about his inability to perform. Yeah.
Not only is it a high energy post-punk banger, it's also one cathartic track for any woman who's ever experienced a lack of satisfaction at the hands of a luvvah — and let's face it, that's every woman.
ARIANA GRANDE – GOD IS A WOMAN
LOLz, at the other end of the spectrum, this song is technically about how good Ariana Grande f**ks… but with that titular chorus, we mean, come on. Damn.
CHRISTINA AGUILERA – BEAUTIFUL
The first step to empowerment is accepting yourself. And if there has ever been a better song written about it, we haven't heard it.
TRACY BONHAM – MOTHER MOTHER
This one is all about a girl trying to transcend to womanhood while her mom just can't stop seeing her as a little girl.
Trust us, if you too have an overprotective mother, you will get a huge boost out of SCREAMING OUT the chorus in your car!
[Image via YouTube.]
Mar 8, 2019 5:05pm PDT