Drake Embraces The Dad Life & And Brings Son Adonis On His European Tour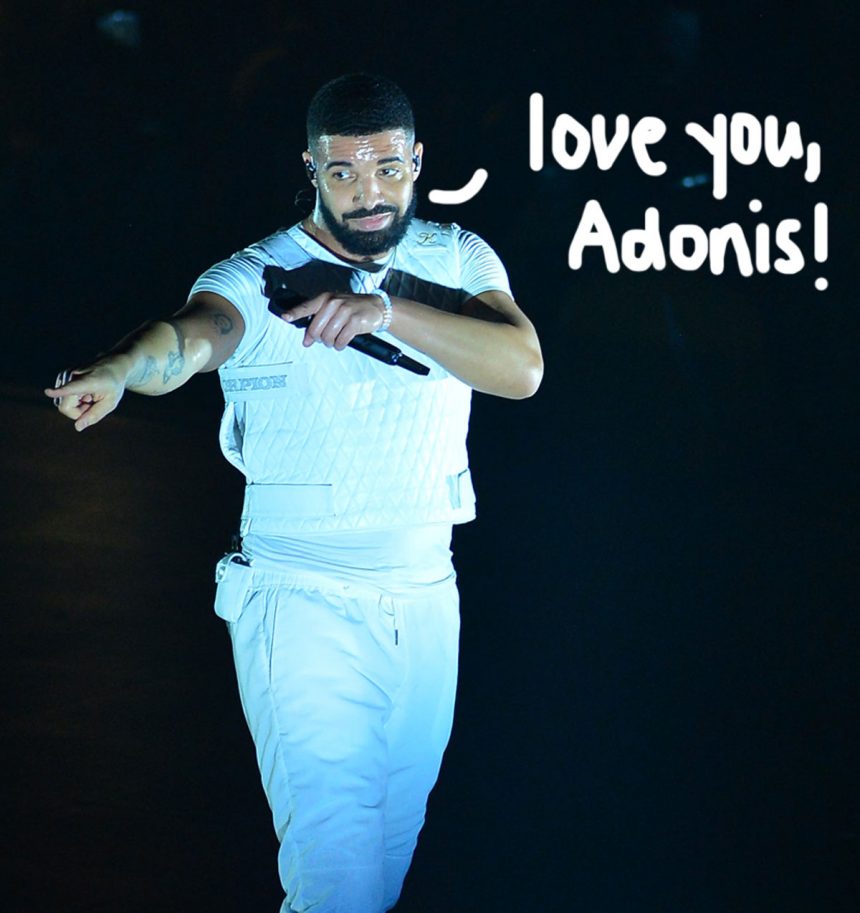 It sounds like Drake is ready to start publicly enjoying life with his son Adonis.
The Scorpion rapper has reportedly brought his 17-month-old son on his The Assassination Vacation European tour. The 22-date show that extends through April began in Manchester on Sunday March 10, where the entertainer absolutely killed it for the crowd of 12,000 strong.
But the highs of the performing in front of a sold-out crowd of screaming fans can't compare to the tender moments that are going on away from the spotlight.
Per the Daily Mail, the Toronto native was spotted cradling his child backstage and during rehearsals.
Related: Drake Scores Vegas Residency At Wynn's XS Nightclub!
Drake's nurturing move of bringing his seed along for his rockstar lifestyle surely comes as a surprise to us.
The guy has been busy with his career lately, between landing his latest Vegas residency and winning a Grammy. It's been a minute since we've heard much about his personal life, which usually extends to he's been spotted cozying up as opposed to his journey through single parenthood.
For those who need a refresher, the rapper's baby momma is an adult film star named Sophie Brussaux who gave birth to their son back in October 2017.
See her posing at Adonis's baby shower in August of that year (below):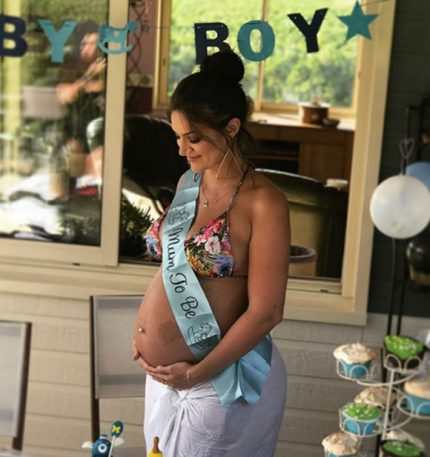 The unexpected father did his best to keep the news of his offspring under wraps, and didn't publicly acknowledge the little one until a rap beef with Pusha T put it all out there.
The two rappers duked it out over public snubs and sneak diss tracks for months in 2018, after Pusha spilled his T(ea) about Drake hiding his son from the world. The former Clipse member once rapped:
"Sophie knows better, ask your baby mother/ Cleaned her up for IG, but the stench is on her/ A baby's involved, it's deeper than rap/ We talkin' character, let me keep with the facts/ You are hiding a child, let that boy come home/ Deadbeat mothafucka playin' border patrol, ooh/ Adonis is your son/ And he deserves more than an Adidas press run, that's real/ Love that baby, respect that girl/ Forget she's a porn star, let her be your world"
Aubrey fired back by going on LeBron James' HBO roundtable show The Shop to clear up any misconceptions about his role as a father and also detail Kanye West's involvement in the heated feud.
Drizzy did also finally acknowledge his son in song, as evidenced by his track March 14 where he addresses the controversy head on in the opening lines:
"Yesterday morning was crazy/ I had to come to terms with the fact that it's not a maybe/ That shit is in stone, sealed and signed/ She not my lover like Billie Jean but the kid is mine"
Though it took a lot of petty drama and controversy for Drake to get to this point, we are glad that he's embracing the dad life. We look forward to seeing more of Adonis, too.
Can we get a solid picture of the cutie already?!
Thoughts, Perezcious readers? Share em in the comments down below!
[Image via Johnny Louis/WENN]
Related Posts
CLICK CLICK CLICK Next Article
Mar 13, 2019 1:15pm PDT