We still can't believe this exciting baby news for Gigi Hadid and Zayn Malik!
As reported on Tuesday, the cute couple is expecting their first child together and considering they were only just rumored to have patched things up in December — the announcement seemingly came out of the blue! But maybe not!? It appears the 25-year-old supermodel might've given us our first teaser about this next chapter of her life just a few short months ago.
Related: Katy Perry Says Staying Home Has 'Forced' Her To 'Slow Down' While Pregnant
Back in February, Gigi gushed on the idea of a family someday in her cover story feature with i-D Magazine:
"I think that as I get older — well, one day I'll start a family. I don't know if I will always be modeling."
That day came sooner than we all thought! She reflected on the next phase of her career, admitting she wants to continue being creative — even if that means stepping off the runway for good:
"I love the creative side of fashion, it's so fulfilling. The people I work with make me so happy, I'm so lucky to be around them. But who knows? Maybe I'll take up full-time cooking!"
It's nice to hear about that interest in cooking because those pregnancy cravings should be kicking in any day now!! LOLz. But more to the point, it's clear the expectant momma holds a positive mindset about her future! In the wake of her big baby news, a source told Us Weekly she and the Pillow Talk crooner couldn't be happier to become parents:
"Gigi is pregnant and she and Zayn are so in love. She's always wanted to start a family with Zayn."
Awww!
Reports of Gigi's pregnancy came just over a week after she celebrated her 25th birthday with Zayn and her family in Pennsylvania —  and the model's fans also think she dropped a clue about the sex of her baby that weekend, too!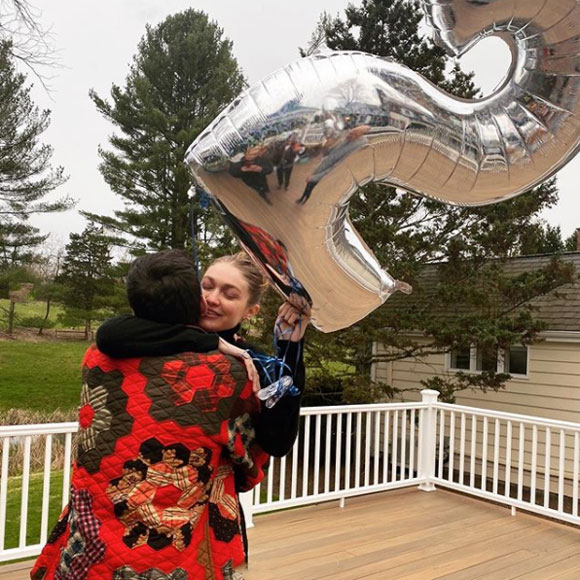 Per TMZ's report, "family sources" claim the first-time momma is already 20 weeks along, so eager fans had some fun sleuthing out what they believe are clues about Baby Malik's gender.
In Instagram photos shared by Gigi and her mom, former Real Housewives star Yolanda Hadid, the birthday girl is seen posing with giant silver balloons that spelt her age. One balloon is tied off with a blue string, while the other has a pink string. Ch-ch-check out the shot for yourself (below):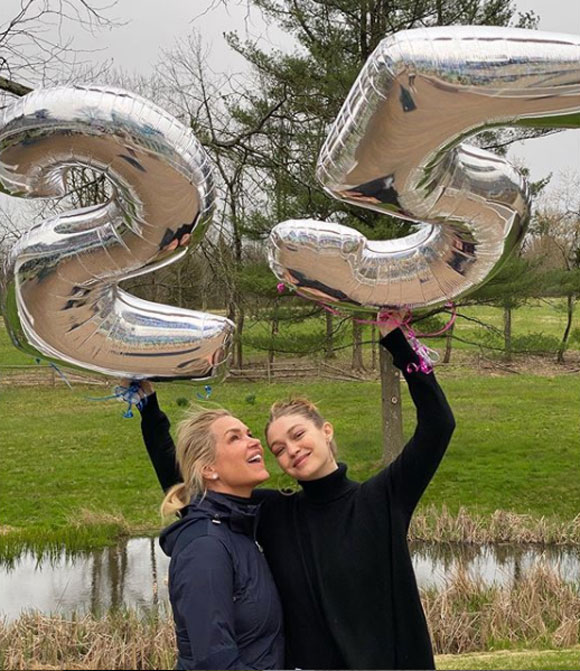 Fans definitely didn't think this was a coincidence and flocked to Twitter with theories! One user wrote, in part:
"The blue and pink strings. It was a gender reveal party as well?? Also I think that it's a boy since Gigi is holding the balloon with blue strings."
Others considered the presence of both colors could possibly mean Hadid and Malik are expecting twins, as this fan tweeted:
"What if Zayn and Gigi aren't just one child but they end up having twins a boy and girl?"
OMG, twins?!?! If true, this would mean DOUBLE the blessings but double the stress for these first-time parents. Remember, these are just fun theories! We'll just have to wait until something more definitive comes out from these two.
Do U think fans are barking up the wrong tree here? Got any guesses of your own? Let us know in the comments!
[Image via RV/WENN]
Related Posts
CLICK HERE TO COMMENT
Apr 29, 2020 07:40am PDT