Jussie Smollett's 'GMA' Interview Had Some ABC Staffers Doubting His Attack Story — & Trevor Noah, Too!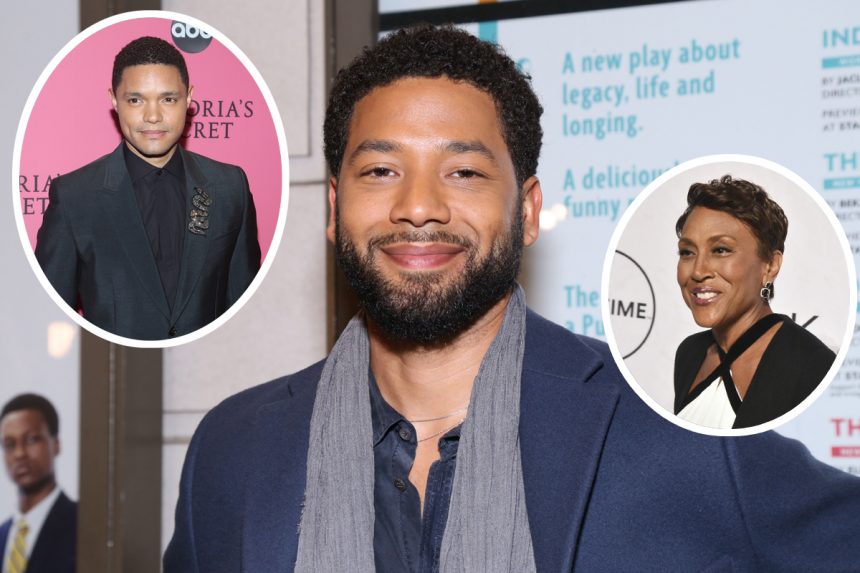 Apparently there was some doubt in the air before Jussie Smollett's story seemingly began to start unraveling…
Following his first televised interview after his alleged Chicago attack in late January, there were some staffers on Good Morning America who had their doubts about whether or not the Empire star was telling the whole truth. Since the airing of the interview, numerous reports have shown a shift in the alleged hate crime, indicating that Jussie could have orchestrated the attack himself.
Related: Jussie's Empire Screen Time Cut Down In Wake Of Alleged Attack
Sources shared with The Blast that some in the room during Smollett's morning interview felt that something was "up in the air" as the actor remained firm to Robin Roberts that he was the victim of a hate crime.
Roberts addressed the controversy on Monday morning:
"When I sat down with Jussie, it was Tuesday night in Chicago, at the time to give his first account — publicly give his first account — of what he said happened. And we have to remember, at that time, on Tuesday, police officers were saying that his account was consistent, it was credible, and that he was being cooperative. This was all before the interview aired on Thursday, and then we found out about the brothers."
It's unclear whether or not she still believes the 36-year-old, though Trevor Noah of The Daily Show addressed the possibility that the actor could have orchestrated the attack himself:
"Either this guy is telling the truth or he deserves an Emmy for that interview. Because if all of that was just a performance, I don't care what he's lying about, you can't cancel him. He's too good to not be on TV!"
Watch what else the late night host has to say about the ordeal (below):
If Jussie Smollett is making up this Chicago attack, he should at least get an Emmy for that GMA interview. pic.twitter.com/ULhe1siO2P

— The Daily Show (@TheDailyShow) February 19, 2019
What do you think, Perezcious readers? Sound off with your reactions (below)…
[Image via Joseph Marzullo/Rob Rich/Derrick Salters/WENN.]
Feb 19, 2019 9:55am PDT