Justin Bieber has an update on his health.
Last summer, you may remember the Peaches singer took to Instagram to reveal a scary diagnosis which affected the mobility of his face: Ramsay Hunt syndrome. Now, nine months later, the 29-year-old is checking back in with fans to share an update on his recovery process.
In a Wednesday IG Stories post captioned, "wait for it….," JB shared a video of himself scanning the room from left to right, before zooming in on himself and flashing an ear-to-ear smile! See (below):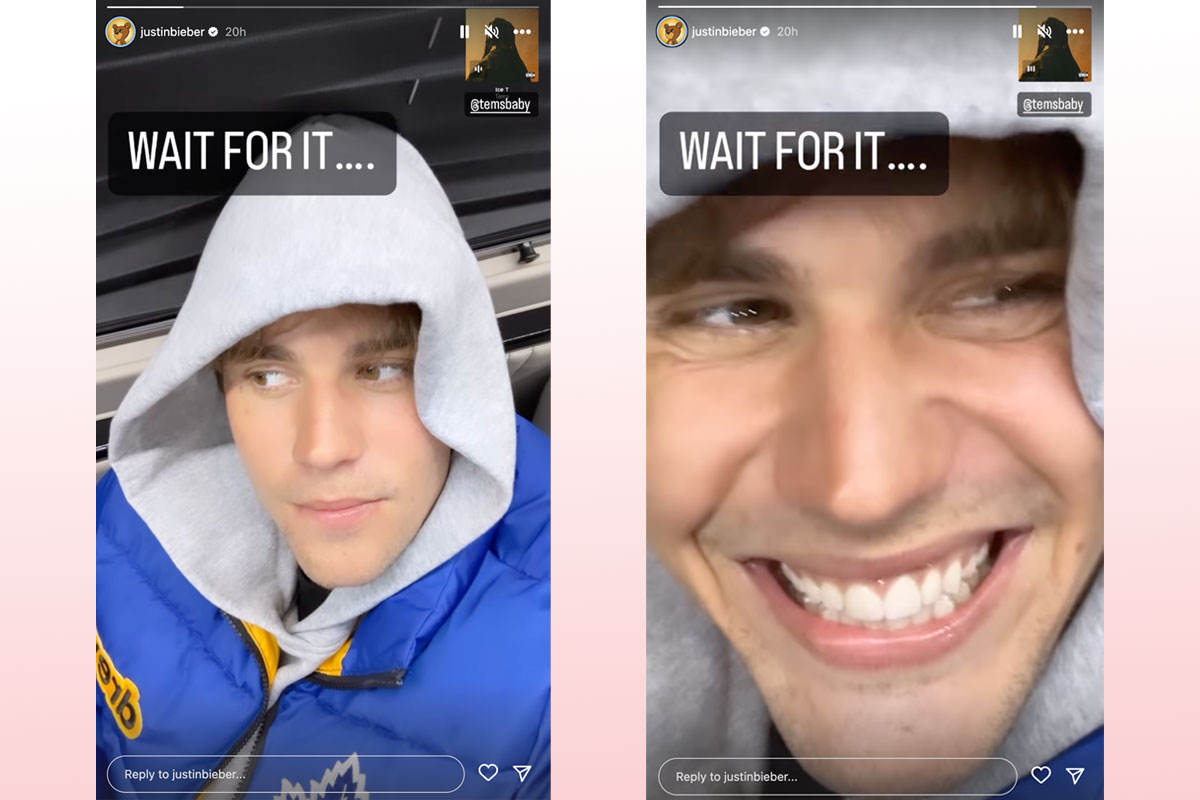 Related: Justin FINALLY Shows Support For Hailey Bieber Amid Selena Gomez Drama
It may not seem like anything major at first glance, but when you remember the lack of movement he had in his face last June, you'd be surprised. As a refresher, the Beauty and a Beat singer shared a video of himself at the time, in which he talked fans through his condition:
"As you can probably see from my face, I have this syndrome called Ramsay Hunt syndrome, and it is from this virus that attacks the nerve in my ear and my facial nerves, and it's caused my face to have paralysis."
He then pointed to one half of his face, before continuing:
"As you can see, this eye is not blinking. I can't smile on this side of my face. This nostril will not move. So there's full paralysis on this side of my face. So for those who are frustrated by my cancellations of the next shows, I'm just physically obviously not capable of doing them. This is pretty serious, as you can see. I wish this wasn't the case, but obviously my body's telling me I gotta slow down. I hope you guys understand."
He concluded at the time:
"I will be using this time to just rest and relax and get back to 100 percent so that I can do what I was born to do. But in the meantime, this ain't it. I gotta go get my rest on, so that I can get my face back to where it's supposed to be. I love you guys. Thanks for being patient with me. And I'm gonna get better. And I'm doing all these facial exercises to get my face back to normal and it will go back to normal, it's just time. We don't know how much time it's gonna be, but it's gonna be, it's gonna be okay."
See his full post (below):
Related: Hailey Bieber Reflects On One-Year Anniversary Of Mini-Stroke
By the look of his condition now, it would seem that he stuck to his word and kept pushing with those facial exercises, as he now has control over the movement of BOTH of his eyes again, AND can show off a symmetrical smile! Quite the difference when you compare the vids side-by-side!
We know that the debilitating syndrome is still affecting him to some degree, as he canceled the remainder of his Justice tour late last month, before sources claimed he HAD to because if not, "it could have a horrible impact on his overall health."
For now, though, we're just glad that he's making progress. Reactions to his update, Perezcious readers? Let us know in the comments down below.
[Images via Justin Bieber/Instagram]
Related Posts
CLICK HERE TO COMMENT
Mar 16, 2023 07:22am PDT