It may be a brand new season of The Bachelor, but for many franchise alumni, this means taking a trip down memory lane where many painful old wounds still exist.
Ahead of Peter Weber's debut as rose handler on Monday night, former lead Kaitlyn Bristowe took to social media and reflected on her time on the ABC hit reality show. As you'll likely recall, the Canadian-born contestant placed third runner-up on Chris Soules' season before she served as The Bachelorette back in 2015.
Related: Bachelor Nation Stars Who've Dated Celebrities
The 34-year-old went on to give Shawn Booth her final rose and the two were engaged for three years before eventually calling it quits in 2018. Bristowe has since found love in Bachelor Nation's Jason Tartick and they've proven to be quite a lovely pairing thus far.
But as we mentioned earlier, the starlet's journey to get to that point was not an easy one and she opened up about it in a new yet familiar Instagram post of her first contestant portrait.
Ch-ch-check out the cute throwback photo (below):
Kaitlyn began her lengthy message by first showing love to a friend competing on the current season:
"BABY KB!! Good luck, @pilot_pete we are all rooting for you. Unless you break my friends heart. She's on your season. Then you will have me to deal with ?? (jk) Cant wait to record reactions tonight. Who's gonna drink @spadeandsparrows with me tonight."
Then she got real about what it's like to watch other romantic hopefuls go through what she did:
"I always question watching every season due to a little PTSD, overwhelming emotions, and knowing a little too much. But I just always want to support the people going through this 'journey'. So while I have bitter feelings towards one person (not a contestant), out of hundreds, I will choose to love the hundreds of others who changed my life. I will try to remember the positive experiences."
Wait, hold up. Was Kaitlyn throwing shade at one of her Bachelor ex's here?
Sure, the "not a contestant" caveat was meant to throw us off. But, c'mon. That part about "bitter feelings towards one person" makes it hard to believe that she isn't. So, is it Soules or Booth? Both? We're dying to know!
Shade or no shade, the reality TV starlet chose to end with a message of kindness for her followers:
"Let's please all try really hard to not hate, or bully contestants this year. Try to remind yourself they are humans, not characters. Words hurt and you never know how you would be in these kinds of situations. A little chirping and teasing is fun, questioning people's behavior is fine. Hate is not. Xoxoxo"
Well, despite not calling anyone out by name, we're almost certain those sentiments were about Shawn.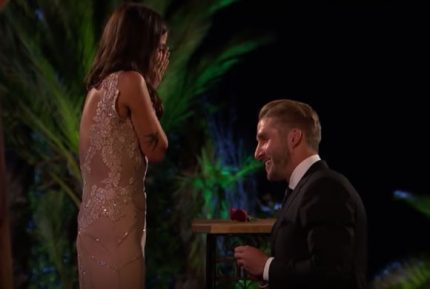 We mean, it sure sounded like there were bitter feelings when she had this to say about the pair's breakup during an episode of Ashley Laconetti's Almost Famous podcast:
"I think I knew for a year that my relationship wouldn't work, and I think I knew that he just couldn't give me the kind of love that I needed in my life. And he admitted that. And I think for a solid year, maybe half a year, I was already grieving the relationship. And I think I was just so prepared for it that, when it happened, I knew what I wanted; and I knew what I deserved; and I knew that I was happy on my own and that I wasn't just replacing somebody."
Yikes. Good thing we're leaving the past in the past!
Cheers to your newfound happiness, girl, and good luck to the new crop of ladies putting themselves out there for love!
[Image via WENN/Avalon]
Related Posts
CLICK HERE TO COMMENT
Jan 07, 2020 09:49am PDT