If she told you once, she's told you a thousand times: Kim Cattrall will never, EVER play Samantha Jones again!
The actress has long made it clear that she's unwilling to reprise her beloved Sex and the City role in various interviews over the past few years. 
But just in case there was any doubt, the 62-year-old is doubling (tripling? quadrupling?) down on her stance in a new interview with DailyMail.com — and she's evoking the power of Simon Cowell to let everyone know she means business.
Video: Wayback Wednesday… Kim Cattrall Is Into Scat!
Speaking to the outlet, she emphatically stated:
"It's a no from me." 
LOLz… we been knew, gurl!
Still, the star elaborated a little more about why she would never return, adding: 
"You learn lessons in life and my lesson is to do work with good people and try and make it fun."
As fans will know, filming the acclaimed dramedy series — and its subsequent two films — weren't much fun for Cattral, who reportedly grew tired of playing a supporting character to Sarah Jessica Parker's Carrie Bradshaw.
Related: Kim Thinks Ellen DeGeneres Would Make A 'Fabulous' Samantha!
Cattrall made headlines back in 2017 when she first revealed she would not participate in a third SATC movie. Later in the year, she clarified her decision on Twitter, claiming nothing "concrete" was in place regarding the potential third film.
She wrote at the time:
"I hate to be a spoilsport, but what would the next story be? Whether you liked it or not, the reality is, authentically — there were not alternative facts here! — there was backlash. The reality of what [a third movie] would be — there's nothing concrete."
However, it was later alleged on James Andrew Miller's Origins podcast that there was a "concrete" story in place, but Cattrall was unimpressed with it because the story "didn't have a lot to offer" Samantha.
The journalist explained:
"People close to Kim believe that the script didn't have a lot to offer the character of Samantha. They point to the fact that it calls for [Carrie's husband] Mr. Big to die of a heart attack in the shower, relatively early on in the film, making the remainder of the movie more about how Carrie recovers from Big's death than about the relationship between the four women."
Miller added that "it was a combination of not great money and a bad storyline for Samantha" that made Cattrall reject the offer. According to a source close to the project, that bad storyline included Samantha receiving "d**k pics" from Miranda and Steve's 14-year-old son, Brady.
Yeah, not the juiciest stuff.
Er… you know what we mean!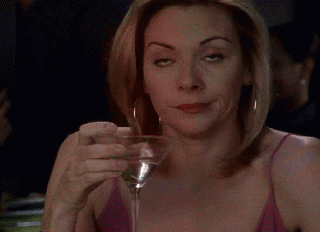 Cattrall went on to definitively state she would not be reprising the role of Samantha in an interview with Piers Morgan later that year, saying:
"Me playing her, that I can assure you will never happen. For me it's over, it's over with no regrets…"
So, like we said… we been knew!
[Image via WENN]
Related Posts
CLICK HERE TO COMMENT
Jul 15, 2019 13:37pm PDT