Kristin Cavallari Confesses Jay Culter Sucked Her Boob To Unclog A Milk Duct– 'Harder Than He's Ever Sucked'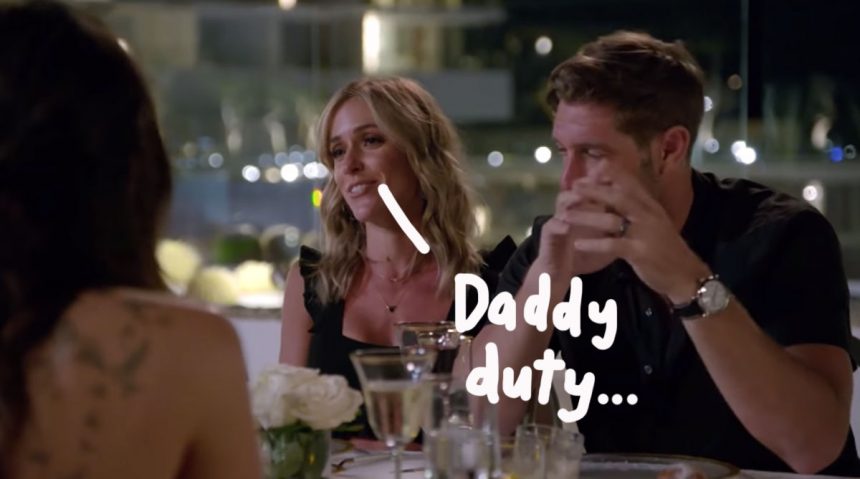 A real American hero??
In a new mid-season teaser for Kristin Cavallari's E! series Very Cavallari, the reality star dishes over dinner with friends about a time when husband Jay Cutler helped her out in a MAJOR way.
Related: Heidi Montag Talks Lasting Fallout With Lauren Conrad!
She shared:
"I had major clogged [milk] ducts. Jay had to get them out for me. … Sucking harder than he's ever sucked."
The dinner guests look completely horrified, but we have to commend Cutler for helping his lady in need. "In sickness and in health" right??
Kristin added in a confessional later:
"And you know what? Saved my life."
Cavallari, 32, has three kids with Jay: sons Jaxon Wyatt, 5, and Camden Jack, 6, as well as daughter Saylor James, 3.
Related: Did You Know That Lindsay Lohan Broke Into Kristin Cavallari's House??
Plugged ducts and Mastitis (infection) can be excruciating and affect most mothers who take on breastfeeding their children. According to Pumpstation.com:
"A plugged milk duct or clogged milk duct usually feels like a hard, tender swelling in the breast which can vary in size from a pea to a peach and may feel painful while breastfeeding. The skin over the affected area may be red and the area around the plug may feel full even after a feeding. Sometimes a small whitish-yellow milk plug can be seen at the opening of a duct on the nipple. Plugged ducts occur when milk flow is restricted, or there is a delay in removal of milk from the breast resulting in poor drainage of the breast."
In order to unclog, they suggest heated compresses, warm showers, lots of massage, and pumping. Nothing in there about having your partner suck it out like a hoover — but if it worked for Kristin, it may as well work for you!
And there's your boob lesson for the day!
In response to this clip, Jay became a nationally trending topic on Twitter — and the reactions have been seriously epic! Some even referenced his NFL performance, LMAO. Here are a few of our faves:
*checks to see why Jay Cutler is trending* pic.twitter.com/R94Iqlr5OQ

— Stephie Wilson (@stephietweets) April 12, 2019
Actual footage of Jay Cutler. pic.twitter.com/bf1f06Uo8r

— Joey Ricotta (@theriot326) April 12, 2019
seeing that jay cutler is trending, then seeing why jay cutler is trending…….. pic.twitter.com/CRWn8jnyFI

— andy miller (@mikewichter) April 12, 2019
🗣🗣🗣🗣 JAY CUTLER IS THE FUCKING MAN!!! FATHER OF THE YEAR!!! HUSBAND OF THE YEAR!!! PUT HIM IN THE HALL OF FAME!!!! https://t.co/zcw5VUtHdw

— Jamie Lannister = Azor Ahai (@ItzMcDonaldFor3) April 12, 2019
Impossible. Jay Cutler couldn't possibly suck harder than he did 2010-2015 https://t.co/PlPlyuikxA

— Mark B. (@Mabe412) April 12, 2019
Got milk?? Kristin does now thanks to the former footballer!
Ch-ch-check out the full teaser clip (below)!
Thoughts on this ride or die partner behavior, Perezcious readers? Although it might seem completely gross, Jay deserves all the accolades because he came in clutch when his woman was suffering. Swoon!
This dude is a damn national treasure for real! Go dad, go!
Apr 12, 2019 8:45am PDT