We were truly surprised when Kristin Cavallari and Jay Cutler announced their divorce, during a pandemic of all times. However, fans of Very Cavallari have had reason to doubt the couple's longevity for quite a while now.
Besides showing the pair frequently clashing, one storyline on the E! network show even hinted at rumors of Jay possibly having an affair with Kristin's BFF Kelly Henderson!
But was it reality? Or just reality TV??
Related: The Hills Stars Weigh In On Kristin's Divorce
Talk was reignited on the first of May when Kelly posted an Instagram photo featuring a man's arm — wearing one of those bead bracelets Jay always wears.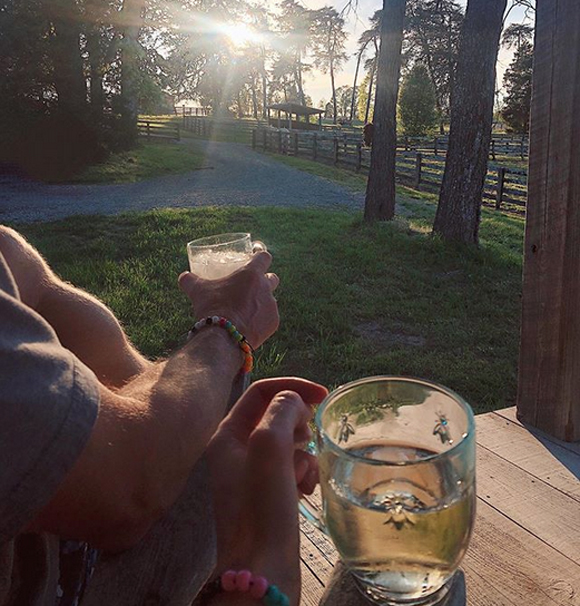 At the time a source tried to quell the flurry of fan theories, issuing a denial to E! News:
"This is 100 percent not Jay. This is Kelly seeking attention. That's all this is."
Now Kelly herself is speaking out.
The Velvet's Edge designer was a guest on Laura Wasser's All's Fair podcast, and the famed divorce attorney gave her a good old cross-examination about the situation. After being asked point blank if she is dating Jay, Kelly answered:
"I'm just gonna go ahead and put this out there, there was never an affair, I have nothing to do with their divorce and I am not dating Jay Cutler."
And that IG pic?
"It's my boyfriend… I've been in a relationship for quite some time now. He is a very private person and I respect that. You know him and his kids are a huge part of my life now, but I try to keep them out of the public part of my life because it's not what they signed up for."
Fair enough. Kelly did confirm she is no longer BFFs with Kristin, however, saying:
"We're not really in touch anymore, we had a little bit of a falling out last year, so I've kind of gotten some space from both of them."
Innerestingly it was the affair controversy which was a big part of the besties' falling out.
KCav explained in a Very episode in January:
"When season two was airing, there was a lot of talk on social media about Jay and Kelly having an affair. Not for one second have I ever thought that it was true. It wasn't the actual accusations of them having an affair that made me upset, it was how Kelly went about it."
She went on to detail how she thought Henderson was purposely adding "fuel to the fire" with cryptic posts about her hubby on social media — ultimately "using Jay for her own personal gain."
So Kelly may not ever have slept with her BFF's husband, but the marriage and the friendship did both fall apart in rapid succession.
Do YOU think everyone is on the level here??
[Image via E!/YouTube.]
Related Posts
CLICK HERE TO COMMENT
May 19, 2020 13:26pm PDT