Amid reports that their relationship isn't what it used to be, Travis Scott and Kylie Jenner were actually spotted out to dinner with Stormi Webster!
Marking the first time they've been seen in public together since she allegedly accused the rapper of cheating, the family stepped out for a meal at Sweet Chick in El Lay on Thursday night!
Related: Kylie Jenner Reveals If She Wants More Kids!
Per TMZ, the Sicko Mode artist sent their daughter off in another car after their meal, apparently so the parents could continue their night out…
Which must mean dinner went well, right??
As we previously reported, the 21-year-old seemingly found "evidence" that her baby daddy cheated late last month, leading to a huge blow up. The 27-year-old actually postponed his following Buffalo concert on his Astroworld tour reportedly over the family matter — though reps claimed he was ill instead.
But since Scott had to continue with the rest of his concerts, it was being said that Kylie was finding it "hard to trust him."
A People source said at the time:
"Travis' tour has been hard for Kylie… They spend very little time together… When he's around, things are great with them… But when he tours, Kylie finds it hard to trust him."
And the insider continued, dishing:
"Travis keeps telling Kylie that she can trust him… He has been doing everything he can right now to regain her trust. He will soon be off for a few weeks and keeps saying he can't wait to spend time with Kylie and Stormi."
Sounds like Travis couldn't have come back to Los Angeles at a more perfect time!!
Related: Travis Scott Leaves Flirty Comment On Kylie Jenner's Pic!
Especially as his baby momma continues to spark more headlines!
On Thursday, the Kylie Cosmetics makeup mogul's cover story with Interview Germany was released, and in it, she defends the "self-made" title given to her by Forbes. She told the glossy:
"There's really no other word to use other than self-made because that is the truth. That is the category that I fall under. Although, I am a special case because before I started Kylie Cosmetics, I had a huge platform and lots of fans. I did not get money from my parents past the age of 15. I used 100% of my own money to start the company, not a dime in my bank account is inherited… and I am very proud of that."
And just to cement her billionaire status even further, the young KUWTK starlet revealed to her Instagram followers yesterday her new money manicure!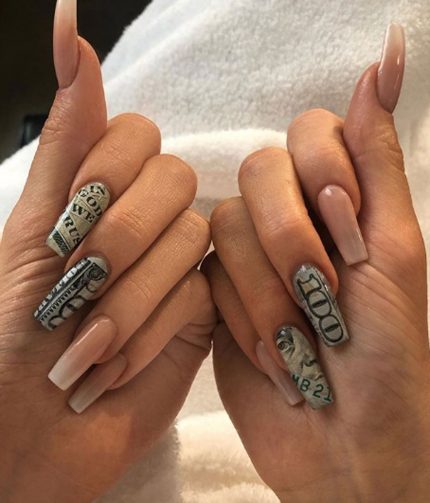 We hope those are some fake $100 bills pasted on her nails!!
The last thing Kylie needs is a call from the U.S. Treasury Department explaining to her how defacing American money is a felony. LOLz!
Lil' Kim's manicurist Bernadette Thompson learned that lesson after using real hundreds and fifties on the rapper's nails back in 1993.
But leave it to this Jenner to start making it a trend again…
[Image via Adriana M. Barraza/WENN]
Related Posts
CLICK HERE TO COMMENT
Mar 22, 2019 07:16am PDT