Friends, family, and loved ones are still mourning the loss of late rapper Nipsey Hussle.
Just one week since his tragic passing, the Victory Lap artist's longtime girlfriend Lauren London, and his immediate family members, are opening up about how they've been coping with Hussle's unexpected death.
As we reported, the 33-year-old was gunned down outside his clothing store in the Hyde Park area of south Los Angeles.
Related: LeBron James, J. Cole & Big Sean Pay Tribute To Nipsey Hussle — WATCH
In a new interview with the Los Angeles Times, London remembers her late love — born Ermias Joseph Asghedom — as the most upstanding man. Although this is undoubtedly a difficult time for the actress, she revealed that she's staying encouraged:
"I'm going to keep my head high and always represent for my king to the fullest."
The 34-year-old continued:
"He was a protector and wanted us to be our best at all times. He was a truth seeker and truth speaker… He loved his kids. He was a family man. His family came first."
Nip's mother, Angelique Smith, admitted she is at "perfect peace" with her son's death. Hussle's father, Dawit Asghedom backed up the sentiment by referencing their faith, and reflecting on the rapper's overall purpose in life:
"[God] sent him to send a message. It looks like, 'Your time is up because you have completed what I sent you to do.' We all have a plan, but God has his own plan. So he had completed what he needed to be doing and he did it early so [God] probably want to take him early too."
Even still. We can all agree this was one precious life gone way too soon.
Ermias' brother, Samiel Asghedom, shared how proud he was of Nip's legacy and the way he brought everyone together before becoming a global, hip-hop martyr:
"There's a lot of politics within the area that we grew up in, but he stayed the course and showed what he was about. He made something work in an area that was run-down, that people were scared to come to, and he turned it into a landmark."
We're glad to hear that Asghedom's family is finding peace and healing during this sad time.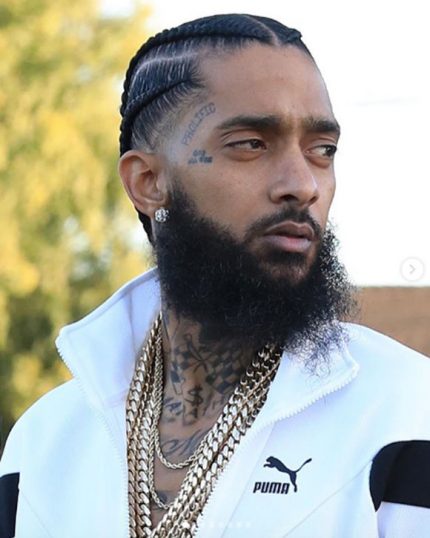 Related: New Details Revealed About The Moment Nipsey Hussle Was Shot & Killed
As we reported earlier this week, a memorial service for the Grammy nominated artist is slated for this Thursday, April 11 at the Staples Center in downtown El Lay.
According to sources at TMZ, there will be an abundance of security from multiple agencies and organizations — all with the intention of keeping the memorial peaceful and drama-free. The publication shares that the LAPD, members of the Nation of Islam, and plenty of Staples Center staff will be on hand to prevent any violence from breaking out.
Heads up: fans who are planning to come pay their respects will have to go through metal detectors and thorough bag checks before being allowed in.
This comes after chaos reportedly broke out at a vigil held for the beloved L.A. rapper earlier last week, where two attendees were shot.
Will you be in attendance on Thursday to pay your respects to Nipsey? Are you celebrating his life in other ways?
Share in the comments (below).
[Image via Adriana M. Barraza/WENN]
Related Posts
CLICK HERE TO COMMENT
Apr 10, 2019 08:20am PDT