Porsha Williams SLAMS NeNe Leakes For 'Fat Shaming' Her DAYS After Giving Birth!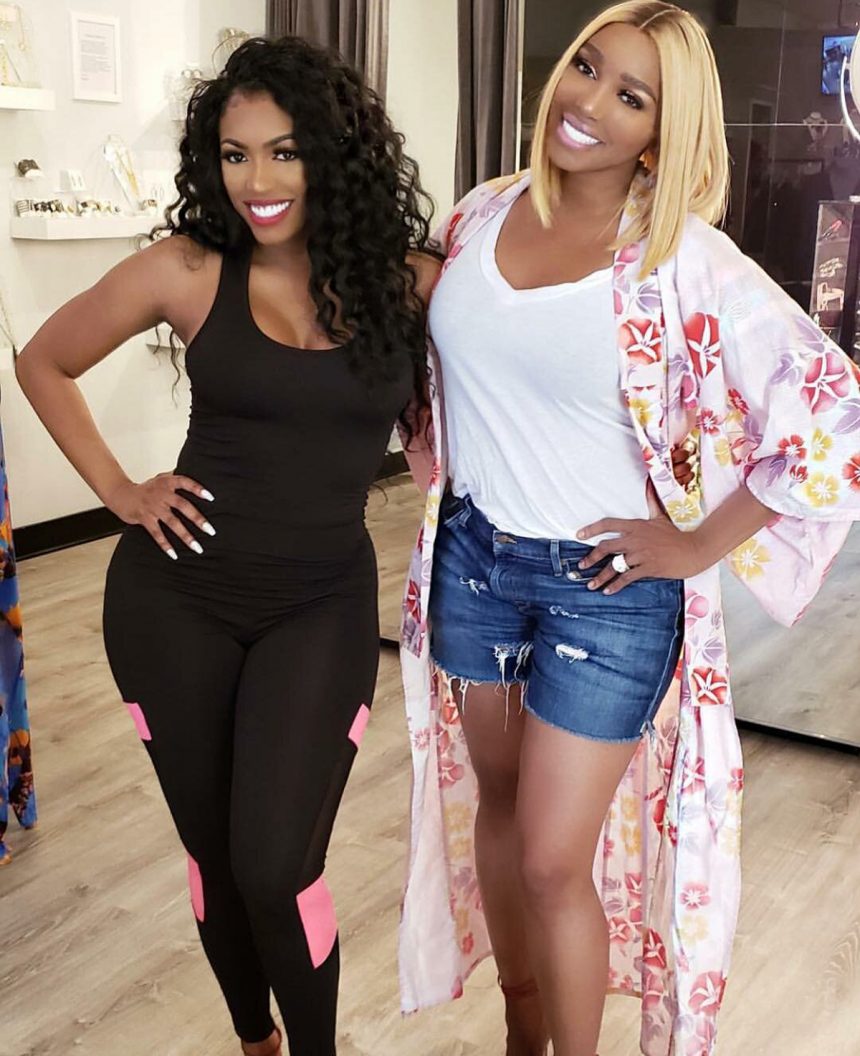 Porsha Williams and NeNe Leakes are going at it on social media!
In a March episode of the Real Housewives of Atlanta, Leakes ERUPTED when then-pregnant Williams and co-star Kandi Burruss went into her closet without permission.
Related: Porsha Williams Shares First Photo Of Baby Pilar!
Not only was Leakes seen ripping the shirt of a cameraman, rumors has it that she allegedly grabbed Williams by her belt and broke it (which NeNe has denied.)
Additionally, amid the chaos, a frightened Williams was heard on camera saying, "Take my mic… I don't want to be here no more. I'm scared!" In a video posted recently, Leakes claimed Williams recorded that sound bite in a studio, and it was later added into the show.
However, Williams clapped back at Leakes' claims, responding:
"YOU ARE A BALD EDGES LIE! NOTHING WAS TAPED AND ADDED! I said that the exact moment you were assaulting people on camera!"
Sadly, the drama between the two ladies is FAR from over!
On Friday, Williams — who gave birth to daughter Pilar Jhena McKinley last week — shared an alleged text conversation between her and Leakes, who supposedly fat-shamed the new mom.
Porsha wrote on Instagram:
"This is what my so called 'Big sis' sent me last night 6 days after giving birth. @neneleakes is so miserable and ain't happy for nobody. It's not a contest I'm just living my life and being blessed. Yes I posted this since you wanna go on live and speak on me yet again talk & about these text I figured I'd let them see for themselves! #FatShamingANewMomShameOnYou#NonsupportiveEdglessbird#IsThisYourQueen? Ps: [fiancé/baby daddy Dennis McKinley] might make me Delete soon"
In the messages, Leakes allegedly called Williams a "lying ass big fat hungry bitch," and denied, once again, putting hands on her.
Read (below):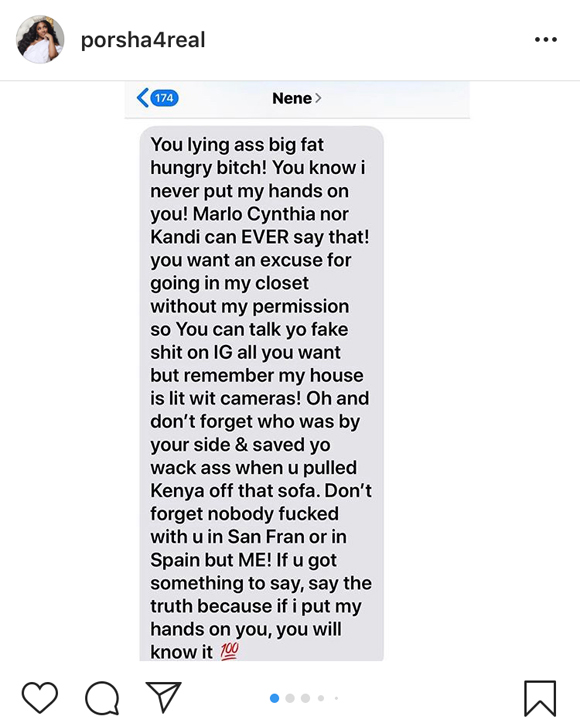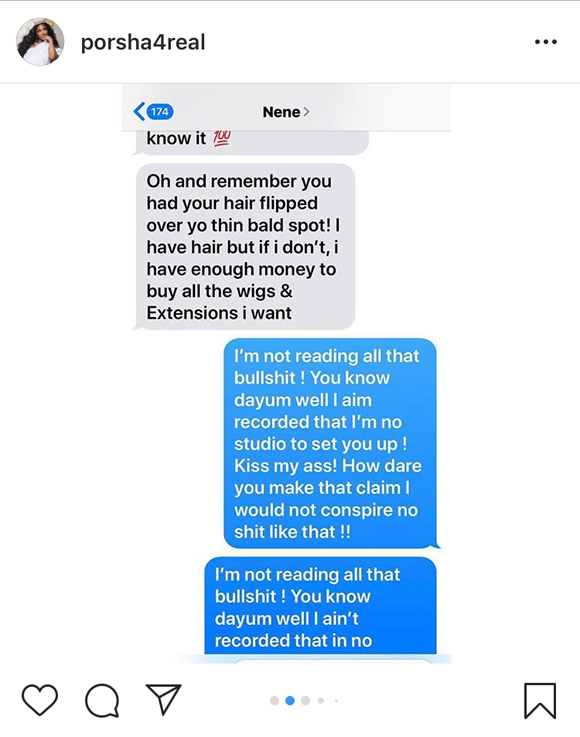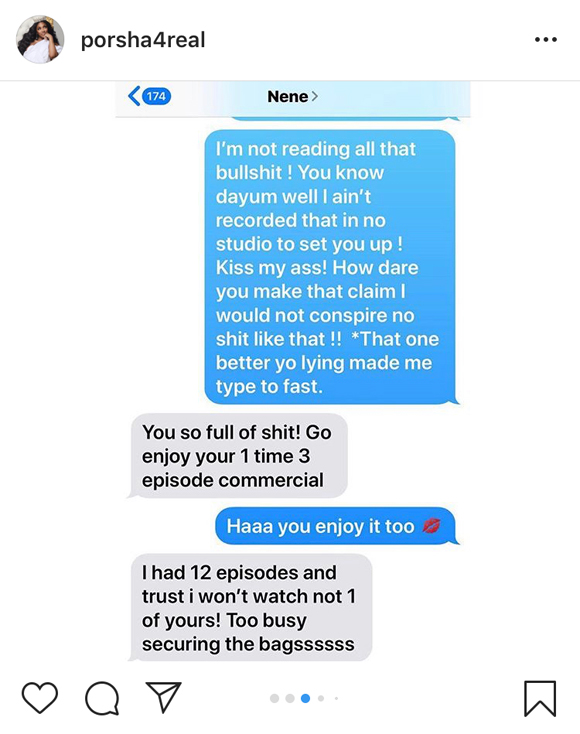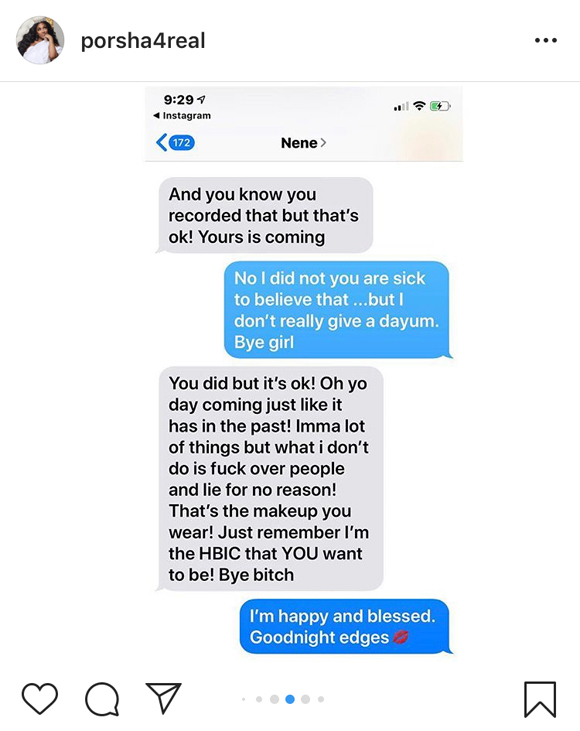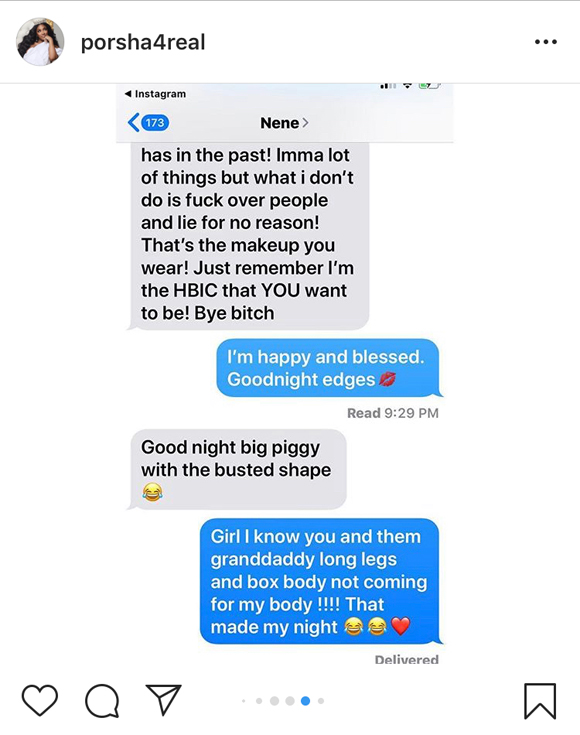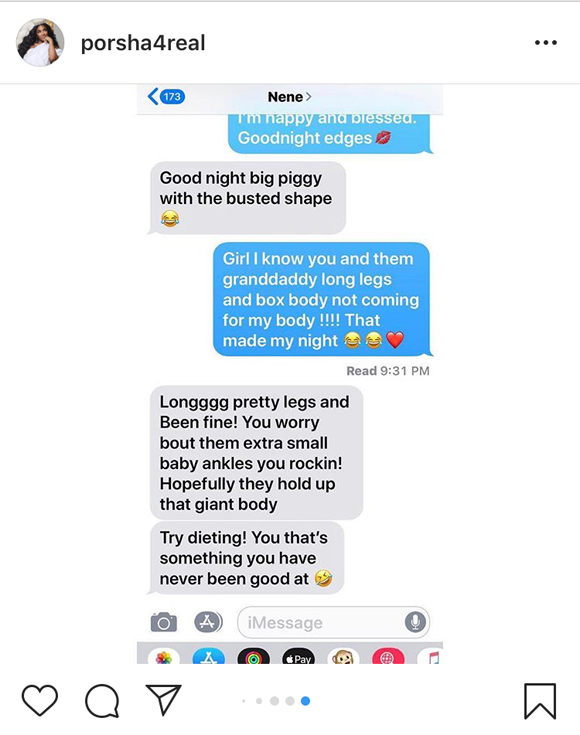 However, that same day, Leakes went on her Insta page, and claimed she sent Williams a much more pleasant message on the day she gave birth.
NeNe wrote:
"@porsha4real This is what i sent you after you gave birth! I sent you text messages last nite after i saw on social media what you had said. I could have responded back on social media but i decided to text rather than do that! I know you need viewers to tune into your 3 episode commercial, which is why you doing the most! Bye ankles #HBIC"
The "3 episode commercial" is most likely a reference to Williams' upcoming Bravo special, Porsha's Having A Baby, which documents her pregnancy journey.
Allegedly, Porsha responded to NeNe's nice messages by writing back:
"Thank you for checking in and yes I do know you genuinely cared. Thank you."
Read the texts (below):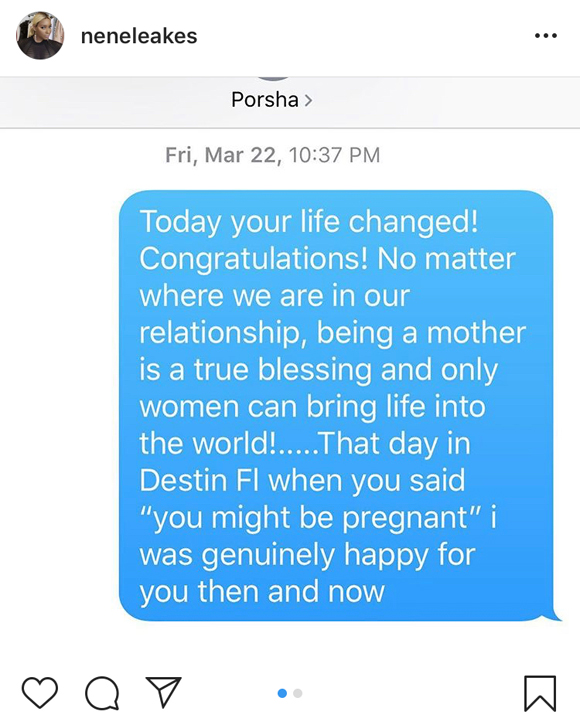 Baby Pilar weighed in at 6 lbs., 15 oz., and has her own Insta account, @pilarjhena.
[Image via Porsha Williams/Instagram.]
Mar 29, 2019 1:58pm PDT