Bella Hadid is once again fueling rumors that she and Selena Gomez are NOT cool with each other.
Over the weekend, the world collectively gasped when the 23-year-old model re-followed the 27-year-old Rare singer on Instagram — a big gesture, given their previous Insta-drama stemming from their mutual ex, The Weeknd.
Related: Selena Says 'Yes' To New Music!
The follow caused fans to theorize that the two stars finally made a long overdue truce. But that speculation died just a day later when Bella went ahead and rescinded her social media support for Selly with an unfollow. 
Bella Hadid unfollowed Selena. https://t.co/6Myi8aBVJv

— Selena Gomez Source (@GomezSource) May 4, 2020
Ouch!
While Bella's humiliating double tap, which was noticed by Twitter account @GomezSource on Monday, seems like it was some sort of Insta-power move, it might not have been a direct jab at the Disney alum. It appears Gigi Hadid's little sister did some social media spring cleaning, getting rid of nine accounts she was following. 
But then why would she follow Selena in the first place?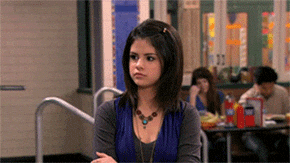 We'll likely never know, as Bella's social media moves have always been a mystery. She first unfollowed the actress in January 2017 amid rumors that Selena was dating The Weeknd following his split with Hadid in November 2016. Selena dated the Starboy hitmaker between January and October 2017; he rekindled his romance with Hadid in Spring 2018 before they broke up again in August 2019. 
In November 2019, Selena attempted to put the feud to rest by extending an Insta-olive branch. She started following Bella once again and left a supportive comment on one of the model's pictures. 
Unfortunately, things got awkward when Bella deleted the post that Selena said she looked "stunning" in. Things got even more awkward when a fan account told Selena what happened, causing the actress to write, "that sucks," before publically clarifying what she meant.
The Wizards of Waverly Place alum wrote at the time:
"I shouldn't of spoken without knowing the truth. I'm sorry. Please don't be hurtful. She is a wonderful person, and it was all a misunderstanding."
As we reported, Bella was said to have reached out to Selena at the time to squash any beef and explain that she deleted the pic because she didn't like the way she looked in it.
So with that extensive Insta history in mind, we can't help but wonder…
Why would Bella do this a second time!?
Selena, for her part, still follows Bella on the social platform, but not The Weeknd. Bella still follows The Weeknd. The Weeknd does not follow either of his exes.
What do U think about this IG drama, Perezcious readers?
[Image via Avalon/WENN]
Related Posts
CLICK HERE TO COMMENT
May 05, 2020 17:53pm PDT