It's been nearly two years since Selena Gomez underwent surgery for kidney failure back in 2017.
The life-saving procedure for the Lupus sufferer was made possible by a selfless act of kindness from Selly's bestie, Francia Raisa.
Most would assume a near-death experience like this would certainly create an unbreakable bond between the gal pals, but sadly, new reports claim otherwise!
According to sources at Radar Online, the BFFs haven't been on speaking terms for almost a year.
Related: Cameron Boyce's Cause Of Death Revealed
An insider close to the situation told the publication it's been nine months since the ladies have had any form of contact:
"They haven't talked at all since October."
If you'll recall, this was around the same time Gomez reportedly suffered an emotional breakdown brought on by complications — including a dangerously low white blood cell count — in the aftermath of the transplant.
The scary incident prompted the Wolves singer to check herself into a psychiatric facility on the East Coast for treatment.
But sources speaking to Radar said that months later, Selena's priorities shifted from her personal health to partying and drinking. This tidbit of information is supported by reports the Taki Taki singer was spotted drinking alcohol at the Four Seasons hotel in New York around the same time.
The insider claims this is exactly why the falling out happened between Selena and Francia:
"Selena did the exact opposite of what she said she was going to do when she got well again. She said she was not going to drink anymore, but she did."
Raisa reportedly called her bestie out on her unhealthy choices, adding:
"She cares about her and she loves her. She told her that she was just really making some unhealthy choices and that she was concerned for her."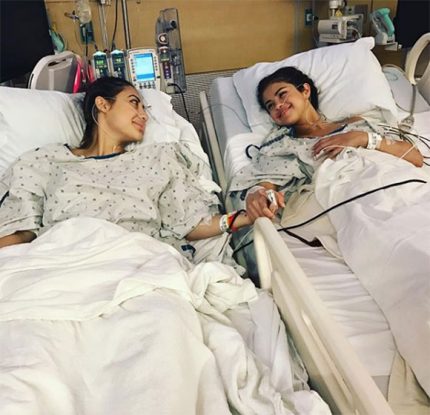 Our readers may remember how honest and transparent both ladies were with the public in the wake of their procedure. Raisa revealed she couldn't move for two months afterwards or pick up her small 16-pound dog.
The recovery process sounded pretty brutal, so we can understand where the Grown-ish actress' frustrations might've come from.
However, when Francia supposedly confronted Sel about her behavior, the pair got into a fight and "Selena just shut her out."
The source shared:
"Selena is in a better place now than she was back then, obviously. But because of everything that they've been through together, Selena doesn't know if she can ever really be a part of Francia's life again."
Whoa. This sounds… intense.
But is it all really true?
A few eagle-eyed fans noticed Gomez's mom, Mandy Teefey gave Francia a shout out for the star's birthday on July 26 via Instagram Stories. Which, for the most part, would indicate things are all good between everyone, no?
If these reports are to be believed, then why would Teefey reach out like that? It does make us wonder…
Anywho, if the whole thing turns out to be true, then it'd be pretty sad to know things have (temporarily?) ended on such a sour note between best friends.
We'll continue to keep our eye on these two for more developments.
Got anything to say about this, Perezcious readers? Share your comments down (below)!
[Image via Ivan Nikolov/Fayes Vision/WENN/Francia Raisa/Instagram]
Related Posts
CLICK HERE TO COMMENT
Aug 01, 2019 09:46am PDT