Spencer Pratt & Heidi Montag Clap Back At Stephanie Pratt's Threats To 'Expose' Them — Look!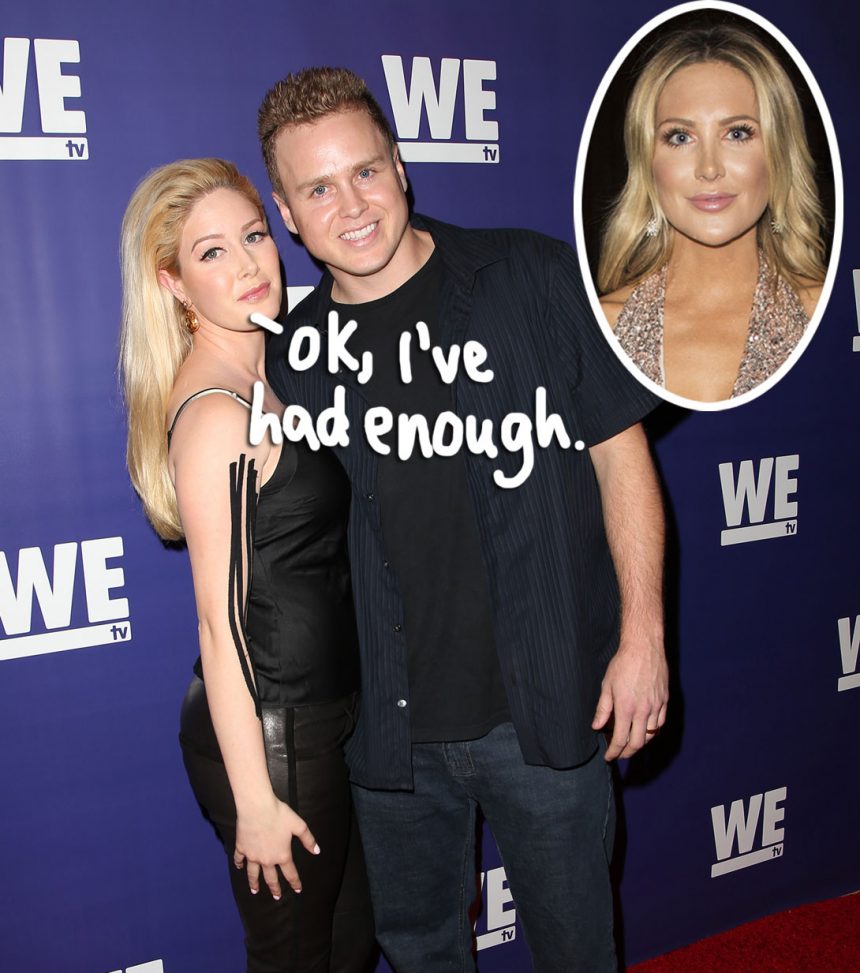 It's Speidi vs. Stephanie Pratt, round two!
Ever since The Hills: New Beginnings reboot was announced, we knew we'd see our fair share of old drama being rehashed (that is what we're tuning in for, after all!).
But it sounds like Spencer Pratt and Heidi Montag aren't going to sit back and let nasty comments about them slide this time around like they may have in the past — especially when it's coming from family!
Related: EXCLUSIVE! Brody Jenner FIRED From 'The Hills' Reboot!
The MTV starlet responded to the shades, admitting that "it's been a really hard week" for her on an episode of her Make Speidi Famous Again podcast with her husband. 
Referencing the on-going feud with her sister-in-law, Heidi continued:
"I had a lot of on-Hills drama with a family member and that was very challenging and heartbreaking. I felt like there were some very below-the-belt, nasty comments that weren't even true."
Those below-the-belt comments she's referring to, are the ones The Hills star made on her iHeart Radio show Pratt Cast on Monday. In case y'all missed it, Stephanie did NOT hold back the piping hot tea on her brother and his wifey:
"I'm not going to pretend that Spencer and Heidi are good people like I was doing for most of the series for my parents. For the [expletive] they have done to me recently, I'm done. This is why I moved to London. I'm done… They are the most toxic people I've ever met. They are Bonnie and Clyde till they die so if they say this sky is black, all of us are morons for saying it's blue."
YIIIIIIIIKES.
The Laguna Beach alum says she tried reaching out to Spencer's sister before things got out of hand again this time around, but Steph wasn't having it:
"The next day I was just like, 'Hey, yeah, let's give it some time and I'd love to move forward.' Then the person didn't even message me and was, like, subtweeting me. So, it was like, 'You obviously don't want to make amends because I would've wrote back.'"
Regardless of how the reality TV starlet is choosing to address, or not address the feud at all, it sounds like Montag is going to stand her ground, and continue to defend her and her husband's character:
"You do need to have boundaries. Family, not family, friends — I don't want my children to think it's OK to let themselves be treated a certain way and have people say certain things about them. There's no way I'm not standing up for myself and my family."
So, what about Spencer?
How does he feel about his sister stirring up drama? We can't imagine being in the middle of this kind of beef.
However, this is hardly the first time these two have gone up against their haters.
The Celebrity Big Brother star gave his wife major props for staying strong through the drama, and issued a warning to anyone trying to step to them:
"If you think you're gonna walk on my sweet little angel, Heidi, you have something coming your way."
Welp. We've got quite some time before we see any of this tea play out on the small screen, as the reboot officially airs on June 24. We'll continue to keep y'all updated until then!
Are U Team Speidi or Team Stephanie?? Sound off in the comments!
[Image via Lia Toby/FayesVision/WENN]
Apr 10, 2019 9:17am PDT