'Coward' Steve Harvey SLAMMED For Mo'Nique Interview!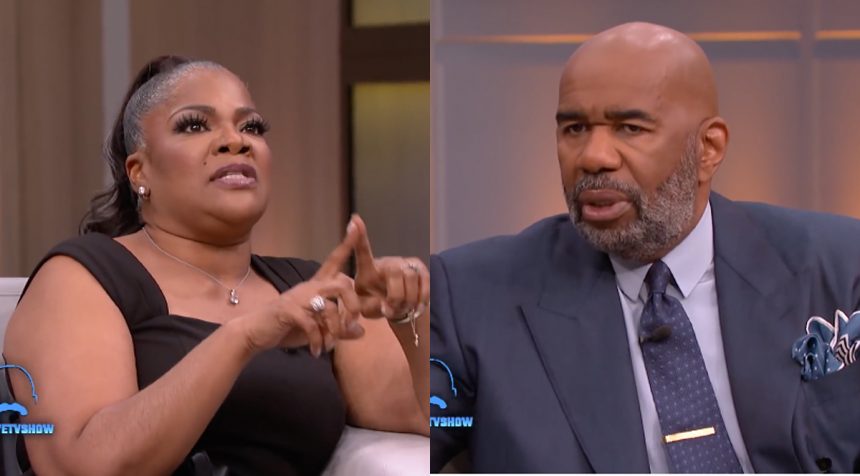 Steve Harvey is receiving heat over his recent interview with Mo'Nique.
On Wednesday, the actress appeared on The Steve Harvey Show where she discussed allegedly being "blackballed" from Hollywood years ago.
Back in 2009, the comedienne refused to do press for Lee Daniels' Precious — the film which won her an Oscar for Best Supporting Actress — because she was allegedly only paid $50,000.
Related: Mo'Nique Stands Up For Marriage Equality!
In her interview, the starlet — born Monique Angela Imes — claimed she was labeled as "difficult" because she said "no" to Oprah Winfrey, Tyler Perry, and Daniels. She remarked:
"[She and her husband/manager Sidney Hicks] got labeled as 'difficult' because I said one word — and that was 'no.' Now I said no to some very powerful people… the difficulty came in when people that looked like me, like Oprah, Tyler, Lee Daniels and I got to put my brother Steve on the list. Y'all knew that I was not wrong. Each one of you said to me, 'Mo'Nique, you're not wrong.' And when I heard you go on the air and said, 'My sister burned too many bridges, and it's nothing I can do for her now,' Steve, do you know how hurt I was?'"
Unfortunately, the interview took a turn when Harvey suggested to Mo'Nique that money is more important than integrity. Steve said:
"When you tell the truth, you have to deal with the repercussions of the truth… We black out here. We can't come out here and do it any way we want to. Your husband can't be the Sidney that he really is out here… This is the money game. This ain't a black man's game, this ain't a white man's game. This is the money game!"
Mo'Nique responded:
"Before the money game, it's called the integrity game and we've lost the integrity worried about the money."
That's when Harvey replied:
"If I crumble, my children crumble, my grandchildren crumble. I can not for the sake of my integrity, stand up here, and let everybody that's counting on me, crumble so that I can make a statement. There are ways to win the war in a different way."
After the segment aired, several Twitter users BLASTED Harvey for his controversial statements.
They wrote:
Clearly, Steve Harvey is not a life coach. The value one places on their integrity is the exact cost it takes to be fake.

— Jackée Harry (@JackeeHarry) February 13, 2019
Steve Harvey telling Mo'Nique to choose money over integrity, makes me think of all the women who are told to endure sexual harassment and assault in the workplace, because it's "the world we live in."

— Rehana (@rehana_wc) February 13, 2019
Steve Harvey is a coward. I'm disgusted. Mo'Nique sat up there and championed integrity, and he argued integrity for money and people applauded. Y'all go give Mo'Nique your love.

— Myles E. Johnson (@hausmuva) February 13, 2019
Hang on… let me see if I get this straight… money over your own integrity? Is this what Steve Harvey wants to teach folks out here? 😳. Also why the need to shout over @moworldwide when she's trying to speak? pic.twitter.com/mGmxUxtcmN

— Victoria Uwonkunda (@Msuwonkunda) February 13, 2019
So… to be COMPLETELY CLEAR.

Steve Harvey is admitting Mo'Nique's been telling the truth the entire time, but his point is you have to shuck and jive for these white folks money, integrity be damned.

And y'all are siding with Steve.

during Black History Month. https://t.co/HpJfnJUgc1

— Janet's Got Her Comeback and I'm Emotional (@CNRush) February 13, 2019
Steve Harvey def would've told Rosa Parks to move to the back.

— Cee. (@ceedotcee) February 13, 2019
Fuck Steve Harvey.

— Craig Bro Dude (@CraigSJ) February 13, 2019
Is everybody just now realizing Steve Harvey is toxic masculinity "professionalized" & served w/ a splash of comedy? pic.twitter.com/I1bebSEuQL

— Black Logan (@TheKolaNut) February 13, 2019
Steve Harvey doesn't realize how "playing the game" has harmed generations of black folk. How that game has undervalued us from its outset. We have had to take shorts no one else would in order to provide a living for our families and what Mo'nique is saying is ENOUGH OF THAT!

— Ahmad K. Khan (@AhmadKhalilDC) February 13, 2019
Mo said integrity is more important than money and Steve Harvey was quickly like uh, no the fuck it ain't. I have to laugh.

— conz (@radicalhearts) February 13, 2019
It's so sad to watch @moworldwide lay out the case for integrity and Steve Harvey basically answer back with a roadmap to becoming a sellout in 3 easy step. Stay strong 💪🏾 sis u got a lot of support out here. pic.twitter.com/bQIrhVNIf0

— BreakingBrown (Yvette Carnell) (@BreakingBrown) February 13, 2019
WATCH clips of the interview (below):
[Image via Steve TV Show/YouTube.]
Feb 13, 2019 7:48pm PDT