Not Tom Sandoval asking for someone else to take accountability for their actions…
As we've been reporting, Vanderpump Rules star Raquel Leviss has checked herself into some kind of mental health facility in the weeks following the reveal of her and Tom's affair. And yet there has been some controversy already about whether that treatment center is a medical place focused on clinical mental health work or just a high-end "wellness" resort.
Late last week, rumors claimed Tom may have even been staying with Raquel in that wellness center. And now, the 40-year-old Bravo star is slamming those claims and seeking to correct the record. Uh-oh!
Related: Tom And Raquel Actually Had Code Names For Each Other To Cover Their Affair!
The high-end lifestyle resort in question is Miraval — and specifically their Arizona location. On Monday night, Tom took aim at that location via his Instagram Stories. Days ago, Miraval posted (and then quickly deleted) a photo on their IG page featuring an empty bar.
In the caption, the resort referenced the iconic VPR theme song with this nod to its lyrics:
"You know that it's our time, these are the best days of our life."
Turns out that REALLY pissed Tom off!! In a stories post on Monday night, the TomTom restaurateur wrote:
"I'm beyond disappointed in @MiravalResorts @MiravalArizona and their decision to post to their Instagram account this past weekend alluding to me staying there this week. They claim to be a refuge for wellness and betterment. But that is obviously false. They'd rather feed into the negativity and spectacle that has engulfed my life."
OK, buddy, first off, YOU CAUSED the "negativity and spectacle" that has "engulfed" your life!!
You're the one who chose to carry on a months-long affair — especially as a public figure! You had to know how big of a deal this would be for Bravo fans and VPR loyalists. They're, like, the most involved fan base in reality TV right now!! Come on, man! Stop trying to pawn off accountability to this resort when YOU are at the root of it all!!
Related: Andy Cohen Calls Out Howie Mandel For THAT Awful Scandoval Interview!
The Tom Sandoval & The Most Extras frontman wasn't done there, though. He specifically called out the resort's general manager for refusing to "take any responsibility for the actions of his team" amid the social media situation:
"In a continuous effort to be healthy and work on myself, I planned a trip to go there completely alone to try to find some peace. Miraval clearly isn't the place for that. Special shout-out to the general manager who refuses to take any responsibility for the actions of his team even though he considered the post 'in poor taste.' Regardless of where you stand in all this, we all deserve the chance to work to be better."
Again with the responsibility talk?! Seriously?? Ironic AF for the cover band star. And it's truly beyond brazen and shameless!
You can see the whole thing for yourself (below):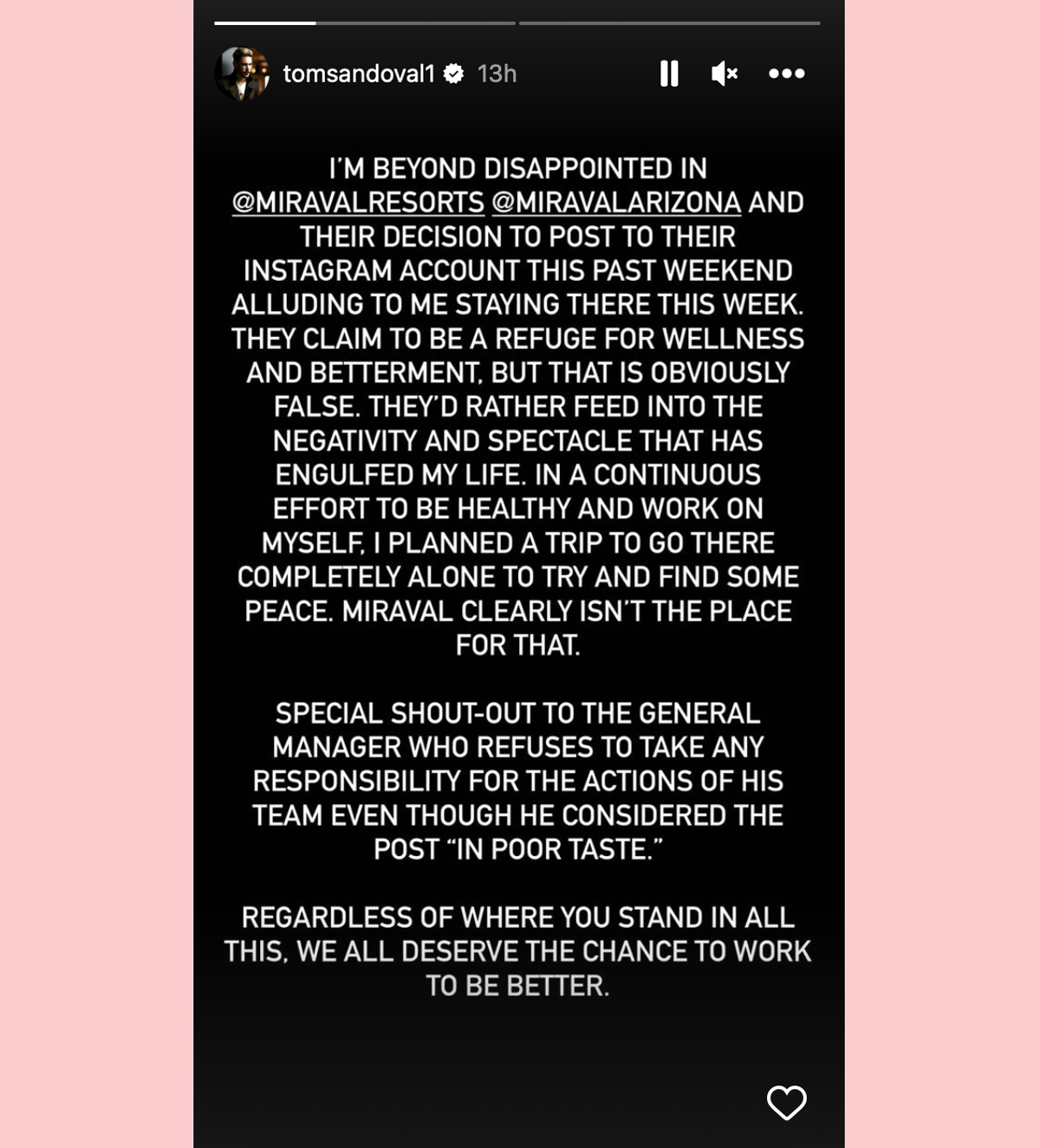 Damn!!
For what it's worth, Raquel's rep informed us EXCLUSIVELY over the weekend that the 28-year-old reality TV star really is undergoing mental health treatment at a facility. Leviss' team clearly didn't care for the rumors that have been flying around the internet for days about Miraval, and they wanted to try to correct the record. Now, it would seem as though Tom is on the same mission.
What are your reactions to Tom's aggressive Instagram missive, Perezcious readers??
Share 'em down in the comments (below)!
Related Posts
CLICK HERE TO COMMENT
Apr 18, 2023 07:49am PDT