Tori Spelling! What were you thinking, gurl?!
If you follow the blonde bombshell on Instagram, you may have recently noticed a peculiar fashion statement. She's going full Daryl Hannah from Kill Bill with a fashionable eye patch! 
Fierce! We love it! But the truth is, the accessory is far from just a whimsical fashion piece — it's actually a medical necessity!
Related: Tori & Dean McDermott Spotted Making Out After MONTHS Of Divorce Rumors
During Monday's episode of her 9021OMG podcast, the 49-year-old's co-host and best friend Jennie Garth pointed out "Tori's wearing an eye patch today," to which the mother of five playfully responded: 
"Look at me in my good eye."
Tori then finally revealed what was up with the look, teasing: 
"It's my fault, I did this to myself."
Wha?? She explained:
"So, I have contacts, but I wear daily ones. And at the end of the day… whatever, I can make all the excuses I want. I don't take them out, I sleep in them and it's not healthy."
Oh no… Y'all can see where this is going. She added that her record is "maybe 20 days" without changing her contacts — which, again, are intended to be swapped out DAILY. Her co-hosts were, understandably, SHOCKED! But the damage was done. The carelessness has caused some serious damage to her eye — resulting in an ulcer! OMG!
See the video clip from the podcast (below):
Fans were appalled, taking to the comments to share their concern:
"Holy crap Tori! Change your contacts daily!!!"

"Poor Tori! Hope it gets better quickly!!"

"I jumped when I heard 20"
A self-proclaimed "eyecare professional" even weighed in, adding:
"Pls do not sleep in your contacts and over wear them. An ulcer is painful and more scary it's potentially blinding"
OMG! This could have cost her the vision in her eye permanently?! If any readers out there are lackadaisical about their contacts, please PLEASE see Tori as a sterling warning! This seems painful enough, but it could have been even worse!
The House of Yes star also shared on her IG story a selfie with the less fashionable patch, writing: 
"Thx to all the well wishes and concern … everyone is asking if I scratched my cornea. It's actually an ulcer on my eye. Antibiotic drops and Dr said it will hopefully heal in 7-10 days"
See (below):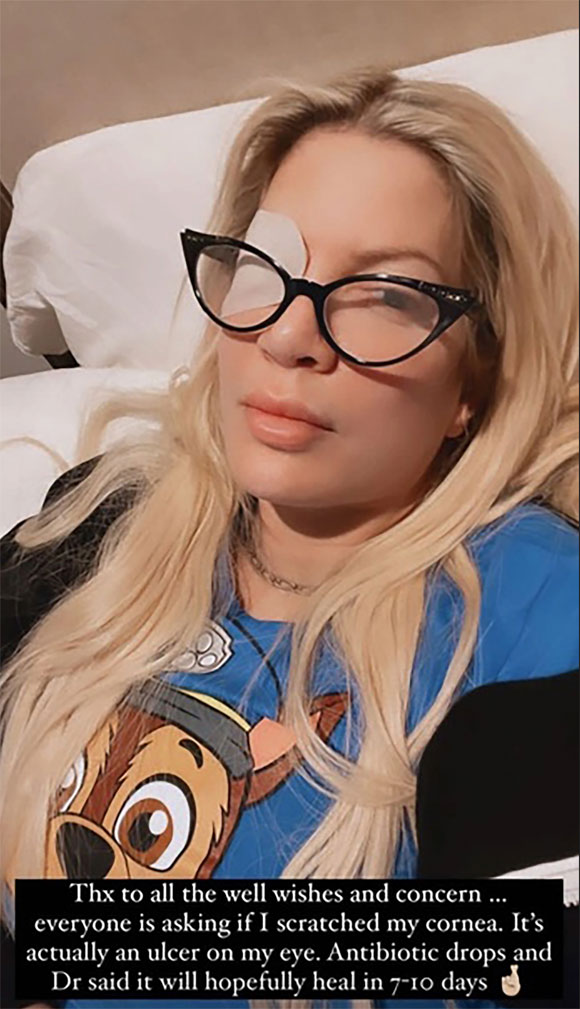 What do YOU think of Tori's painful medical mishap, Perezcious readers? Have YOU ever gone without changing your contacts? Let us know in the comments down below!
[Images via Tori Spelling/Instagram & Avalon/WENN]
Related Posts
CLICK HERE TO COMMENT
Apr 05, 2023 12:15pm PDT