Ariana Grande Shares Brutally Honest Quote About Letting Someone You Love Go After They 'Hurt You'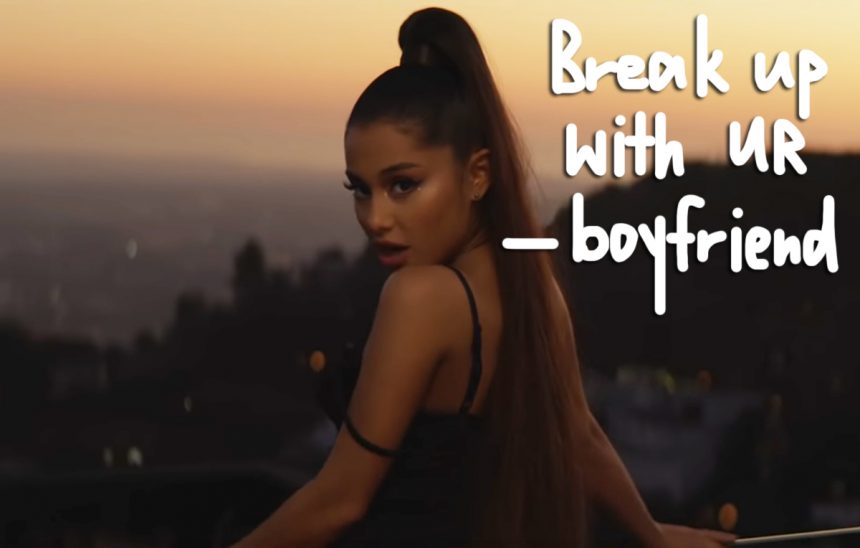 If anyone in the world knows that relationships can hurt, it's Ariana Grande.
The songstress' past relationships have taught her a lot — love, patience, and pain, just to name a few — and now, she's passing down some of her sage wisdom to her fans.
In a quote shared on her Instagram Story Thursday, the 25-year-old mused why cutting someone you love out of your life might be the best thing for the both of you — especially if that person "can't help but hurt you."
Video: How Ariana Honored Mac On Her 'Sweetener' World Tour
The post, which she credits to Horacio Jones and @the_enlighten_core, reads:
"Sometimes, the reason for letting someone go is because they can't help but hurt you during this phase of their life. When you love someone deeply, you learn what demons live within them and you realize that they are hurting you because they are hurting somewhere within themselves. They are fighting a battle within and may not even know it, so they take it out on you and fight you."
Preach, gurl. Trying to fix someone with love doesn't always work — sometimes, it just makes the situation messier!
Ari learned this the hard way from her ill-fated relationship with Mac Miller. Last year, the songstress hinted that she broke up with the now-deceased rapper because of his substance abuse problems.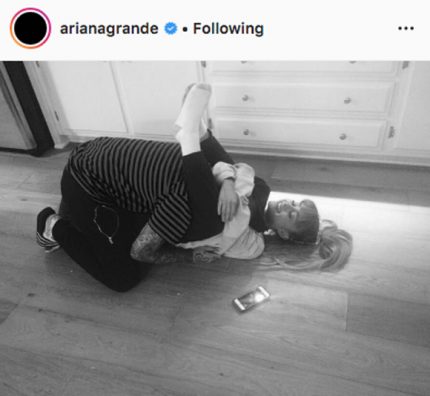 But, as the post explains, letting a loved one go shouldn't come from a place of pettiness. It should come from hoping that the distance heals you both. The quote continues:
"Decide to let them go, but not because you're being petty and resentful. You let them go because you really believe that the both of you can find the healing you truly need without being together and hurting each other in the process. Letting someone go doesn't mean you stop loving and caring about anyone. Letting go means you're choosing freedom over the illusion of loyalty."
As we know, Mac went on to fatally overdose in September, months after Grande ended their relationship and went on to date Pete Davidson.
Addressing his death in an Instagram post at the time, Ariana revealed that she was "so sorry" she "couldn't fix or take [Mac's] pain away," writing:
"i really can't wrap my head around it. we talked about this. so many times. i'm so mad, i'm so sad i don't know what to do. you were my dearest friend. for so long. above anything else. i'm so sorry i couldn't fix or take your pain away. i really wanted to. the kindest, sweetest soul with demons he never deserved."
The singer broke off her engagement with Davidson a month later, seemingly largely due to the guilt she felt about Mac's death.
Nowadays, Ari's been unapologetically living her best single, breakup-with-your-girlfriend-I'm-bored life.
But she clearly still likes to reflect on her past relationships — and for that, we are so grateful.
See her full post (below).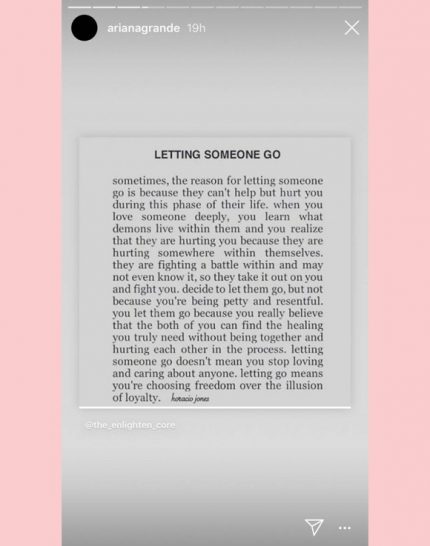 [Image via YouTube]
Mar 22, 2019 1:15pm PDT