Oops, she did it again!
Ariana Grande clarified to Instagram followers on Sunday that her recent tattoo change is not a cover up, but an evolution! We're so here for this mood!!
Related: Ariana Grande Whipped By Vegan Critics Over Her Starbucks Collaboration
The fresh art in question is an "evolvin" version of one she seemingly got while dating Pete Davidson, featuring the word "always" on her rib cage, as seen (below):
The original tat was speculated to be a reference to Harry Potter, which she shared a love for with her ex, and was possibly even written in the Saturday Night Live star's handwriting.
Last we checked, he is still sporting the original tattoo on his upper back.
BUT while the comedian's has yet to change, you can see Ari's transformed art (below), which features seven leaves:
Related: Ariana Grande Got A HUGE Pokémon Tattoo After Playing Game For 15 Hours
This isn't the first tattoo from the whirlwind romance that the exes have had altered since their breakup.
During their time as a couple, Miz Grande had "8418" inked on her foot as a tribute to Pete's firefighter father who died on 9/11, as it was the number was the late Scott Davidson's badge, but replaced it with a tribute to Mac Miller's dog Myron after the rapper's death.
The previously engaged pair also both adjusted additional body art dedicated to each other… with the same cover up! The thank u, next singer followed in her ex's footsteps with a black heart on her finger where Pete's name once was, while he went for a black heart on his neck over her black bunny.
What a weird coincidence…
Kate Beckinsale's beau has continued hiding traces of the relationship on his body, replacing their matching "Mille Tendresse" ink that previously covered the back of his neck with the word "cursed."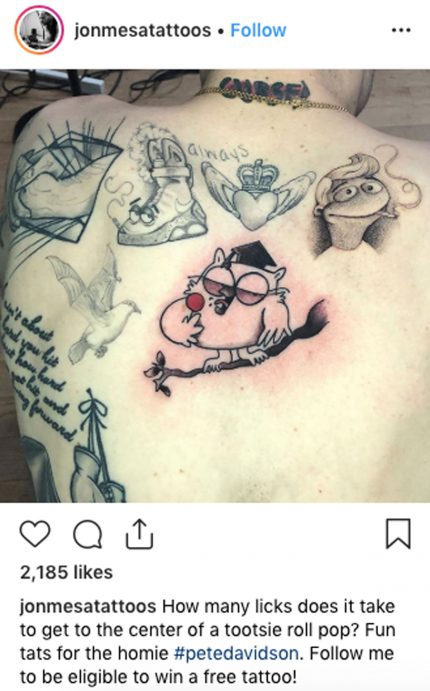 That doesn't seem like evolving to us… LOLz!
Still, the 7 Rings singer hasn't been embarrassed to go back under the needle when it comes to changing her tattoos. She recently attempted to fix a misspelled Japanese phrase on her hand amid cultural appropriation accusations… but only made it worse!!
Seems her lyrics were right, after all:
"Girls with tattoos who like getting in trouble."
But in the end, it's all good!
Mr. Davidson has joked about their transformed ink during a comedy show in El Lay, referencing pieces he got dedicated to his ex-fiancée Ariana and ex-girlfriend Cazzie David:
"Um, I've been covering a bunch of tattoos, that's fun. I'm f**king 0 for 2 in the tattoo [department]. Yeah, I'm afraid to get my mom tattooed on me, that's how bad it is … Obviously you know, we [Ariana and I] broke up or whatever but when me and her first got engaged we got tattoos, and it was in a magazine like, 'Was Pete Davidson stupid?' And 93% of it said 'yes.' So my boy, he was like, 'Don't listen to that s**t man. They're literally f**king haters.' And I'm like, yeah, f**k that. I'm not stupid. Well the other day we were in my kitchen and he was like, 'Yo bro. Turns out you were stupid.'"
He hasn't gotten any ink dedicated to his new GF… yet! We bet he learned his lesson this time around. LOLz!!
And in the meantime, keep on evolvin, Ari!!
[Image via Ariana Grande/Instagram.]
Related Posts
CLICK HERE TO COMMENT
Mar 18, 2019 10:55am PDT