Brian Austin Green is yet again refuting ex-girlfriend Vanessa Marcil's co-parenting claims!
On Friday, the actor took to his Instagram Story to call out The Nanny Express lead over claims she "raised my son alone." As a refresher, Brian and Vanessa share their 20-year-old son Kassius, whom they welcomed in 2002, just one year before breaking up and getting embroiled in a messy custody battle. Brian then moved on with Megan Fox from 2010 to 2021, welcoming Noah, 10, Bodhi, 9, and Journey, 6, before their recent divorce. During that time, the former couple was very influential in raising Kassius — something Vanessa is now suggesting otherwise!
Related: Megan & MGK 'Still Not In A Good Place' After Nixing Infidelity Rumors
Over the weekend, Brian shared a screenshot from Vanessa's IG Stories to his page, in which the actress responded to a fan who was wondering if co-parenting had been "difficult." She declared:
"We didn't & don't co-parent. I raised my son alone."
But according to Green, this is completely untrue! The 49-year-old clapped back at the negligent father allegations, writing:
"So, I can't tell you all how frustrating it is to read continued lies from a 50+-year-old woman on social media like she is still in high school. She has never in her life been someone to walk the walk. Talk is cheap."
He then went on to give the Transformers star a ton of credit for the way she helped him care for his eldest, writing about his ex-wife:
"Megan and I bust our assess to give Kass a well-rounded childhood since his mom was rarely there. I'm assuming that's why she posts so much of him now. When will she just GO AWAY."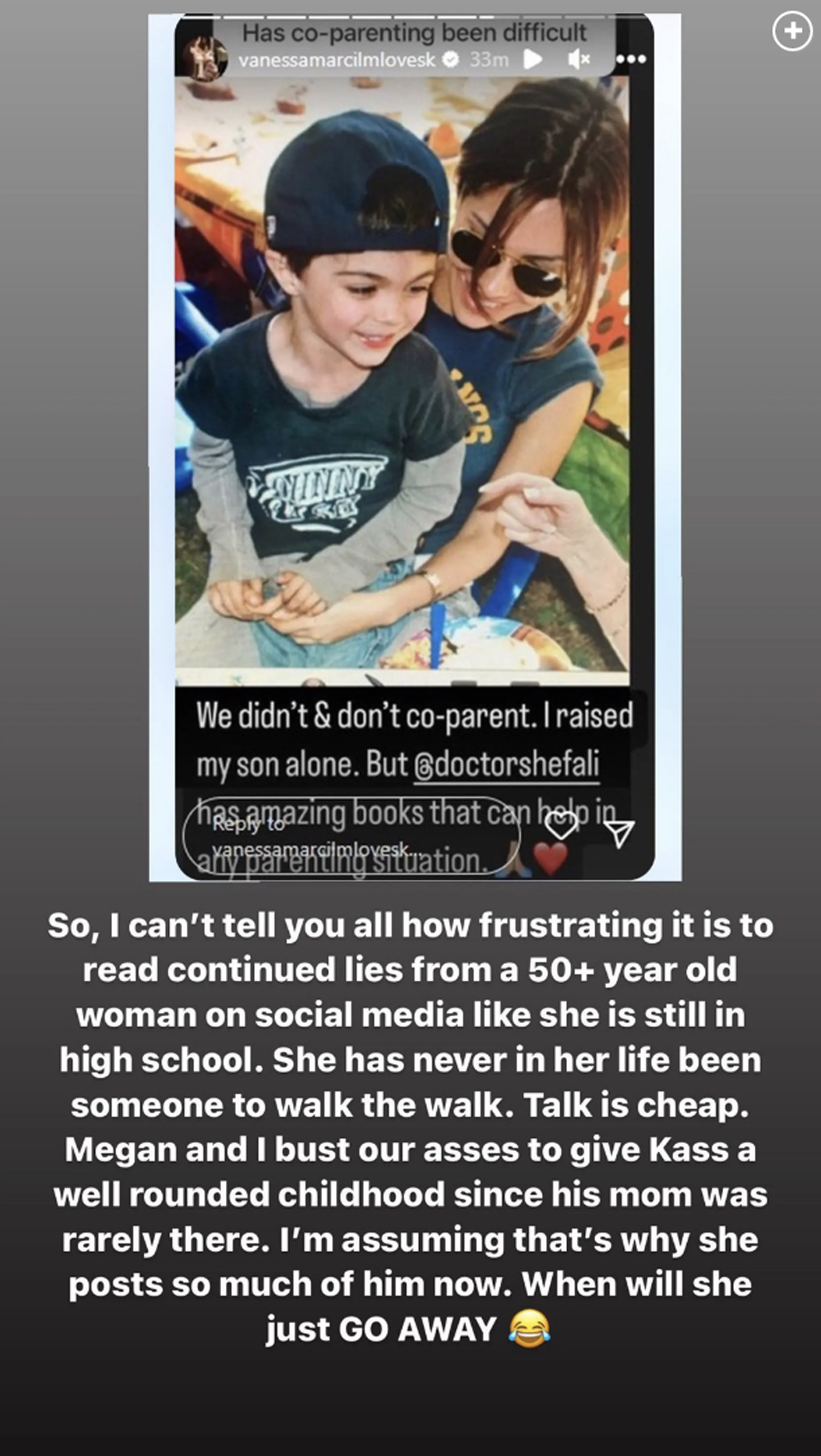 Whoa!
It's honestly kind of great to hear Brian praise Meg after their divorce! Seems like they've left things on pretty good terms! Things can't be said the same about him and Vanessa, though. Oof!
Related: Nick Cannon Says 'God Decides' When It's Time To Stop Having Kids…!
As mentioned, Brian and Vanessa met on the set of BH90210 and began dating in 1999. After their 2003 breakup, they were caught up in a years-long custody battle over their son. In a resurfaced 2018 post, Marcil put her ex on blast for supposedly trying to take her son away from her, telling Us Weekly:
"12 years ago I was served legal papers and then spent 8 years+ defending myself and my son in custody court in response to his father & his stepmother trying to get full custody (that means I would have seen my son four days a month) and then asking me to pay them child support. They lost that case & a civil case asking me for $200,000."
She also claimed that she "never asked for child support of any kind and had never tried to take time away from Kass' dad seeing him." Making it clear that she had it out for Megan as well, the Las Vegas alum claimed the then-couple "decided to completely cut" Kassius "out of their lives and his younger brothers' lives," adding:
"Kass has never met his youngest brother and is not allowed to know where his bio father, stepmother and three younger brothers live. Custody cases hurt the children only and the truth shall set us all free. Put the kids first you guys. There shouldn't be a 'more important parent' kids love both parents equally no matter what either parent's struggles may be."
But once again, BAG wasn't going to stand by and let his ex get away with saying whatever she wanted. Back in October, the Don't Blink star slammed that resurfaced post as well, arguing:
"I just heard that my ex was claiming I spent years taking her to court and asking for child support. How was I the Respondent then??? #factsisfacts #thetruthshallsetyoufree."
He also posed alongside his son while on the set of an upcoming movie, making it clear he was still very much in Kassius' life! Take a look:
So, obviously, this is a messy situation! And it has been for a long time. It's just good to see the same thing isn't happening with Megan. Thoughts?! Sound OFF (below)!
[Image via MEGA/WENN & Vanessa Marcil/Instagram]
Related Posts
CLICK HERE TO COMMENT
Feb 27, 2023 10:43am PDT