Bristol Palin is getting real about what she's been through on the operating table.
The 32-year-old mom took to her Instagram Stories on Wednesday to deliver a revelation about her NINTH breast augmentation procedure. But there's so much more here than just a superficial goal. As the ex-MTV starlet explained in the post, she's been trying to make things right with her body for more than a decade.
Related: Bristol Reveals She Dealt With A Scary Stalker For Ten Years!
The Teen Mom OG alum posted a pic showing herself posing in a mirror while wearing a medical bra. Attached to the bra were drainage tubes to help manage blood flow following the surgery. The mother of three used the remarkably open and vulnerable shot to let her followers in on some of the challenges she's been facing.
Admitting from the top that she was over-sharing a bit, Bristol recounted how she's now had nine different breast procedures in her life. It all goes back to a reduction gone wrong when she was just 19:
"sharing wayyyyy tmi right now, but had my 9th breast reconstruction surgery last night — yes, NINTH, all stemming from a botched breast reduction I had when I was 19 y/o.. I've had previous surgeries trying to correct that initial damage of muscle tissue and terrible scaring [sic]."
Ugh!
With surgery number nine now in the can, Bristol is hoping a conclusion can finally come.
But for the real estate mogul, the psychological side has been even more difficult than the physical part. Sarah Palin's daughter recounted how endless health problems have put a "pause on life" as she rests and recovers:
"The whole situation has honestly made me very self conscious my entire adult life. Praying this is the last surgery needed — I hate being a whiner but it kinda does put a set back/pause on life and that's why I've been fairly MIA — trying my hardest to stay positive, hype myself up, and remind myself that I have so much to be thankful for; l'm healthy, fully capable, and this is just an inconvenience cause things could always be way worse"
That's a commendable attitude! It's true that things could be way worse. But that doesn't invalidate her struggles, either. Surgery is no small thing! Bristol is going through it, and she's entitled to vent a little bit.
Related: Did Cardi B Just Expose Kim Kardashian Over Plastic Surgery?!
In addition to venting, she's also scrolling. Ha!
At the very end of her IG Stories reveal, Palin begged her half-million followers to send memes, show recs, and other content to help pass the time:
"plz send show recommendations, or funny memes cause l'm already going stir crazzzzy"
LOLz!
You can see the snap for yourself (below):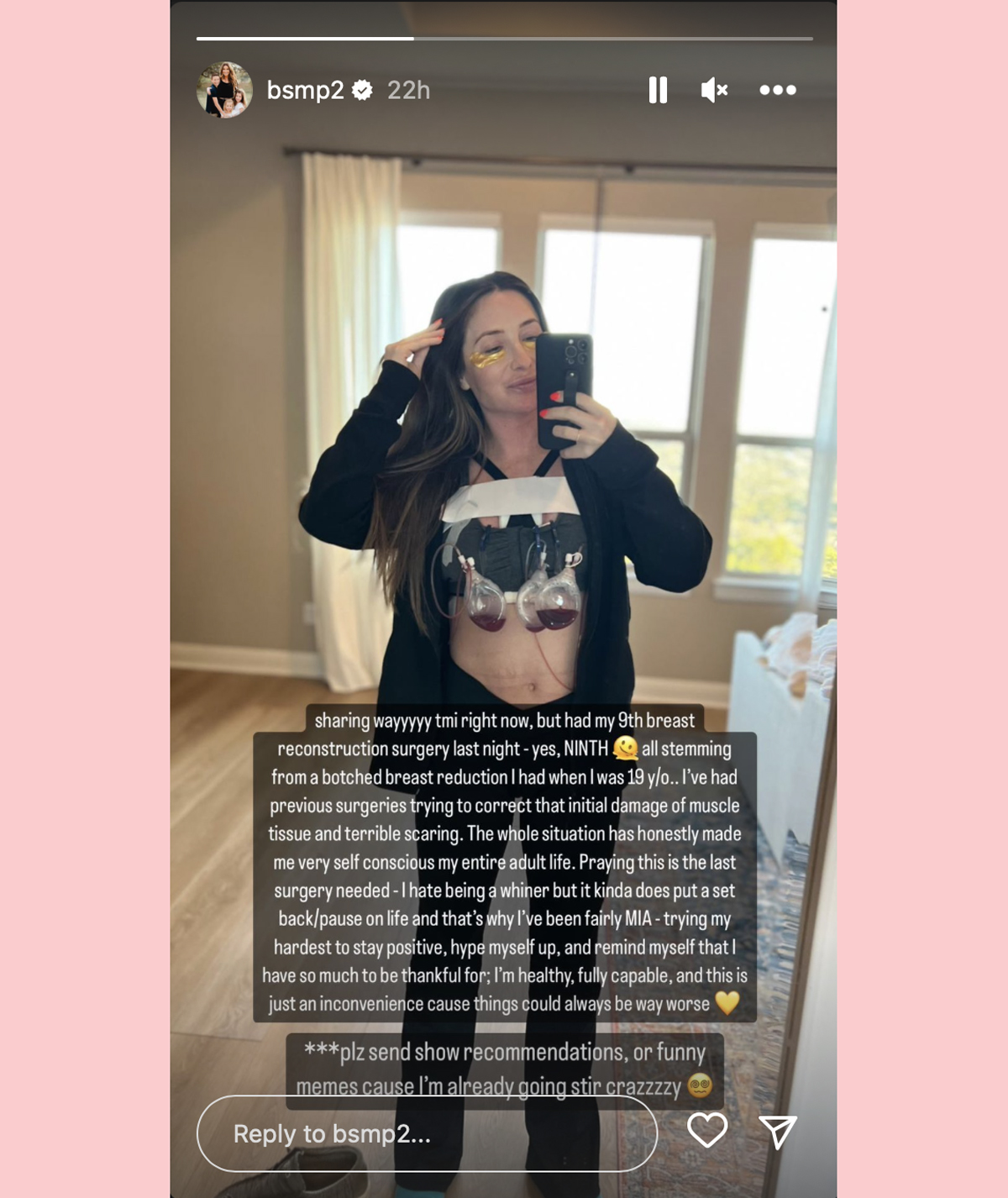 Of course, Bristol is plenty busy at home with son Tripp, 14 — who she shares with ex Levi Johnston — as well as daughters Sailor, 7, and Atlee, 5, who she co-parents with ex-husband Dakota Meyer.
She's been through it in the public eye, too. In addition to being thrust into infamy as the one-time VP candidate's kid, Bristol joined the Teen Mom OG cast back in 2018 after Farrah Abraham's removal from that series. But after one year on reality TV screens, Palin walked away from the show.
Ever since, she's been building her real estate biz while parenting. So like a lot of moms, she doesn't have much time to lay around while recuperating from surgery. Ugh!
Sending love and light — and wishes for a fast and full recovery!!!
[Image via Bristol Palin/Instagram]
Related Posts
CLICK HERE TO COMMENT
Jan 26, 2023 08:50am PDT