Comedians Mourn Brody Stevens, Dead At 48 Of Apparent Suicide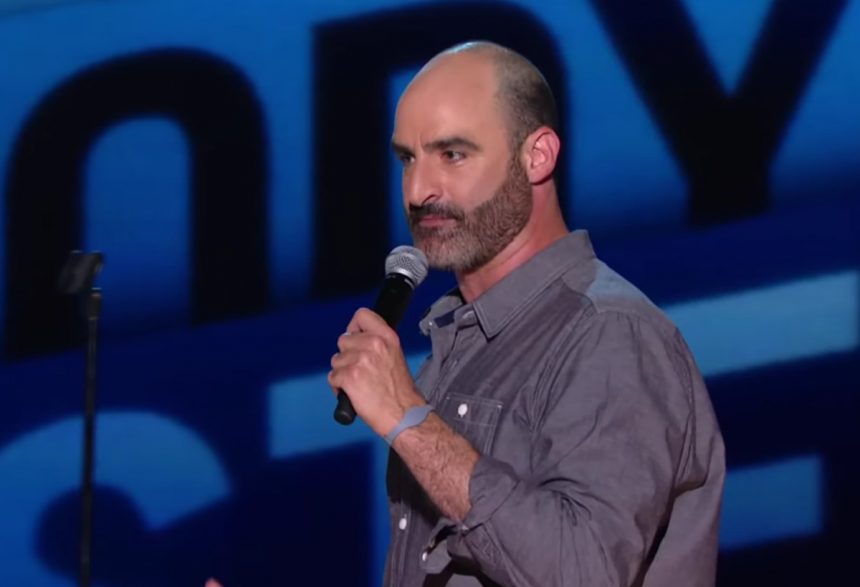 This is so incredibly sad!
Brody Stevens was known as a comics' comic, a standup all others loved as a person and as a talent. And now he's gone.
According to The Blast, the comedian was found dead on Friday, and police are currently investigating as suicide by hanging.
He was 48 years old.
Brody was very public with his battle with depression, even doing a reality show about it in 2013 on Comedy Central:
As we said, Brody was friends with just about everyone in the comedy world.
See some of the the heartbroken community's reactions to the news (below):
If you are depressed or feeling suicidal please please please please please reach out to ANYONE. I never get to see Brody Stevens again I can't stand this. #RIPBrodyStevens #818ForLife pic.twitter.com/n1jQhXdOIz

— Patton Oswalt (@pattonoswalt) February 22, 2019
RIP Brody Stevens. Nobody else was like him, on or off stage. Seeing him was always a joy. We'll miss you Brody.

— Kumail Nanjiani (@kumailn) February 22, 2019
Thank you for sharing this story. Brody Stevens doing what he did so well. RIP. https://t.co/ifTqe32mrX

— Kathy Griffin (@kathygriffin) February 22, 2019
Another singular force of nature gone. RIP Brody Stevens.

— marc maron (@marcmaron) February 22, 2019
Positive push. #brody

— Michael Ian Black (@michaelianblack) February 22, 2019
So sad to hear of the passing of every comedians friend @brodyismefriend. Brody was a true eccentric. The embodiment of a comedian in his passion, anger and joy. I feel like the comedy community lost our mascot. Bye Brody. It was an honor to know you and see you do your thing

— Jim Gaffigan (@JimGaffigan) February 22, 2019
Fucking fuck. Brody Stevens. Ugh. What a unique talent he was. Just so sad. So so sad. I feel terrible.

— )))David Cross((( (@davidcrosss) February 22, 2019
Brody you brilliant weirdo. You complicated hilarious person. I will always love you and I hope you're in less pain now. ❤️ RIP

— Ronald Funches (@RonFunches) February 22, 2019
#RIPBrodyStevens he was so funny and weird and vulnerable and wild and kind. Every time he was onstage it was an adventure. Here's some comics talking about what made him so special. https://t.co/wbUNaZgJ2f

— nick kroll (@nickkroll) February 22, 2019
Everyone loved Brody Stevens.

— Kristen Schaal (@kristenschaaled) February 22, 2019
I love you so much Brody Stevens. Nobody has been nicer in comedy than you. My heart is shattered. pic.twitter.com/sOl9PLpxsd

— Whitney Cummings (@WhitneyCummings) February 22, 2019
Just heard awful news about Brody Stevens. Ran into him at a Cubs game last season. Such a nice guy. REACH OUT if you need help and if you can #RIPBrodyStevens

— Ike Barinholtz (@ikebarinholtz) February 22, 2019
I love you Brody

— rob delaney (@robdelaney) February 22, 2019
Nobody made me laugh like him. I was proud to call him a friend. I'm so sad. Love you, Brody. https://t.co/Js7rFHrI6R

— Chris D'Elia (@chrisdelia) February 22, 2019
@BrodyismeFriend I will love and miss you forever Brody 😥 RIP 💔

— Eric Andre (@ericandre) February 22, 2019
RIP to truly one of the best stand-ups, Steven Brody Stevens. You might not know of Brody, but he likely had an influence on your favorite comic. This was my favorite thing he did: https://t.co/2Ffiq3fD12

— Nikki Glaser (@NikkiGlaser) February 22, 2019
It feels so pathetic to do this on twitter but i don't know where else to. This is so sad , a real loss of a strange and genuine talent and sweet man. fuck im knocked for a loop. Brody Stevens was one of a kind.

— Moshe Kasher (@moshekasher) February 22, 2019
Brody Stevens was and always will be comedy legend. RIP.

"But I could have told you, Vincent/This world was never meant for one as beautiful as you" Don Mclean

— Doug Stanhope (@DougStanhope) February 22, 2019
Brody Stevens was singular. Nobody else like him.

Always sweet and kind.
Always super hilarious.

He said to me last year: "I heard there's a gif of us fist-bumping. You know computers, link it to me!".

I searched for it and here it is. #RipBrodyStevens #818 pic.twitter.com/hMGCMvoeD7

— Jonah Ray Rodrigues (@jonahray) February 22, 2019
If you or someone you know is considering suicide, please contact the National Suicide Prevention Lifeline at 1-800-273-TALK (8255).
[Image via Comedy Central/YouTube.]
Feb 22, 2019 4:28pm PDT