Jana Kramer and Mike Caussin are serious about tackling their relationship struggles together and they want other couples to get real about it, too!
To mark their fifth wedding anniversary, the pair announced they're releasing a new self-help book titled The Good Fight: Wanting to Leave, Choosing to Stay and the Powerful Practice for Loving Faithfully, which promises to offer readers practical advice for rebuilding a marriage after infidelity, inspired by their own real-life marital troubles.
Related: Jaime King's Estranged Husband Claims She Is A 'Chronic' Drug & Alcohol Abuser
As you may be aware, these two were on the rocks for a while after the former NFL tight end admitted to breaking a "boundary" within their marriage with a sex addiction and cheating on the One Tree Hill actress with multiple other women. Following several relapses, rehab stints, and taking the necessary steps to heal, the couple feels like now is the right time to open up about what they've been through. It took a little convincing, though, as Kramer told People:
"[At first] I was writing a book about my life and our relationship, and at the time we did a treatment that I gave to Mike. He just ripped it up and was like, 'You're not releasing this.' [He was] just full of shame, which I get [now]. At the time I was like, 'I want to help people.'"
Caussin told the outlet the difficult moments described in the book were early on in their marriage and "within the first calendar year of everything happening," adding:
"It was still real new for both of us. I was still so stuck in shame that I didn't see the silver lining of how we can help other people because I was so small at the time."
But now, the Whine Down podcast co-hosts are both ready to share, in hopes of helping others struggling with similar issues! The former professional athlete insisted:
"We're not trying to claim that we have it all figured out. We learned from clinical professionals that we've had in our lives steer us in the right direction. We have the tools. [The book] is vulnerable, it's authentic, it's direct, it's funny, it's passionate."
So, how exactly will the couple share their expertise?
The book is structured so that each chapter explains a previous fight told from both perspectives, followed by the "tools" they now use to overcome various disagreements:
"We do put things in there that we haven't shared before about stuff surrounding our pregnancy with Jace and when I was on Dancing with the Stars. We decided it was a good time to just kind of lay it all out there and give perspective and [explain] why Mike was gone in January."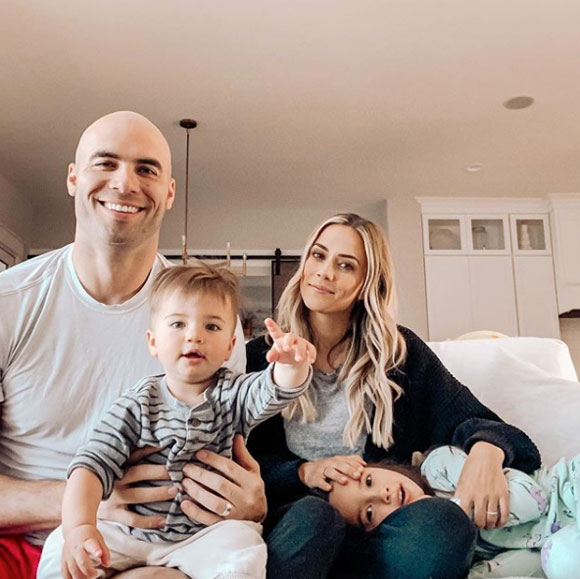 The parents-of-two admit it was "tough" and "triggering" to rehash some of their old issues together but at the end of the day, it's all about making a difference and helping others learn from their mistakes:
"We even make fun of ourselves a lot [in the book] because the last thing we want is people to think that we have it all figured out. We're vulnerable, but at the same time we're hopeful that people can walk away with some helpful tools. There's a lot in there that's beneficial for everyone."
Aww! Kudos to them for being so open and honest about the intimate details of their journey as husband and wife. They're certainly committed to what they preach as Kramer has openly documented the ways they are recommitting to one another. With so many pairings calling it quits lately, especially during the quarantine, wish them all the best going forward!
Will U be picking up a copy of The Good Fight when it hits shelves in September?
[Image via Jana Kramer/Instagram]
Related Posts
CLICK HERE TO COMMENT
May 23, 2020 10:18am PDT