Johnny Depp Calls Amber Heard's Abuse Allegations 'An Elaborate Hoax' In $50 Million Defamation Lawsuit!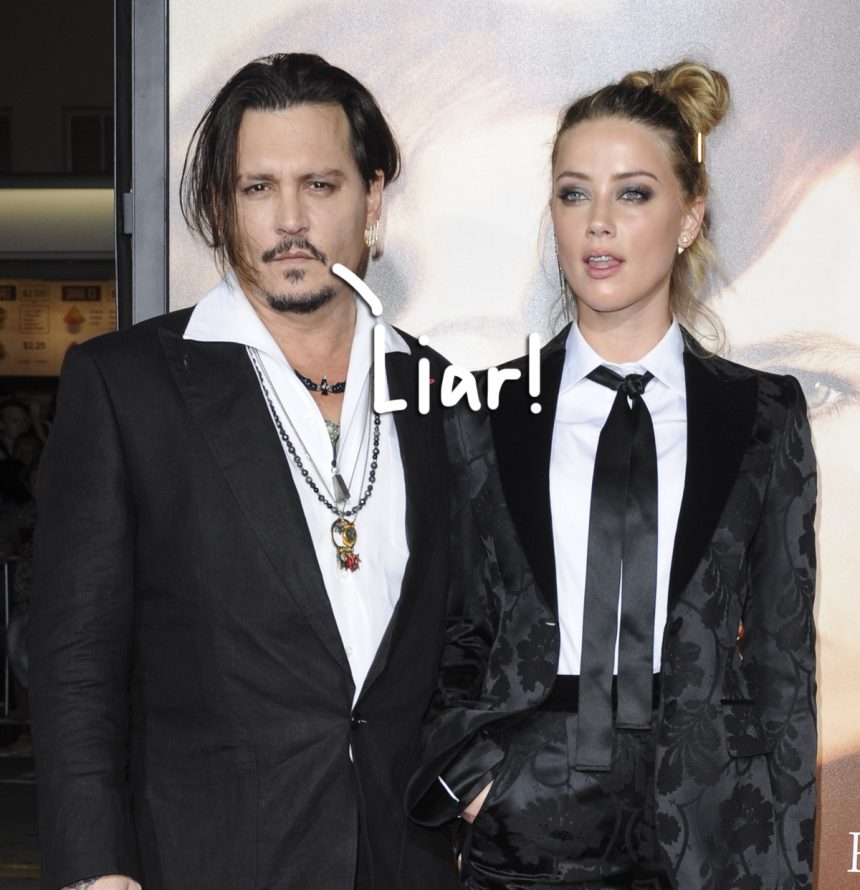 We were waiting for this one…
Johnny Depp has filed a $50 million defamation lawsuit against his ex-wife Amber Heard over her abuse allegations that have seemed to plague his career.
According to The Blast, the 55-year-old actor described the Aquaman star's 2016 abuse allegations as "an elaborate hoax" that was orchestrated to give her career a boost.
The lawsuit references an article that Heard wrote for The Washington Post in December of last year, in which she claimed that coming forward with the allegations led to her receiving death threats and a loss of job offers.
Related: Amber's Testimony Will Play A Part In Another Defamation Case
But seeing as Depp is now the one being removed from his upcoming studio projects — he was allegedly dropped from Pirates of the Caribbean four days after Heard's op-ed was published — he argues that his ex has profited off the allegations more than anything.
The suit continues:
"Ms Heard also knew that her elaborate hoax worked: as a result of her false allegations against Mr Depp, Ms Heard became a darling of the #MeToo movement, was the first actress named a Human Rights Champion of the United Nations Human Rights Office, was appointed ambassador on women's rights at the American Civil Liberties Union, and was hired by L'Oreal Paris as its global spokesperson."
The lawsuit goes on to blast Heard's claims that Depp is a domestic abuser as "categorically and demonstrably false," alleging:
"Mr Depp never abused Ms Heard. Her allegations against him were false when they were made in 2016. They were part of an elaborate hoax to generate positive publicity for Ms Heard and advance her career."
Noting that Heard's allegations against Depp were refuted by "two separate responding police officers, a litany of neutral third-party witnesses, and 87 newly obtained surveillance camera videos," the lawsuit argues that the 32-year-old actress "is not a victim of domestic abuse, she is a perpetrator."
As we reported, the actress filed for divorce from Depp in May 2016, later claiming he had been verbally and physically abusive towards her. At the time, images surfaced showing Heard with a bruised eye and face — seemingly supporting her claims that Depp chucked a phone at her face and hit her in their home.
Related: Johnny May Have Literally Boiled His Brain!
But Depp doubled down on denying the allegations in his lawsuit, and instead claimed that Heard was, in fact, the one who abused him.
The defamation suit alleges that, one month into their marriage, the actress threw a glass vodka bottle at Depp and caused the bones in the top of his right middle finger to shatter — an injury that allegedly resulted in him having to have his finger "surgically reattached."
The suit states that Heard "disseminated false accounts of this incident, casting Mr Depp as the perpetrator of his own injury."
Yikes. The allegations from both sides of this are extremely damning. As some have pointed out on social media, these days, we can't be too sure about anything…
What do U think about all this, Perezcious readers?
[Image via Apega/WENN]
Mar 1, 2019 2:33pm PDT