If you're a Belieber or an Arianator, you may have been able to predict an eventual collab between the two superstars. But none of us could have guessed that Carole Baskin would be involved!
Related: See Why Fans Think Taylor & Katy Are Collaborating!
Justin Bieber and Ariana Grande are gearing up to release their new single, Stuck With U, out this Friday. The duo partnered with mutual manager Scooter Braun and the First Responder's Children's Foundation for the charity single. Net proceeds will be donated to "fund grants and scholarships for children of first responders who have been impacted by COVID-19."
Last week, the pop power duo released an instrumental version of the song and asked fans to send in clips of themselves dancing for a crowdsourced, social distance music video. Well, on Thursday the Biebs gave us a sneak peak at one of those clips from an unexpected and infamous source… Carole Baskin and her husband, Howard!
According to TMZ, "some of Justin's friends" asked the Tiger King star to take part, so the couple submitted a video of "she and Howard dressed up in their old Fur Ball gala outfits and filmed a dance with their cat, Pearlie."
The somewhat unsettling clip apparently won't be in the actual music video, but the outlet said it doesn't bother the cat lady too much: 
"[Carole] says they weren't told one way or another if they made the cut, but she's happy Justin shared it with his followers and she hopes 'it doesn't attract too many of the haters who have been bashing us since being misled by Tiger King.'"
If it does, at least she can direct them to that series of videos she made defending herself!
For Ari's part, she didn't seem too thrilled about the docuseries stars being attached to her song. Responding to Justin's post of the clip on Twitter, she wrote: 
"for the record, i did not allow or approve this clip to be in the actual video. but. nonetheless. it exists and that's ….. unique. 

anyway, 7.5 hours !"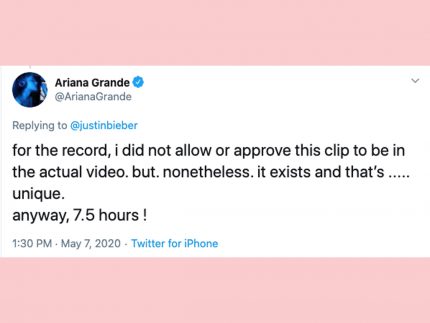 Replying to a fan's amused reaction, the thank u, next singer added:
"i am very glad someone is laughing ? the f**king heart attacks i had over this."
i am very glad someone is laughing ???? the fucking heart attacks i had over this.

— Ariana Grande (@ArianaGrande) May 7, 2020
Related: Mental Health & Coronavirus: Resources To Help During Isolation
Despite the potential behind-the-scenes tension Carole caused, enthusiasm for the song is still running high. The altruistic diva posted a glowing message on her own Instagram page, writing: 
"tonight ! #stuckwithu ?

i can't fully articulate ……… howwwww happy i am that we waited this long to do this (the duet thing). this moment really means so much more than it ever could have if it had happened any other way or if it had been any other song. being able to lend our voices to this project and collaborating on this has been so fulfilling and i really just love this song so much. grateful to be doing this with my friend and also just wanted to express an enormous thank u to all of the brilliant creatives who worked on this song @freddywexler @gianstone @iamwhitphillips @skylerstonestreet ? as well as Universal and all of our streaming partners for waiving their fees and really stepping up in support of this greater cause @1strcf ?, and of course scooter and allison for working so hard to put it all together. my heart is seriously so full. we're so close and i cant wait for u all to hear #stuckwithu in a few hours ! love u"
Personally, we can't wait for this new single — with or without a Tiger King cameo!
[Image via WENN, Instar, Avalon, and Justin Bieber/Instagram]
Related Posts
CLICK HERE TO COMMENT
May 07, 2020 17:11pm PDT