Kelly Ripa and Mark Consuelos are such a rare Hollywood marriage success story. Not only have they stayed married for an impressive 24 years, they're also living proof people can change!
What the heck are we talking about? They've always been the perfect couple with the endless loyalty and trust… right?
Related: Kelly & Mark Talk 'Experimentation' In Their Sex Life
Not exactly. In their new book What Makes a Marriage Last, OG power couple Marlo Thomas and Phil Donahue — whose own union is a gold standard at a truly awe-inspiring 40 years together — chose to celebrate their longevity by interviewing other couples who have made it work in Tinseltown.
Kevin Bacon and Kyra Sedgwick, Chip and Joanna Gaines, Ron and Cheryl Howard… but the story told by Mark and Kelly is the one that really blew our minds. Intrigue, surprise, twists… It's like something out of the soap operas they got their start in!
Mark begins:
"After we were married, I was doing a show in Boston, and I couldn't get a hold of her all day. We didn't have cell phones then. I got a really bad feeling. So I got on a flight to New York and called her from the plane and asked her what she was doing that night."
No cell phones, so in a fit of jealousy he just up and flew home! Wow, that's passion. And also probably lunacy.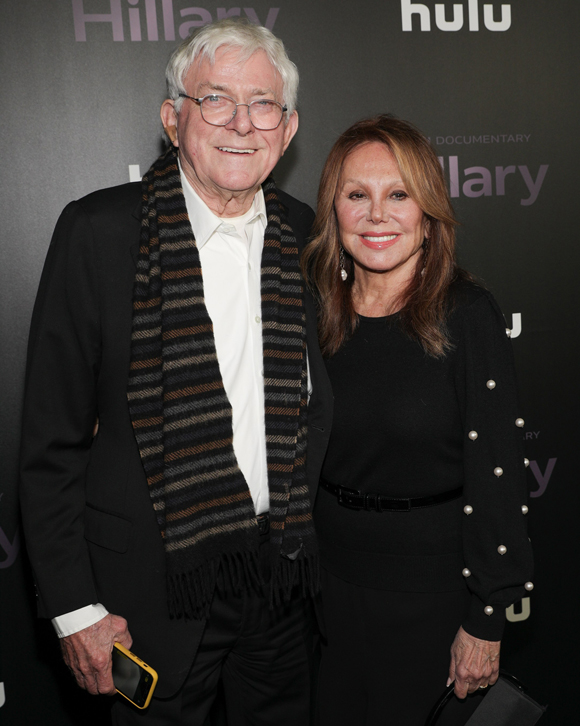 BTW, what was the future daytime staple doing that night? Her big plans for the evening were limited to scrubbing bathrooms. No, really! She recalls how that only made her hubby more convinced she was cheating on him:
"Apparently, he thought that sounded very fishy. He wanted to catch me. So he gets home and tells the doorman to call up to the apartment and tell me there's a flower delivery. I'm excited because I'm thinking, Oh my gosh, he's sending me flowers!"
But it was just a ruse so Kelly wouldn't know behind the door was her husband — and she wouldn't have time to get rid of the strange man in her bed!
So the All My Children star opened the door for the flower delivery man and found… Mark, suddenly home from out of town! And ready to bust her for cheating! Kelly laughs:
"Meanwhile, I have a johnny mop in one hand, and I'm wearing a bathrobe. So I open the door, and it's him. He comes in — he doesn't even say hello. He's looking for something. I'm still looking for the flower guy! And he's sweeping the scene!"
Oh man, have you ever noticed how every sitcom plot from the '90s could be solved with a cell phone?
Anyway, that is some serious red flag, insecure, controlling guy behavior. If we didn't know better we would have predicted the relationship only got worse from there. Fortunately, Mark saw the error of his ways. He says he regrets all the times he was overwhelmed with jealousy and admits it just "feels horrible and you know you're wrong."
Well, as long as he knows! Has a significant other ever tried to catch YOU cheating?? Let us know in the comments (below)!
[Image via Adriana M. Barraza/WENN.]
Related Posts
CLICK HERE TO COMMENT
May 07, 2020 13:05pm PDT