Here we go again.
Khloé Kardashian took to Instagram Sunday to share another sexy workout selfie. She looked amazing, naturally, in a sleek bun, white tank, and diamond cross and crystal pendant necklaces, which she aptly captioned alongside a white heart emoji:
"Happy Sunday"
Soon after, Tristan Thompson, her ex-boyfriend and baby daddy — you know, the one who cheated on her numerous times, including eventually secretly fathering another child — made sure to make his viewership known.
Yeah, we know.
Related: Kylie Jenner & Hailey Bieber Are Shedding Followers FAST After Shading Selena Gomez!
The 31-year old dropped a like on the mother of two's post, doubling down on his very public expressions of adoration. The question is, are we talking about an ex trying to get back in her good graces? Co-parents with a healthy mutual respect? Or are they secretly back together behind the scenes again?? After all, they were able to keep it a secret for a long time before. Plenty of fans worry it's the latter the way he's been acting lately. Moving closer could be about the kids they share. But peeping on her sexiest snaps? That's a little offsides for most exes. And this isn't the first time.
Remember, just a couple weeks ago he liked THOSE bikini-clad photos of Khloé, too…
While a source close to The Kardashians star told Page Six earlier this month that she had "no intention of getting back with Tristan," could these friendly exchanges indicate otherwise?? We guess we'll just have to wait and see.
However, Tristan's like wasn't the only thing that caught fans' attention on her Sunday gym selfie, as she appeared to have a bandage on the left side of her face (see below).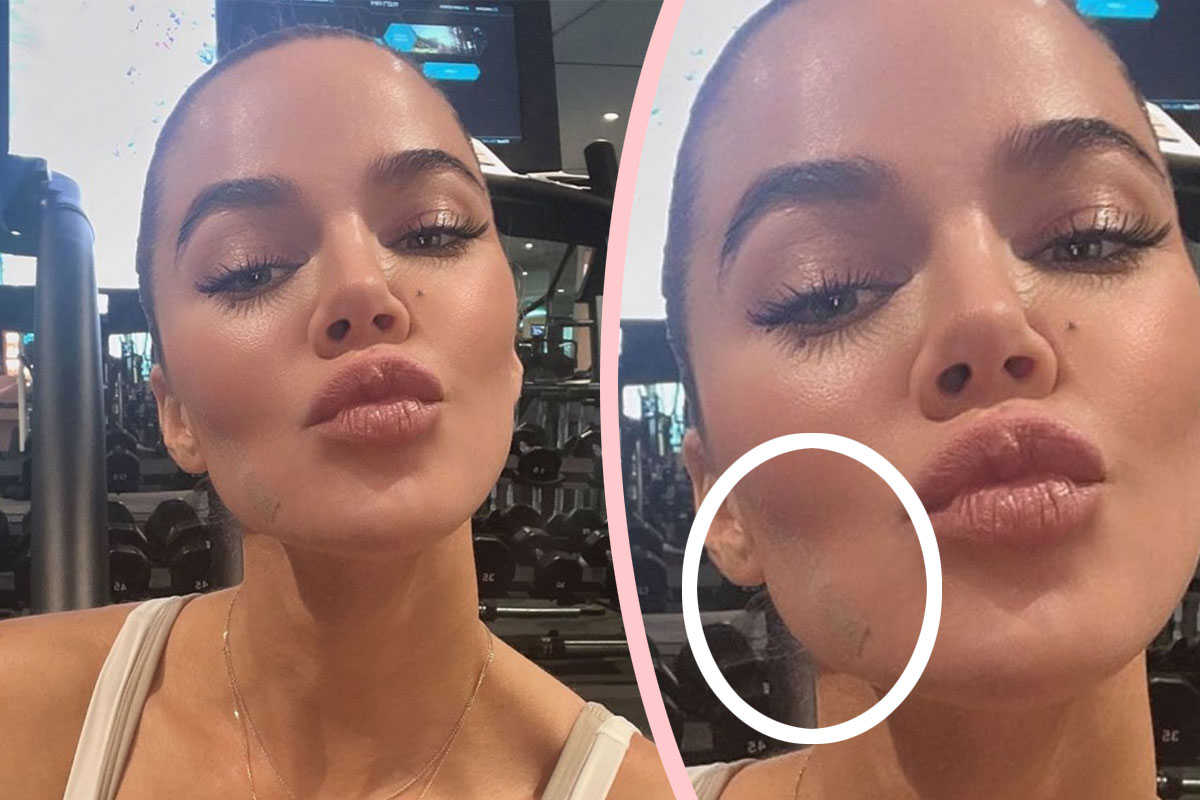 One fan commented, "What the heck is on your cheek?" to which the 38-year-old responded: 
"a bandage. I had a tumor removed from my face but I'm totally ok. Thank you for asking "
Scary! We're glad she's okay, and was able to get that taken care of before things got too serious! It's so much better to get rid of these things before they hurt us even more…
What are YOUR thoughts on Tristan's repeated likes on Khloe's pics, Perezcious readers? Is he just being cordial with his baby momma? Does he have a plan? Is it already something more? Let us know what YOU think in the comments down below!
[Images via Khloé Kardashian/Instagram & Keeping Up With The Kardashians/YouTube]
Related Posts
CLICK HERE TO COMMENT
Feb 27, 2023 12:52pm PDT