Everyone can thank Khloé Kardashian for the latest update to a certain product in Kim Kardashian's shapewear line!
As fans may recall, the 37-year-old noted during a recent episode of The Kardashians that while the SKIMS bodysuit is "amazing," she found there is one little (literally) problem with the item – it does not provide enough coverage in certain areas of the body. OK, the crotch. We're talking about the crotch area. As Khloé stated when meeting with Kim and Kourtney Kardashian for lunch:
"So you know you guys make fun of me for having a bigger vagina than most? You know, the bodysuit, it's like, the one there's ruching here. I'm wearing it right now, and it's amazing — but it's a sliver. Is it supposed to just cover my cl*t?"
Related: TikTok Trolls Kim For Having 'The Most Uncomfortable ' Office Furniture EVER!
She then recommended:
"The vagina needs a little more fabric. Just a little wider, and for all you little bitches, why does it matter?"
Ha! Love Khlo being brutally honest! Sometimes clothing designers need to hear it! We've seen the complaint from others online, too!
Well, it looks like Kimmy Kakes has taken that suggestion to heart and unveiled a new design for the SKIMS product "just for" her sis! Oh, and of course, everyone else too. In a series of videos on Instagram Stories, the 41-year-old reality star revealed the news on Thursday that she plans on enlarging the "vagina area" of the bodysuit in order to accommodate different body types more. She could be heard saying in the clip:
"Khloe, you would be so proud. I'm in a full SKIMS shapewear meeting and guys, we are making the vagina part in the bodysuit thicker – wider, sorry. And we're changing a few things for all of the comments and questions that you guys have been asking for a really long time."
She further elaborated on the style change, writing in a caption over the video:
"@khloekardashian it's your lucky day!!! I'm in a @skims design meeting and we're going to widen the shapewear bodysuit Vagina area just for YOU."
In another post, Kim zoomed in on the redesigned garment, adding:
"Just for you, Khlo, widening it."
We are sure KoKo and other customers will appreciate this change! Ch-ch-check out the sneak peek of the design revamp (below):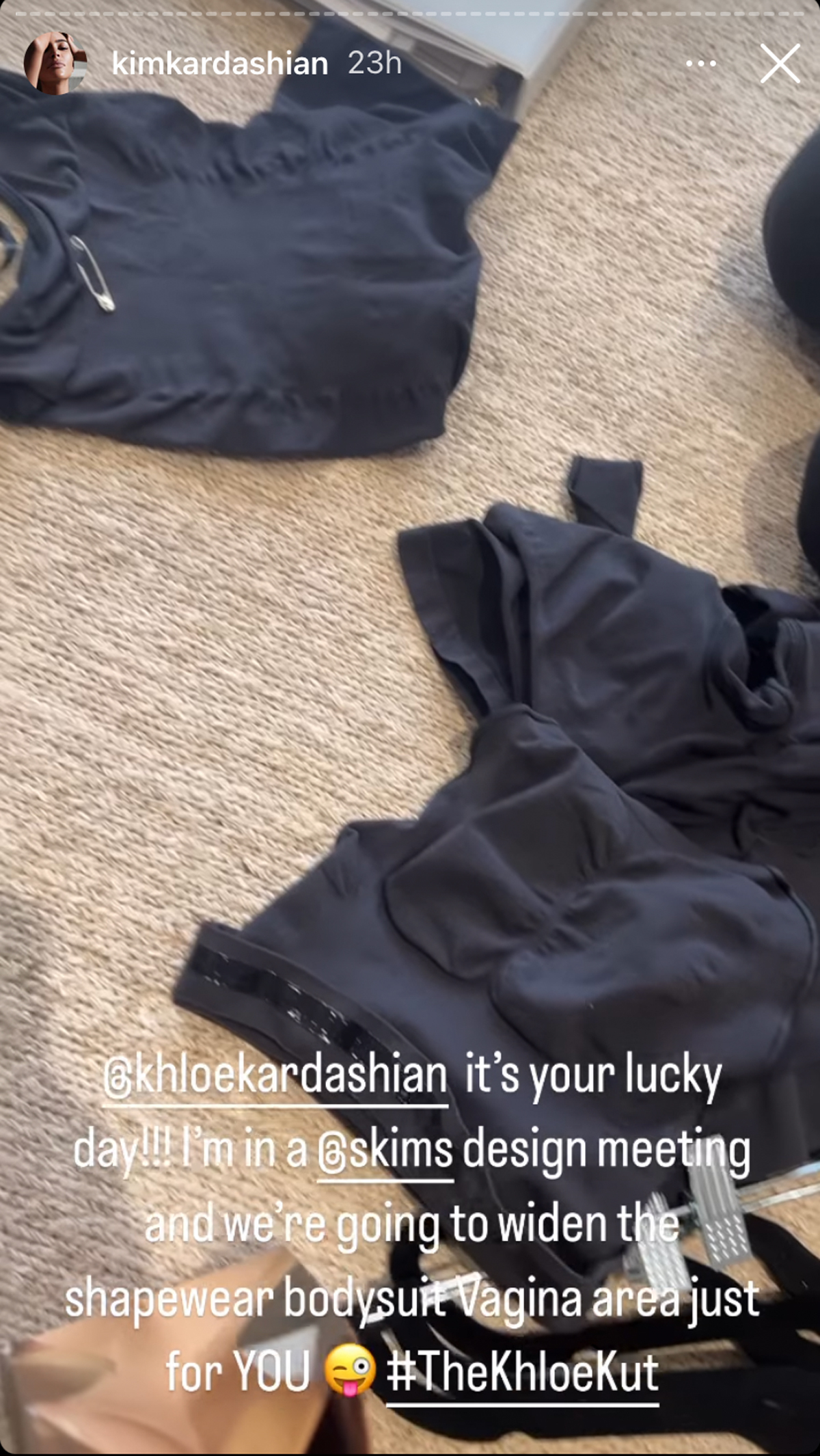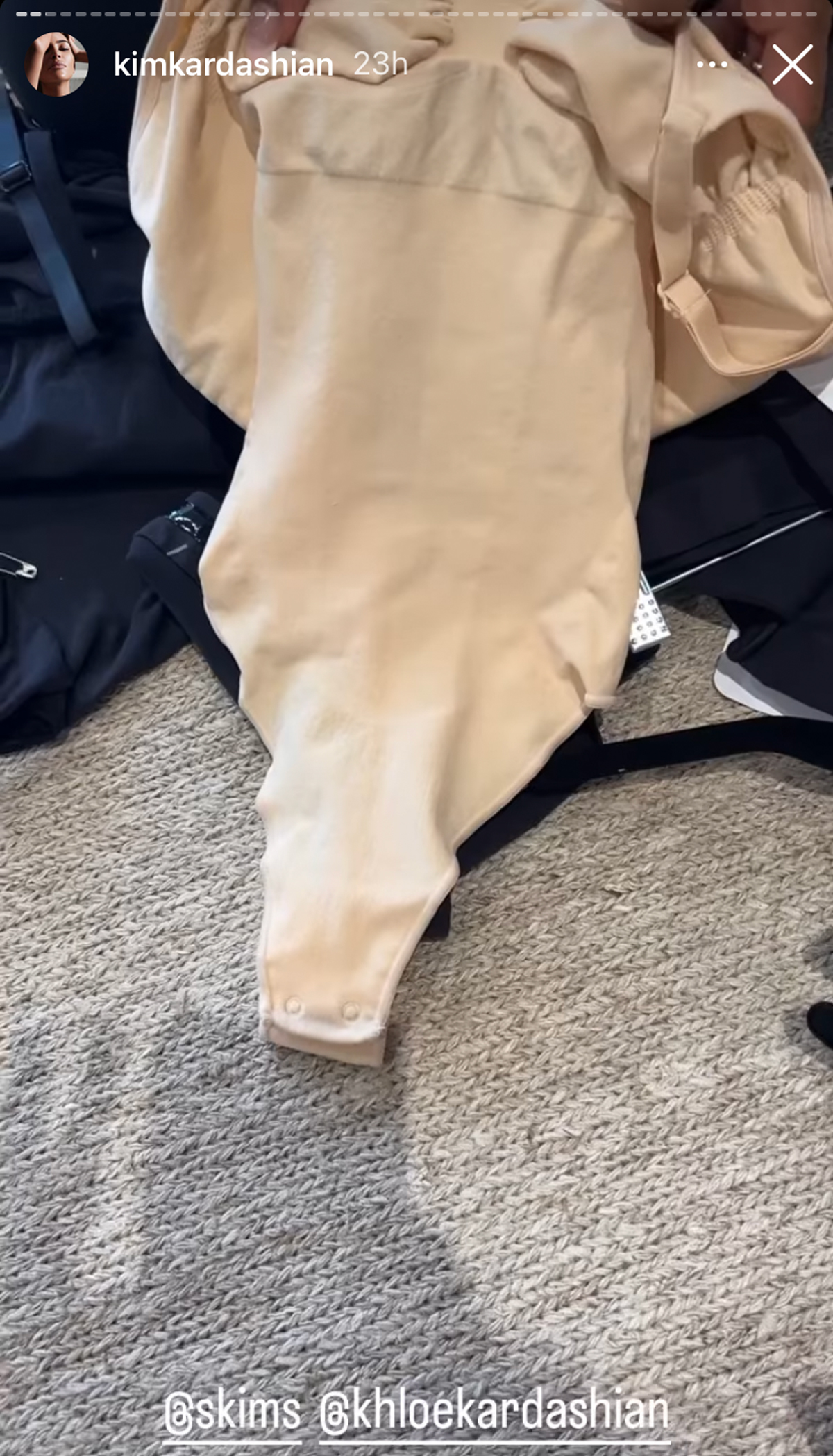 Now, we cannot help but wonder where Khloé was when Kylie Jenner dropped her controversial swimsuit line! She probably could have saved the makeup mogul a ton of headache by suggesting some much-needed improvements, too! LOLz.
What do YOU think about the change, Perezcious readers? Let us know your thoughts on the product (below).
[Image via The Kardashians/Hulu]
Related Posts
CLICK HERE TO COMMENT
Jun 24, 2022 16:45pm PDT