Queen Elizabeth Denies Meghan Markle & Prince Harry's Request For A New, Independent Court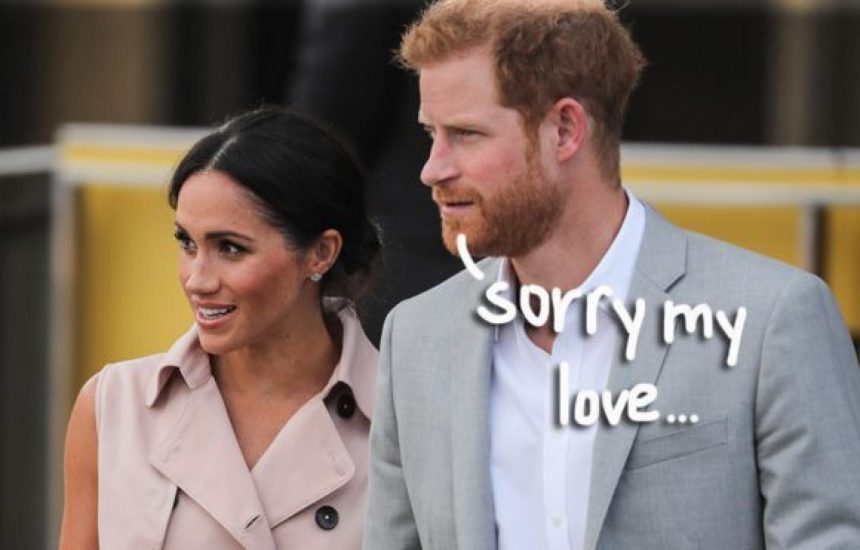 Meghan Markle and Prince Harry were hoping to strike out on their own… but Queen Elizabeth II isn't having it right now!
According to a new report out in The Sunday Times, Meghan and Harry have lobbied for an autonomous new court to be helmed under their office as an independent outfit, but Queen Elizabeth and Prince Charles, the Prince of Wales, were reportedly not feeling up to grant the request.
Related: George Clooney Slams Media Over Meghan Markle Treatment
A source told the paper exactly what went down when Meghan and Harry made the request, revealing more about the ultimate denial to change the family structure (below):
"They wanted their household to be entirely independent of Buckingham Palace, but were told 'no.' There is an institutional structure that doesn't allow that kind of independence. The feeling is that it's good to have the Sussexes under the jurisdiction of Buckingham Palace, so they can't just go off and do their own thing."
There's obviously a somewhat complicated hierarchical structure involved with the royal family and Buckingham Palace, but broadly speaking, Meghan and Harry were interested in spinning off independently to build a global "Sussex brand" of philanthropy and humanitarianism, based on some of the philanthropic goals the couple has already in their young life together.
Now, even though their household won't be fully independent of Buckingham Palace, Meghan and Harry will get themselves a new household branched within the hierarchy — so, in other words, it's better than nothing! That move was first announced last week, when the royal family shared a statement about the Queen's decision "to create a new household for The Duke and Duchess of Sussex, following their marriage in May last year. The household, which will be created with the support of The Queen and the Prince of Wales, will be established in the spring."
Nice!
Related: Meghan Is Losing ANOTHER Aide… But Why??
The royal statement continued on about the new (but connected) office for philanthropic work and public engagement, too (below):
"The Duke of Sussex currently has his own private office, which has been supporting The Duchess since the engagement of Their Royal Highnesses in November 2017. This long-planned move will ensure that permanent support arrangements for The Duke and Duchess's work are in place as they start their family and move to their official residence at Frogmore Cottage."
So there you have it! The royal family continues to make business and logistical plans as this adorable young family prepares to finally settle into their forever home!
Thoughts, Perezcious readers?! Share 'em in the comments (below)!!
[Image via WENN]
Mar 17, 2019 4:29pm PDT