George Clooney Slams Media For Being 'Unfair' To Meghan Markle!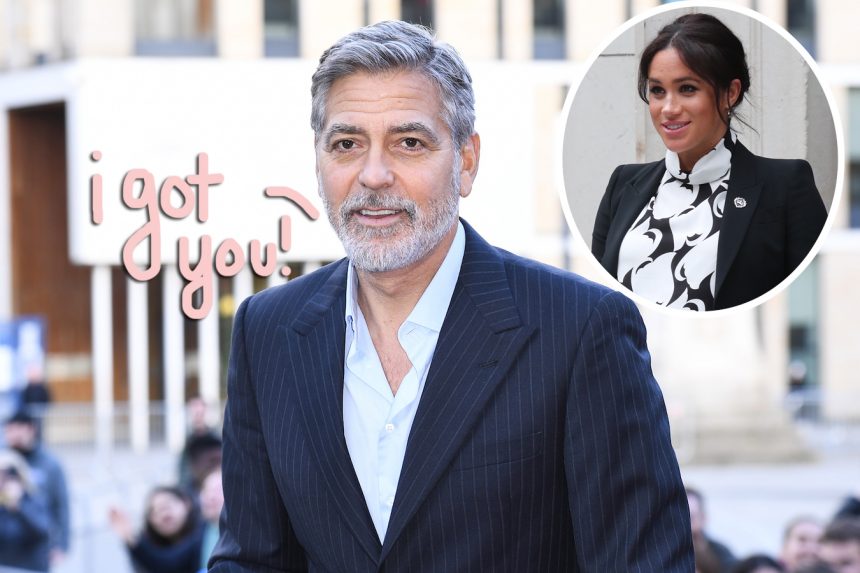 Friendship goals!!
George Clooney was keen to praise his pal Meghan Markle while being interviewed by Good Morning Britain — and also wasn't afraid to speak out against some of the more negative media attention she receives.
Related: Meghan Markle Wants To Get Closer To Kate Middleton Before Arrival Of Baby
The 57-year-old actor shared with the morning show his thoughts on how the press has treated the Duchess of Sussex:
"I think it's a little unfair at times when – I've seen it when the press can turn on you for sort of ridiculous reasons and for almost nothing, and it seemed to me to be a little unjust since [Meghan] hadn't done anything except just happen to live her life. Most of it you can just shrug off and not pay attention to, but sometimes it's unkind."
His interview comes on the heels of Kensington Palace's release of a new "strict set of standards" for interacting with the royal family via social media, aiming to create a "safe environment."
The father of two also spoke up the Suits alum as "a really kind and smart and intelligent young woman," and said she and husband Prince Harry are a "really wonderful, loving couple."
Awww!!!
While appearing on GMB from Scotland, where he and his wife had received a donation for their foundation, the Ocean's 11 star also gave a little insight into what Prince Charles is really like — and the septuagenarian is definitely more wild than you thought:
"Charles got really crazy and started dancing on the tables…I was surprised to see that. He had such good dance moves. Sir Tom Jones sang which was fun. It was actually a really great night."
He's not the only one close with the royals, his wife Amal Clooney and the momma-to-be are pretty tight, too.
Related: How Meghan Markle Is Preparing For Her Impending Maternity Leave
After Meghan's lavish NYC baby shower in February, where the guest list also included pals such as Gayle King and Serena Williams, Mrs. Clooney let the expectant mother hitch a ride back to the UK on a $225,000 private flight. A source revealed to The Sun:
"Amal was already flying back and covering all the costs so it made total sense. Amal was more than happy for Meghan to fly back with her and the kids. It's absolutely not the case that the taxpayers or the royal family paid for the cost of the jet. The flight didn't cost Meghan a thing."
Must be nice!! Everyone could use more friends like George and Amal, LOLz!
[Image via Euan Cherry/John Rainford/WENN.]
Related Posts
CLICK CLICK CLICK Next Article
Mar 15, 2019 12:44pm PDT