Meghan Markle's Estranged Half-Brother Believes The Royal Baby Will Heal Their Complicated Family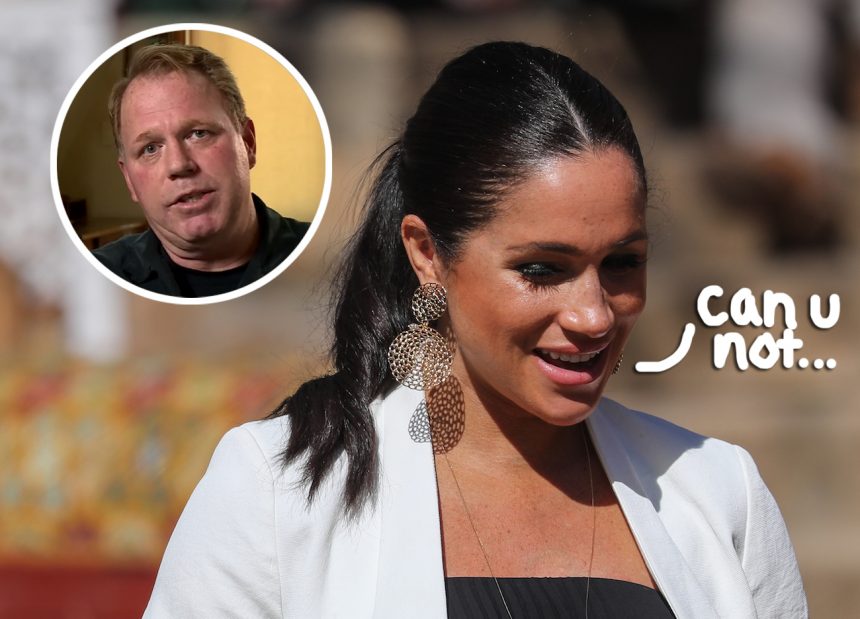 Here we go again…
Thomas Markle Jr., older half-brother of Meghan Markle, claims that despite not speaking to his royal sister since 2011, her baby brings hope for healing their family issues.
Related: George Clooney Defends Meghan Markle Against "Unfair" Media
While appearing on the Italian TV program Live Non è La d'Urso, the 52-year old made a plea last week to his half-sister in yet another attempt from her estranged family to get their 15 minutes of fame.
"Meghan ti amo tanto"

Il dolce messaggio del fratello della principessa a #noneladurso

Mediaset Play @carmelitadurso pic.twitter.com/NBA0tcznHK

— Live – Non è la d'Urso (@LiveNoneladUrso) March 14, 2019
Mr. Markle back-tracked on the letter he wrote to the Queen and Prince Harry ahead of the May 2018 wedding, where he claimed that the Suits alum was a "danger to the royal family," and that the nuptials were "the biggest mistake in royal wedding history":
"I wrote that letter in a period of real frustration. She did reply and said I was only distant family and I felt very frustrated by it. I couldn't believe it, as we were so close growing up as kids. No, no, she's absolutely not a danger to the Royal Family. She is a loving, warm intelligent person who loves her family. She's an extraordinary woman."
That's a pretty big change of tune from someone who once referred to Miz Markle as a "jaded, shallow, conceited woman that will make a joke of you and the royal family heritage" who was "obviously not the right woman for" her future husband…
Ouch!!
The estranged bro continued:
"I reached out to her for help to deal with the press but didn't get any and it was all very frustrating for me. That's why I wrote that letter. Things have changed since I wrote that letter. I am all for Meghan and I want to be reunited as a family. I just want to say I love you very much and I want us to be together as a family."
Related: Meghan Markle's Half-Sister Calls Her "Heartless" In New Documentary
He also touched on when they last spoke and their relationship today:
"The last time I spoke to Meghan was 2011. The big question is why she doesn't want to speak to me or her sister Samantha. There is a lot of pressure on her. She went into the spotlight overnight and it's been very difficult."
While the Duchess of Sussex's exact due date is unclear, this uncle-to-be says he's looking forward to meeting the royal baby:
"Any new baby that comes into a family is a very big deal. I would love to meet the little prince or princess."
What do you think, Perezcious readers?? Will this baby heal these family wounds or just throw salt in them? Sound off (below) in the comments!!
[Image via John Rainford/WENN & Inside Edition/YouTube.]
Mar 19, 2019 9:45am PDT