Sounds like Fyre Festival fraudster Billy McFarland still hasn't learned his lesson!
Mike "The Situation" Sorrentino has been on his post-prison release tour in the weeks since he was freed from the Otisville Federal Correctional Institution, and he's now opening up about some of the incorrigible characters he crossed paths with during his eight-month stint behind bars. 
The sketchiest of which was apparently the creator of the Fyre Fest, who was memorably sentenced to six years in prison for defrauding investors of $27.4 million by marketing and selling tickets to what ended up being a dumpster fire.
In an interview on his Jersey Shore: Family Vacation costar Nicole "Snooki" Polizzi's podcast, It's Happening with Snooki & Joey, The Sitch opened up about his run-in with the 27-year-old in the slammer — and revealed just what a huge "bonehead" the felon-trepreneur still was.
Related: The Situation Is 'A Changed Man' Following His Prison Release!
According to the 37-year-old reality star, McFraudland was thrown into solitary confinement for attempting to record conversations with "high-profile inmates." He explained: 
"He supposedly smuggled in some sort of recording device, and he was caught with it. They said he was trying to record high-profile inmates and they threw him in the SHU [solitary housing unit]. They sent him to a worse prison, I think, recently. That's a bonehead move right there."
Ha! You know it's bad when the Situation is shaking his head at you…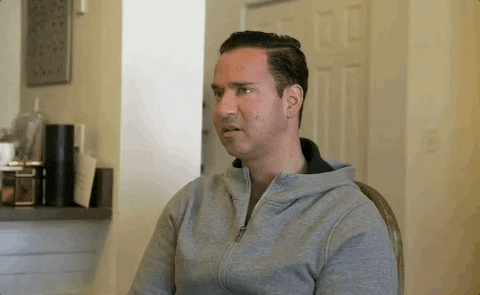 The reality star admitted he didn't understand McFarland's motives, adding:
"I don't even know why he'd be recording in there. Maybe he was trying to write a book or something? I don't know."
Sitch went on to characterize Ja Rule's former business partner as "very quiet" and "reserved," noting the two were NOT in the same prison social circle. 
He added: 
"He would say 'hi,' but he wasn't in my group of friends. I played against him in basketball and softball maybe, but then he was thrown out of the prison."
Maybe he'll get his s**t together at the worse, extra prison-y prison?
Sorrentino's infamous prison-mate was first revealed back in April when DJ Pauly D confirmed on Jenny McCarthy's SiriusXM show the two were serving time alongside each other. 
Since his release, Sitch has been enjoying the simple pleasures of life outside of prison — namely, the ability to spend time with his beautiful wife Lauren Pesce and eat all the Italian food his heart desires. 
We're happy he's out — and spilling tea!
Related Posts
CLICK HERE TO COMMENT
Oct 11, 2019 10:57am PDT