New Emojis Are Inclusive, Fun, & A Game-Changer For SEXTING!
Wow, 230 NEW emojis! This week, Emojipedia gave smartphone users a look at the new crop of icons, and they're totally more inclusive! Yay, progress! Disabled individuals will see a wide range of new symbols including people in wheelchairs, canes, hearings aids, and prosthetic limbs. There's also a wide array of new foods, clothing, and colors. Watch the video (above) and check out some of our fave new additions (below)!
New Emojis
Service Dog:
They're not only furrrever friends, but they help many people with disabilities everyday!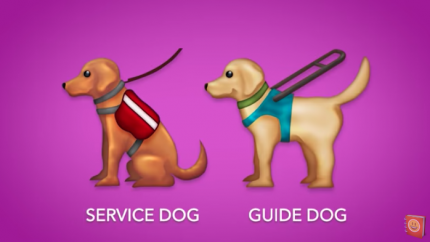 Deaf Person, Woman, Or Man:
Inclusion is so important and these simple emojis are totally a step in the right direction!

Woman/Man With Probing Cane:
Again with the inclusion! Everyone SHOULD be represented!

Manual/Motorized Wheelchair:

Men Holding Hands With Men AND Women Holding Hands With Women:

Pinching Hand:
This is going to be a quick favorite and everyone's game changer when it comes to sexting! A pinch of a bum — SURE! Fingers showing how tiny something is — HILARIOUS!

[Image via YouTube/Emojipedia]
Related Posts
CLICK CLICK CLICK Next Article
Feb 7, 2019 11:34am PDT