Can't wait any longer for that *NSYNC reunion? Neither can *NSYNC, apparently!
On the heels of the boy band's four-fifths-reunion during Ariana Grande's set at Coachella this weekend, sources are saying the group is considering doing a full fledged reunion — with or without wayward bandmate, Justin Timberlake.
Yes, you read that correctly. According to a new report, Lance Bass, JC Chasez, Joey Fatone, and Chris Kirkpatrick are ready to go on tour and even record new music (!!), but they're apparently getting sick of waiting for JT to decide if he's on board as well.
Related: Justin Hints At Retiring From Music After Final Tour Stop?
The insider explained to the outlet:
"Everyone in the group has been waiting for Justin to be on board with new music and a tour, but now they're getting a little tired of waiting. They loved their moment with Ariana at Coachella, and they know fans are still there for them. Would they love Justin to be a part of anything in their future? Absolutely! But, they're tired of waiting for him to make a decision."
Hey, if the Spice Girls can reunite without Posh… anything's possible.
While some may be upset by the idea of a band reunion sans JT, the source said the remainder of the group is confident a four-fifths reunion would work, adding:
"Lance, Joey, Chris, and JC all still have the bug to do what they love — and that's entertaining on stage. They're considering doing some shows, and recording an EP or an album together. The guys want to show their kids and loved ones what made them famous, and they still got it. They are down to do it with or without Justin."
Sounds like they're ready to leave that indecisive Timber in the woods!!!
Of course, this hypothetical reunion raises two important questions: 1) Would we just call them *SYNC?, and: 2) What would JT think about the band reuniting without him?
The answers to both are unclear. However, based on the Can't Stop the Feeling singer's "you're doing amazing, sweeties" reaction to his bandmates' Coachella cameo, we bet he'll support their reunion endeavors.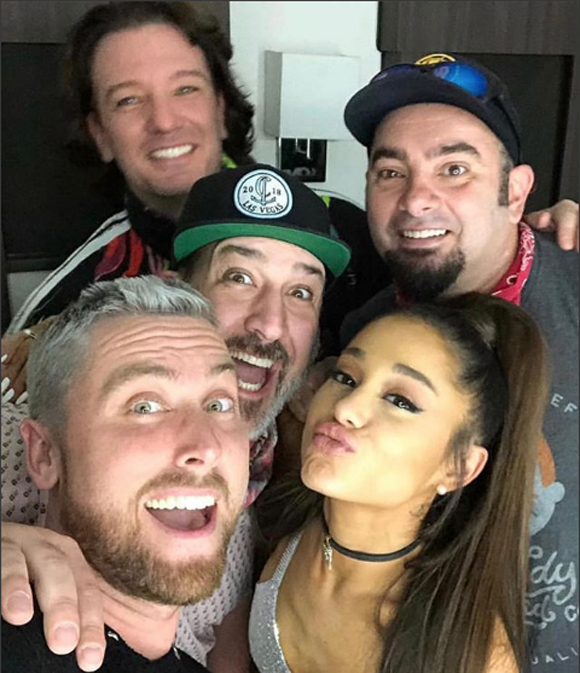 Following *SYNC's (honestly, we love it already) performance at #Arichella on Sunday, the 38-year-old made sure to send his congratulations from the sidelines of social media. Sharing a photo (above) of the quartet cozying up to the Sweetener songstress backstage, Timberlake wrote:
"You guys killed it last night ?"
So, it's safe to say he'll be offering the same raised-hand emoji praise if and when the band decides to reunite without him.
Would you approve of an *NSYNC reunion without Justin?
[Image via FayesVision/WENN]
Related Posts
CLICK HERE TO COMMENT
Apr 16, 2019 08:03am PDT