Seems like all it took was getting off TV — and a global pandemic — for Peter Weber to bounce back from his time as The Bachelor.
Related: Peter Weber Slams Madison Prewett For Shading Kelley!
Pilot Pete may have been experiencing some drama with his exes lately, but according to an Us Weekly source, he's doing better than ever. The source said:
"Peter has been through the wringer. The world watched him fall for Hannah [Brown], Hannah Ann, Madison and now Kelley. It's been a confusing roller coaster of a process, but he's in a really great place despite everything. His family has helped keep him grounded."
In fact, another Us source suggested that the 28-year-old is actually much more himself now that the cameras aren't rolling. They explained:
"The girls from Peter's season are seeing a completely different side of Peter now from who they knew on the show. He's much more laid-back, relaxed and chill. On the show, he was guarded and seemed to be putting on a front."
This also lines up with what Peter's current-quarantine mate Kelley Flanagan has said about his behavior on the show. She claimed she could tell Weber was looking at her "differently" on the show and accused the producers of "getting in his head." The source confirmed:
"During the show, Kelley noticed Peter was different from what she had remembered when they first met in real life. Now he's back to the person she first knew and that's why she is hanging out with him again."
The key words there are "hanging out", considering Peter and Kelley STILL haven't confirmed whether or not they're dating. Last we heard, the former Bachelor told fellow alum Nick Viall the pair are just friends. Although, he did acknowledge they have "really good chemistry" and that he could see pursuing a relationship with her in the future. 
Related: Denise Richards 'Absolutely Didn't Quit' RHOBH Over Lesbian Affair Drama!
However things shake out, Peter has plenty of allies within Bachelor Nation. The Us source said:
"The guys from Hannah's season who have become good friends with Peter over the past year like to poke fun at him. But at the end of the day they just want him to be happy — whatever the outcome may be."
One of those guys from Hannah's season, of course, is the third wheel in Peter and Kelley's quarantine unit, Dustin Kendrick. He told Us that the duo is "disgustingly cute," but "the timing just isn't the best for them."
Considering they're in lockdown together, we kind of think the timing couldn't be better!
Kendrick posted a teasing video to TikTok about his roommates, writing the caption, "Me being petty and calling TMZ on my quarantine-mates after they drank my juice."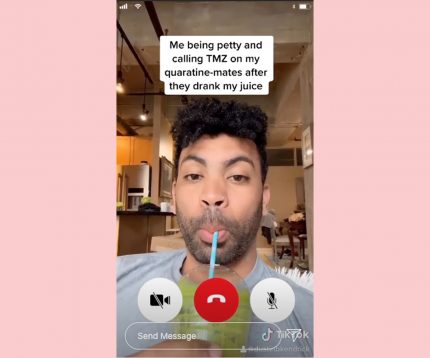 LOLz!
We just know he has more tea to spill!
[Image via WENN/Avalon, ABC, & Hannah Ann Sluss/YouTube]
Related Posts
CLICK HERE TO COMMENT
Apr 22, 2020 16:07pm PDT