Well, we can safely say we'll never hear the lyrics…
"Kickin' in the front seat
Sittin' in the back seat
Gotta make my mind up
Which seat can I take?"
…quite the same way again. Ha!
On Friday, Friday, Rebecca Black took a big step for a celeb and officially came out as queer!
Related: Rebecca Reveals Emotional Advice She'd Give Her 13-Year-Old Self
The meme singer (turned actual pop singer in recent years) has mentioned her sexuality being on a spectrum before, responding to fan questions in a YouTube video:
"One of the things that I love so much about the LGBTQ community is that they embrace inclusiveness. I definitely see sexuality as being on a spectrum. You can definitely be on one end of the spectrum or the other. With there being a spectrum, there is this huge middle ground. I definitely see myself as being on that spectrum."
But during an appearance on the Dating Straight podcast over the weekend Miss Rebecca finally got more explicit about it, telling hosts Amy Ordman and Jack Dodge:
"I made a conscious decision to not, like, 'come out,' but just to… People started asking, and I stopped not responding."
So just to answer the question specifically in advance for all those wondering? The now 22-year-old identifies as queer.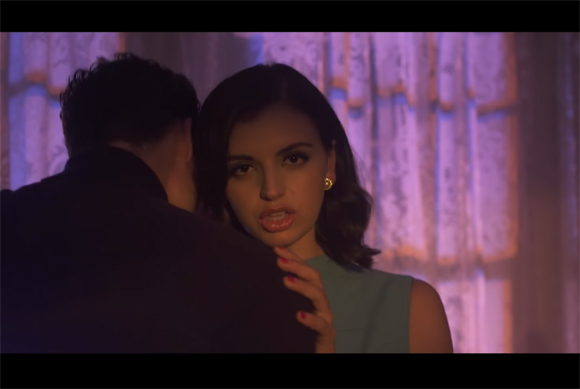 She explained:
"It's like the f**king quarantine, every day is different. It's something that over the past few years I've obviously been having a lot of conversations with myself. I think to me the word 'queer' feels really nice."
While that term can be a little (purposely) vague, Rebecca did make clear this isn't just a term of inclusivity for her; in other words, yes, she dates women!
"I've dated a lot of different types of people, and I don't really know what the future holds. Some days I feel a little more on the gay side than others."
Gurl, preach it! Some days are just WAY more gay! LOLz!
Rebecca went on to open up a bit about her love life, which sadly isn't going all that great at the moment. Apparently she just broke up with a longtime girlfriend and decided to take some time alone — just in time for the coronavirus physical distancing policy which meant she could have more alone time than she'd ever wanted.
Oh well. Something tells us this gal's dance card will be plenty full once all this is over…
Congratulations, gurl!
Ch-ch-check out the whole Dating Straight convo (below) for more!
Related Posts
CLICK HERE TO COMMENT
Apr 08, 2020 15:06pm PDT