If you've gotta go, you've gotta go!!
During Thursday's episode of Real Housewives of New York, the ladies took a trip to Weed Orchards and Winery in upstate New York, but things quickly took a wacky turn when Sonja Morgan needed to relieve herself in the middle of a corn field!
Related: Luann Discusses Her Decision To 'Drink Responsibly' After Probation
After splitting up for a corn maze, Morgan squatted down with her jeans and underwear around her ankles, only to be found a minute later by Tinsley Mortimer and Luann de Lesseps, who yelled:
"No! This is horrible."
Leah McSweeney joined the 56-year-old, and joked that they were "fertilizing" the vegetables.
The obviously intoxicated designer stayed on the ground, as she struggled to regain her footing and stand up. Once up, she proceeded to grind her butt on a corn stalk before being handed leaves by Mortimer to wipe herself.
But the wild times didn't end there! Miz Morgan passionately said while enjoying a piece of blue cheese:
"I'm so in love with this right now… and it makes your p***y wetter."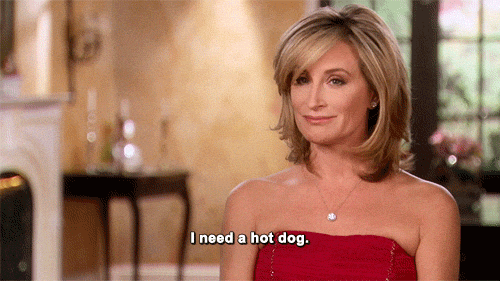 After hearing bathroom buddy say she "doesn't even want to have sex right now," a baffled Sonja proclaimed:
"You don't want to have sex?! The only thing I want is sex!"
De Lesseps was clearly embarrassed by the whole situation, who concluded it was "time for the group to go home."
Give all the antics a watch (above)!!
Related Posts
CLICK HERE TO COMMENT
May 16, 2020 13:50pm PDT