The reported drama between Selena Gomez and Francia Raisa continues.
As we wrote, according to sources at Radar Online, the BFFs have not spoken to each other for almost a year — after the Same Old Love singer received a kidney from The Secret Life of the American Teenager actress.
Per a new report from the publication on Friday, the 27-year-old allegedly was "sick" of feeling "indebted" to the 31-year-old following the surgery.
Related: Selena Gomez Gets VERY Candid About Self-Love & Therapy!
The insider explained:
"The truth is that Selena was tired of feeling like she owed something to her because she gave her a kidney… This was Francia's choice; Selena did not steal the kidney from her."
In regards to reports saying Raisa was angry at Gomez for drinking alcohol amid her health issues, the source divulged:
"Yes, she has some drinks from time to time… It is not every day, and she is not using drugs. She is enjoying herself and she is enjoying her life and living it how she wants to live it."
Following the drama, the insider said Justin Bieber's ex "doesn't care" what her ex-best friend thinks, adding:
"She just spent an amazing week with her best friends in Italy for her birthday…She is ready to get back to work after taking some time off, and she doesn't need this nonsense right now."
In fact, last month, Gomez went on Instagram to thank her followers for their kind birthday wishes — writing:
"Well I'm 27 now. I wanted to thank each and every one of you for your words on my bday. Not just the quick notes. The thought that goes behind every word you write usually ends up with me crying grateful tears like I did last night. Praying for all of you!! I LOVE YOU"
Of course, one should take these reports with a grain of salt as these quotes do not sound like they describe Selena at all.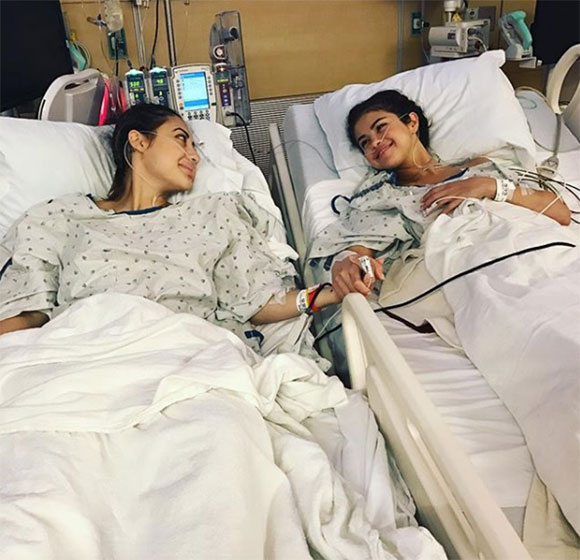 Back in September 2017, Gomez posted the (above) photo revealing her kidney transplant. She wrote:
"I'm very aware some of my fans had noticed I was laying low for part of the summer and questioning why I wasn't promoting my new music, which I was extremely proud of. So I found out I needed to get a kidney transplant due to my Lupus and was recovering. It was what I needed to do for my overall health. I honestly look forward to sharing with you, soon my journey through these past several months as I have always wanted to do with you. Until then I want to publicly thank my family and incredible team of doctors for everything they have done for me prior to and post-surgery. And finally, there aren't words to describe how I can possibly thank my beautiful friend Francia Raisa. She gave me the ultimate gift and sacrifice by donating her kidney to me. I am incredibly blessed. I love you so much sis. Lupus continues to be very misunderstood but progress is being made. For more information regarding Lupus please go to the Lupus Research Alliance website: www.lupusresearch.org/ -by grace through faith"
Thoughts?
[Image via NBC.]
Related Posts
CLICK HERE TO COMMENT
Aug 02, 2019 18:03pm PDT